We have a new iPhone in town, but rather than being a $1,000 successor to the iPhone 11 Pro, it's a sub-$500 iPhone. The long-awaited successor to the iPhone SE, which launched in 2016 and has since been discontinued, is here.
And here's the best part about the second-generation iPhone SE: It starts at just $399 for an unlocked 64GB model. It will also ship in 128GB and 256GB models at $449 and $549, respectively. It will be launching on April 24th with pre-orders beginning this Friday, April 17th. You can pick from black, white or PRODUCT(RED).
While there will be unlocked vesions, you can get variants for AT&T, T-Mobile and Verizon. There will also be monthly plans from those carriers and a few options directly from Apple, including the iPhone Upgrade Program.
The iPhone SE is just the latest addition to the iPhone family. It's joining the iPhone XR, 11, 11 Pro and 11 Pro Max. The iPhone 8 and 8 Plus are no longer being sold by Apple, effective immediately. So here's what Apple's latest lineup consists of:
iPhone 11 — Starting $699
iPhone 11 Pro — Starting at $999
iPhone 11 Pro Max — Starting at $1,199
We'll be going hands-on with the new iPhone as soon as humanly possible, but in the meantime, let's explore what's new.
A similar design
You might have deja vu with more than just the name, being as it's similar in size to the iPhone 8 (which, along with the 8 Plus, are no longer being sold by Apple), but this isn't an exact replica. It's a similar story to the original iPhone SE that had the body of an iPhone 5S, but the hardware of an iPhone 6.
The 2nd iPhone SE is made out of aluminum with a glass back. It's about the size of an iPhone 11 Pro, but it's not all screen. There are bezels on all sides and a home button with Touch ID (2nd Gen) sitting below the 4.7-inch Retina HD display. This is an LCD display versus an OLED, but it should still deliver a vibrant and sharp screen with support for wide color gamut. There's also haptic touch built-in for easy shortcuts in iOS.
A13 Bionic is on-board the iPhone SE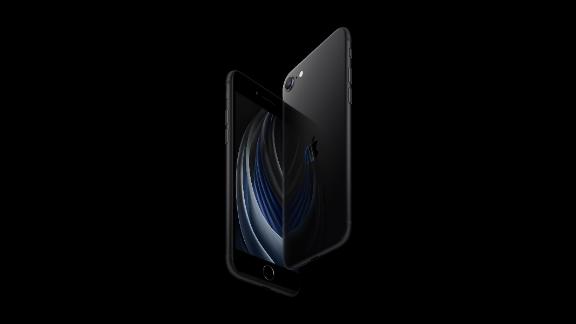 Powering the 2nd Gen iPhone SE is the Apple-made A13 Chip complete with a Neural Engine and an Image Signal Processor. That's the same chip that powers the iPhone 11, 11 Pro and 11 Pro Max, so you can expect iOS 13.4 to run with the same pep – and mind-numbingly quick compared to the previous iPhone SE. Apple is saying that it's a 2.4x increase over the CPU in direct comparison and a 40% increase with the CPU over the iPhone 8. So it's safe to say it should feel as fast as the iPhone 11 family. Plus it will support Apple Pay, along with Express Transit Card. This way you can use select transit systems, like the NYC subway, with just a tap of your iPhone — even if your phone is dead.
Portrait Mode is here
On the back of the phone, you'll find a standard 12-megapixel wide camera paired with an LED flash. No two-camera setup here, but Apple is enabling portrait mode for people through software magic. You'll get Live Photos, Smart HDR and even the ability to record in up to 4K video at 60 frames per second. We're excited to put this to the test, especially to see how it compares to other affordable smartphones like the Galaxy A50 from Samsung and even the iPhone XR or 11, which sit at the higher end of the affordable phone spectrum.