Editor's Note: Sign up to get our new weekly column as a newsletter. We're looking back at the strongest, smartest opinion takes of the week from CNN and other outlets.
On November 1, 1755, a series of earthquakes struck Lisbon, Portugal. Worshippers celebrating Mass on All Saints' Day were killed when cathedrals collapsed, fires broke out throughout the city and people rushed to the waterfront, where the waters had receded. Then a 20-foot high tsunami wave rolled in. Tens of thousands died that day.
In Voltaire's 18th-century satire "Candide," the fictional Dr. Pangloss, arriving in Lisbon just after the disaster, tries to find a silver lining: "If there is a volcano at Lisbon it cannot be elsewhere. It is impossible that things should be other than they are; for everything is right." A term was born – "Panglossian" – to describe absurd degrees of optimism.
Covid-19 is taking a brutal toll on lives, illness and jobs, causing pain that will last a long time. More than 100,000 have died around the world and more than 20,000 in the US. Still, while the mourning proceeds, many are looking for signs of hope.
Nearly two thirds of the way through the 45 days of social distancing recommended by the White House, the disease's spread has started to level off in parts of the US. Trillions of dollars of new spending, and back-up measures by the Federal Reserve, suggest some of the damage to the economy could be mitigated. Scientists are rapidly scaling up research into treatments for the virus and are seeking a vaccine that, within a year or two, could possibly vanquish the threat.
Charles McNair asked: "Who doesn't long for a miracle?" One sunny day in the 1960s, he and his three siblings joined a line in Dothan, Alabama, and filed into a building, where workers gave them each a sugar cube infused with a pink liquid. "Nothing ever tasted so sweet," McNair recalled. "On the way back to the car, mama told us what it all meant. 'Now,' she said, her nose and cheeks a little sunburned. 'Y'all are never gonna get polio.'"
Reaching back much further in history, Louis P. Masur recalled what happened to President Abraham Lincoln on his return from delivering the Gettysburg Address in 1863. "Lincoln had taken ill with varioloid fever, a mild but highly contagious form of smallpox," Masur wrote. Lincoln "joked that since becoming president, crowds of people had asked him to give them something and now he had something he could give everyone. He also commented, in typical self-deprecating fashion, that being ill offered the consolation that the disease, which could leave scars, 'cannot in the least disfigure me.'"
Masur said Dr. Anthony Fauci, director of the National Institute for Allergies and Infectious Disease, and New York Gov. Andrew Cuomo are following in the 16th President's footsteps: "They have communicated the facts as they know them, have not shied away from telling the hard truth, have offered comfort to the grieving and have used humor, not to trivialize but to humanize these most difficult of times."
David Gergen and James Piltch cited another wartime leader, President Franklin D. Roosevelt as "a master of leadership in crisis" for his skill in mobilizing American workers and manufacturers to arm the US for victory in World War II. In contrast, they wrote, President Donald Trump "and his team have struggled to exercise effective, consistent leadership against an invisible enemy. On some days, Trump seems to listen to his health experts and understand the gravity of the situation. On other days, he reverts to narcissism, erratic decisions and petty fights."
The Queen's message
In 1940, a 14-year-old Princess Elizabeth, joined at Windsor Castle by her sister Princess Margaret, broadcast a message to children who had been forced to evacuate because of war. On Sunday, Queen Elizabeth cited that broadcast as she noted that today many people were experiencing a "painful sense of separation from their loved ones." Holly Thomas praised her for "promoting a spirit of compassion" and for avoiding "the problematic habit of many world leaders who have relied on – and sometimes abused – war-like language" in describing the fight against the virus.
Covid-19 is raising fundamental questions about who we are, wrote Frida Ghitis: "If ever we needed global leadership, it is now. There is none. Every country is looking out for itself. The role once filled by the United States is vacant, leaving humanitarians largely pleading into the abyss at a time when the magnitude of the expected need is so overwhelming, only a massive multinational response can do the job." The crisis, Ghitis wrote, "is revealing the essence of our identity. Are we heroes, doing our part for humankind? Or are we tribal, self-preserving individualists, erecting barriers; concerned only about our closest friends and relatives?"
A different Easter and Passover
In a normal April, Americans would be observing the spring holidays, gathering for religious services or family events. But this Easter and Passover are different, with physical distancing canceling the vast majority of in-person events. Still the messages of the holidays resonate.
When by chance Jay Parini encountered W.H. Auden in Oxford nearly 50 years ago, the famed poet offered him a generous bowl of vodka and some spiritual advice: "Rest in God." That message, Parini wrote, "invites us to relax into the power of the universe that sustains us, that holds us up, embraces us – even to the point of death. This is, I think, the Easter message in a nutshell: trusting in God's power to transform our lives into something better."
As Rabbi Shai Held wrote, Passover is all about gathering together, welcoming the stranger. "We are meant to open our homes to others, and in so doing, to open our hearts to them, too. And yet this year we are forced to remain apart. There is something profoundly sad about all this." Still, he wrote, "Let's try, in the face of real and legitimate fear and anxiety, to let our vulnerability help us to love more fully. Let's open our hearts, even if we cannot open our doors."
Family ties feel especially strong even though we're apart. At 39, Jack Gray is fortunate that all four of his grandparents are alive: "Between them, they taught me how to drive, fish, dispute a restaurant check and drink wine during the day." Gray is calling them regularly: "It is not a chore; it is a blessing. If you're fortunate enough to have any of your grandparents still alive, give them a call. You go way back."
Trump and the inspectors
On Tuesday, President Trump demoted an acting inspector general who had been picked to monitor the implementation of the $2 trillion coronavirus relief package. The action came a day after he attacked another inspector general for her report on delays in virus testing and only a few days after he dismissed the intelligence community's inspector general.
Trump, Jill Filipovic wrote, "doesn't like independent watchdogs because they're inconvenient for him; he prefers lapdogs. And so he is exploiting the pandemic to sack anyone who might point out just how terribly he has mangled the response."
Trump attacked the World Health Organization for its Covid-19 response, accusing it of being "China-centric" and suggesting that the US was paying too much to the organization. Michael Bociurkiw wrote that the WHO is "badly in need of reform" but questioned Trump's timing. "The global community still needs an authoritative body that sets standards, collates and studies all of the pieces of the Covid-19 puzzle coming in from affected countries, and leads us closer to obtaining a life-saving vaccine.
The president underestimated the threat of Covid-19, wrote Alice Stewart, but so did House Speaker Nancy Pelosi and New York City Mayor Bill de Blasio. "We are all in this together," Stewart wrote. "No amount of blame is going to change that. It does nothing to cure the sick, put kids back in school, or get people back to work…In the midst of this unprecedented pandemic, six words should be taken to heart: help more, report facts, attack less."
Trump's enthusiasm for the drug hydroxychloroquine, which has not been proven effective against Covid-19 but is undergoing testing, was echoed by White House economist Peter Navarro. But Fauci, a physician and immunologist, has made clear that he wants to see evidence that it clearly works before endorsing it as a treatment. Navarro falls into a category that has become "a mainstay of American culture in the last few decades," wrote Nicole Hemmer: the "well-credentialed huckster," asserting expertise outside their chosen fields.
For more on Covid-19:
Terence Kealey: South Korea's coronavirus response: Listen to the experts
Dean Obeidallah: The Trump-Fox News feedback loop now going after Andrew Cuomo and Dr. Anthony Fauci
Michael D'Antonio: Why Trump doesn't want to wear a mask
Avi Garbow: Trump administration is rushing to gut environmental protections
Jeffrey D. Sachs: This is how we conquer Covid-19
Stan McChrystal and Terry McAuliffe: How to win the fight against a virus that knows no boundaries
The impact
The effect of Covid-19 isn't being felt equally across America. New York was hit harder than anywhere and as of Friday had more confirmed cases than any country outside the US. Infectious disease specialist Dr. Kent Sepkowitz wrote, "the explanation is the same for New York City as for Italy, New Orleans and probably Iran: the virus exploits weaknesses in health and health care."
African Americans in many parts of the US were disproportionately represented among those who died.
"When compared with non-Hispanic white citizens in the US," Van Jones noted, "African Americans are 60% more likely to be diagnosed with diabetes, 20% more likely to die from heart disease, have the highest mortality rate of any racial and ethnic group for all cancers combined and for most major cancers, and represent 44% of the HIV positive population. In fact, as the virus smashes into black communities, it is actually one epidemic jumping on top of several other epidemics."
African Americans are also more likely to be frontline workers, wrote Catherine Powell. "In short, they must leave their homes and show up for work during a pandemic," she observed, adding that their jobs are also more likely to be eliminated during the crisis. "According to the Brookings Institution, urban areas – where substantial communities of black and brown people live – have the largest numbers of workers who are in immediate-risk industries."
Smokers and vapers are also at heightened risk from the pandemic. Dr. John Maa pointed out that "the FDA has advised that cigarette smoking and vaping may leave users with underlying health conditions and increase the risk of coronavirus pneumonia and increase its severity."
Vicky Ward wrote that the very rich had more options than most when the pandemic hit. "One hedge fund billionaire is at his ranch in Texas; another is isolating from other family members on a compound in Martha's Vineyard; a couple is staying in a villa on Harbour Island, Bahamas; an individual rented a yacht on the Long Island Sound … while the wealthy may not be immune, their affluence makes it easier for them to insulate themselves."
Bernie bows out
Ordinarily, the withdrawal of the last remaining challenger to Joe Biden for the Democratic presidential nomination would be a huge story. But Bernie Sanders' decision to suspend his campaign was overshadowed by the Covid-19 crisis. And the pandemic will complicate Biden's campaign against Donald Trump.
"Biden's obstacles to victory remain immense," wrote Julian Zelizer. "Without the possibility of running a ground game for at least for several months, if not more, Biden and his campaign will face the real challenge of getting his message out to the public in the most surreal of times." Democratic governors like Andrew Cuomo are getting attention but it has been a struggle for Biden to break through "when most Americans are understandably focused on the pandemic."
The irony of Sanders' exit is that the 78-year-old senator's ideas seem more fitted for the world we live in than ever, wrote Van Jones. Citing a higher minimum wage, health care for all, paid family leave and fighting climate change, he noted, "In the age of the pandemic, Sanders' ideas no longer seem like radical throwbacks to 1960s idealism. Today, they feel like hard-headed responses to the deadly challenges of the 21st century."
The last primary actively contested by Sanders took place in Wisconsin Tuesday, despite the governor's effort to call off the voting because of the pandemic. The US Supreme Court's conservative majority reversed a lower court ruling that would have given voters more time to send in absentee ballots. Jen Psaki argued that the court's decision "to make it harder for people in Wisconsin to vote should be a warning sign that Trump and the conservative court he and Senator Majority Leader Mitch McConnell helped shape will stop at nothing to get him reelected. And we need to be ready."
Former Milwaukee radio host Kathleen Dunn called the in-person voting "unimaginably cruel."
Wearing a bandanna as a mask, social worker Jennifer Taff stood in the voting line and carried a sign: "This is ridiculous." Thomas Lake wrote that Taff was proud of the election workers who took special precautions to protect voters and of her fellow voters who risked their health to exercise their right to vote. But "as Jennifer Taff stood there, holding her sign, participating in one of American democracy's strangest episodes, she also kept thinking: People are going to die because of this."
Burnout
The personal demands of the pandemic are falling heavily on parents of young children. "Many parents and others taking care of children are being asked to do the impossible right now," wrote HLN anchor Lynn Smith. "We must raise our kids in the most terrifying of times. Homeschool them amid the chaos and in many cases work from home while doing it. There is no end in sight and we are not okay. This is what parent burnout looks like in a pandemic." She offered advice on what to do.
Former New York Yankees manager Joe Torre is particularly concerned about the impact of social distancing on abused children. "When I was a young boy, I witnessed unrelenting verbal abuse and saw the results of the physical harm inflicted on my mother, Margaret. The perpetrator was not some stranger, but my father, a New York City cop. The emotional and physical pain she suffered scarred her life, and mine, too," said Torre, who noted that he fortunately had the outlet of being able to "escape by getting outside, and playing baseball, a game I loved." In our stay-at-home reality, Torre wrote, "many children will witness violence in their homes."
He advised, "If you know of a loved one, friend or neighbor who is living in a violent household, please check in – while following social distancing guidelines – with them as often as you can."
Coughing tiger
Nadia, a 4-year-old Malayan tiger at the Bronx Zoo, developed a dry cough and tested positive for the virus that causes Covid-19. Jonathan Epstein, a veterinarian and disease ecologist, said it was likely passed to the animal by a human keeper. The coronavirus seems well suited to jumping from one species to another.
Epstein was part of a team that traced another such virus, SARS, which caused an outbreak in 2003, to horseshoe bats in China. "An outbreak anywhere is a threat everywhere, as we've seen with Covid-19," Epstein said. "Countries need to be able to identify known and new viruses that cause disease in livestock or people, and rapidly respond to outbreaks while they're small and can be contained." He added that wildlife markets and other particularly risky environments need to be modified or shut down.
Don't miss:
Michael P. Branch: John Prine's kindness, like his music, will live on
Kate Maltby: What 'Romeo and Juliet' teaches us about this plague
Drs. Joseph Sakran and Cethan Sathya: Covid-19 is removing crucial voices from patients' bedsides.
Simona Siri: I watched as the US paid too little attention to Italy's suffering
AND…
'I need sports'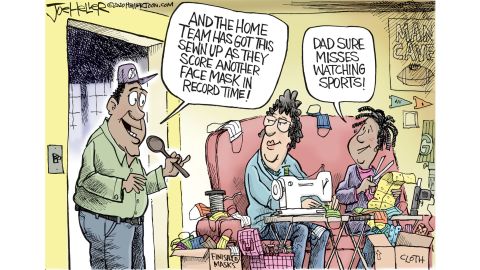 Jeff Pearlman's dog Norma is getting walked a lot these days. The sportswriter has nothing but time on his hands, with professional and school sports suspended indefinitely. This week, he even cheered on a snail sliding along in front of his house.
"Truly, I need sports," he wrote. "I need to watch Mike Trout at the plate, stepping into a 98-mph Gerrit Cole heater. I need to see LeBron backing down Kawhi. I need to see Islanders goalie Thomas Greiss staring down a John Tavares slap shot."
Pearlman understands the need for social isolation—and canceling sports to slow the disease's spread. "For millions of people worldwide, the coronavirus pandemic has been a nightmare of nightmares. And, in the context of life and death, sports mean nothing. I know that. You know that."
"But – truth be told – sports don't mean nothing. They're an escape pod from the grimness; an opportunity for one to momentarily depart the grayness of day-to-day blah and once again feel alive."
And someday, they will be back.