Every day, CNN Heroes work tirelessly to help their communities, and that's never been more evident than during the Covid-19 pandemic.
Some CNN Heroes now find their efforts are needed more than ever, and they're coming up with new ways to be there for their communities.
Scott Strode overcame his addiction to drugs and alcohol by becoming more physically active. He later started a nonprofit called The Phoenix that today provides free athletic activities and a sober support community to 26,000 people across the United States.
When social distancing became the new normal and the group's gyms and in-person programs had to close, many participants found themselves without the community that helps them stay sober.
Courtesy Scott Strode
"For somebody in recovery, social isolation is a really slippery slope," said Strode, a 2012 CNN Hero. 'It can often lead to the relapse. So, at The Phoenix, we think it's crucial to keep each other connected."
The organization quickly moved all of its classes online. Now, clients can log on to free virtual classes offered throughout the day – everything from yoga to strength training, meditation and recovery meetings.
"We understand we need physical distancing, but we can still be connected in the virtual space and be there for each other," Strode said.
Italian-born chef Bruno Serato and his non-profit, Catarina's Club, have fed nearly 4 million children in need over the past 15 years, he said. Serato cooks up and delivers his free pasta meals to afterschool programs in Orange County, California.
But when Covid-19 hit, closing schools and after-school programs, the children were at risk of losing that important source of nutrition. So, his organization went into overdrive.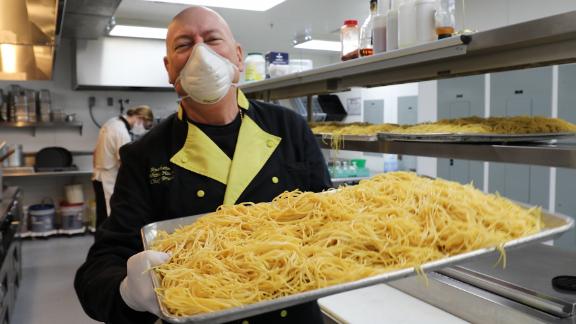 Courtesy Bruno Serato
"We've been delivering pallets of pasta," said Serato, a CNN Hero in 2011. "We used to serve 1,000 pounds of pasta per week. Last week, we served 5,000 pounds. It's telling you the demand – five times more than before."
Serato works with the local Boys and Girls Clubs to feed the children, many of whom live in motels with their families.
"A lot of the family who live there (don't have a) kitchen," he said. "(At) so many stores, you (can't) even find a bag of pasta. Families don't have food to feed kids. It's big need right now – more than ever."
In the Detroit area, Najah Bazzy runs Zaman International, a non-profit that has supported more than 250,000 impoverished women and children of all backgrounds. The organization has a 40,000-square-foot facility with aisles of food, rows of clothes and furniture free for those in need.
Bazzy, a 2019 CNN Hero, had to close the warehouse to the public because of Covid-19, but that didn't stop her. She ramped up the organization's efforts, expanding to help more members of her community who are struggling because of the pandemic.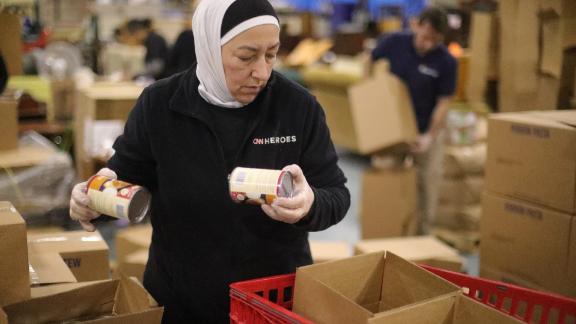 Courtesy Najah Bazzy
"We have intensified our food distribution to about 2,000 families who have received our emergency food boxes in the past week," said Bazzy, a transcultural nurse. "In addition, we are sewing masks and gowns."
The organization is also providing case management to help ease clients' anxiety around social isolation and food insecurity.
"There's also a lot of post-traumatic stress syndrome that we're dealing with. But we're managing and we're hoping to help everyone that we can," Bazzy said.
Working hard to reach those in need, these CNN Heroes are reminders that together, we can weather this storm.
"We still have a choice to care for one another, to be a good neighbor, to be a good citizen," Bazzy said. "Covid-19 has taught us that nothing – nothing – can break the human spirit."