CNN —
While we may not be able to fly there ourselves right now, it's possible to experience the shores of the Mediterranean or the streets of Mumbai through their food. Getting creative in the kitchen can be a productive way to channel wound-up energy and an escape from circumstances beyond our control. These 12 cookbooks are more than just collections of recipes — they're travelogues, stories of discovery and reminders that we're all connected through our love of good food.
'Jerusalem: A Cookbook' ($18.99; amazon.com)
Co-authors Yotam Ottolenghi and Sami Tamimi were born in Jerusalem in the same year, though on opposite sides of the city's cultural divide. "Jerusalem" draws on Israeli and Arab local flavors, among a diverse spread of other influences from Iran to Italy. The result is a mix of traditional dishes and creative riffs using staple Mediterranean ingredients like greens, grains and savory meats, with accents like garlic, lemon, capers and feta.
'Every Grain of Rice: Simple Chinese Home Cooking' ($23.99; target.com)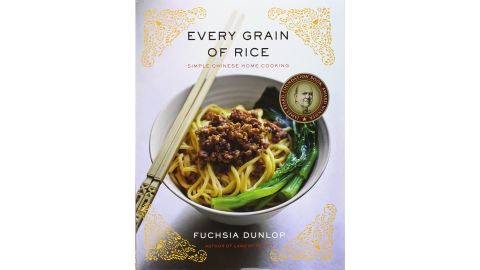 Fuchsia Dunlop has established herself as an authority on regional Chinese cooking, including in separate volumes on Sichuan and Hunan. But this collection of simple recipes is ideally suited for everyday use. Here Dunlop focuses on southern Chinese cuisine, in which vegetables often take up more space on the plate. Easily prepared with few specialty ingredients, dishes like soupy rice with pork and greens could quickly become go-to meals.
'The Silver Spoon' ($39.99; target.com)
A bible for Italian cooking since its first publication in 1950, "The Silver Spoon" has been an indispensable resource for world-famous chefs and at-home cooks alike. With more than 2,000 recipes, it's as close to a comprehensive survey of the peninsula as may be possible. From traditional sauces, marinades and flavored butters to antipasti, pasta and dessert, the only question will be where to draw the line for a single night's meal.
'Ceviche Peruvian Kitchen' ($31.06; amazon.com)
Peruvian-British chef Martin Morales traveled the length of Peru to source the country's finest recipes for this book, named for his London restaurant. While it begins with 10 takes on the title dish, seafood prepared with lime juice, "Ceviche" offers a broader introduction to what the author calls Peruvian soul food, from street eats to vegetable-forward dishes and rich, sugary desserts.
'Fire & Smoke: A Pitmaster's Secrets' ($23.16; barnesandnoble.com)
You don't need a hog pit, or even an outdoor grill, to achieve rich, smoky barbecue flavors at home. Celebrated pitmaster Chris Lilly offers everyday recipes to create the crisp outer char and tender interior of the best Southern barbecue. Fruit, vegetables and even cocktails are also infused with smoky notes in Lilly's simple-to-follow collection.
'The Food of Morocco' ($27.99; target.com)
From low-lift small plates to all-day stews made in a traditional tagine, Paula Wolfert's guide to Moroccan cooking takes an expansive view and caters to various experience levels. The celebrated cookbook author spent years traveling Morocco and learning its unique flavors, from distinctive spice combinations to delectable sweets. The book is beautifully photographed too, offering a sensory window into the country's colorful culture.
'Eat Mexico: Recipes from Mexico City's Streets, Markets & Fondas' ($22.99; amazon.com)
Mexico City has steadily become an international culinary destination. But there are no reservations required for the streetside favorites collected here by Lesley Téllez, who owns a food-tour company in the capital city. Her book collects familiar tastes like tacos al pastor and agua fresca, along with uncommon dishes from her favorite fondas — modest family-owned restaurants. Now based in New York City, Téllez also writes on how she adds Mexican inspiration to an everyday urban diet.
'Alpine Cooking: Recipes and Stories from Europe's Grand Mountaintops' ($32.99; target.com)
You don't have to trek through the snow or climb mountains to experience the Alps from your dining table. Meredith Erickson's culinary ode to the Alps stretches across a range of influences, including Italy, Austria, France and Switzerland. Comforting might be the best way to describe the feeling inspired by dishes collected here, like goulash, schnitzel and fondue. Think of it as a delicious mountain retreat for the homebody chef.
'Pok Pok: Food and Stories from the Streets, Homes and Roadside Restaurants of Thailand' ($15.49; amazon.com)
Chef Andy Ricker's Pok Pok restaurants achieved a cult appeal for good reason. The American chef's fine-tuned take on northern Thai cuisine comes from decades of traveling the region. This collection of recipes includes classics like papaya salad and pad thai alongside the restaurant's renowned fish-sauce wings. More than simply offering how-tos, Ricker weaves recipes together like a sort of personal travelogue to bring readers on a vicarious tour.
'Das Cookbook: German Cooking… California Style' ($19.99; amazon.com)
Longtime restaurateur Hans Röckenwagner brings together California-inspired takes on German dishes, including favorite recipes from his popular Los Angeles outposts. His recipes fuse fresh farmers market ingredients with cozy staples from his childhood in Germany. But the baking section is a standout, from Röckenwagner's popular pretzel bread to holiday treats like linzer torte bars and stollen.
'Prashad at Home: Everyday Indian Cooking From Our Vegetarian Kitchen' ($39.95; amazon.com)
Vegetarian cooking is often some of the most creative, and that's certainly true with many regional cuisines in India. This volume from Kaushy Patel disproves the idea that Indian food takes a lot of time to prepare. With a focus on quick and easy prep, "Prashad at Home" includes traditional dishes like bhajis and biryanis alongside Indian-inspired takes on Western staples, like a spicy veggie burger.
'Mirazur' ($54.68; amazon.com)
Located in Menton, France, Mirazur is a Michelin-starred restaurant overlooking the Mediterranean near the Italian border. It's been voted the best in the world, and this cookbook offers the full experience. Chef Mauro Colagreco derives his inspiration from fresh local ingredients and the region's stunning seaside scenery. Both are captured beautifully here. This is a book that could as easily live on the coffee table as on the kitchen counter. Prepare for a serious challenge if you want to cook from this book, though — it's not for amateurs.
'The Real Taste of Jamaica' ($36.99; amazon.com)
A go-to resource on Jamaican cuisine for more than 20 years, Enid Donaldson's "The Real Taste of Jamaica" collects culinary insights from the island's restaurants, home cooks and street vendors. Curries, jerk spices and local bonney peppers are just some of the Caribbean nation's signature flavors captured here. The book's latest printing includes special additions and an updated design.
You don't have to leave your kitchen to travel the world. Take your senses on an international adventure with these 12 celebrated cookbooks. Eat and stay well.
Note: The prices above reflect the retailer's listed prices at the time of publication.