CNN —
Casper, the beloved mattress-in-a-box company, has refreshed their original mattress that first came on the scene in 2013. Alongside the upgraded Original Casper, the company is also launching the Nova Hybrid and the Wave Hybrid. You'll be able to purchase these direct from Casper, and the company will still ship them vacuum-packed right to your door.
We were able to test all three of them out and, after catching some much-needed zzz's for a few nights on each, decided to lay down our impressions of the new Casper mattresses.
The Original
Casper
The Original builds off the most popular model from Casper, aiming to work for sleepers of all kinds. The top layer is still a breathable foam called AirScape, which allows far more airflow than a typical mattress, delivering a cooling effect. It's also a little firmer than the original Casper, with zoned support sections throughout made from memory foam.
It's a bit more comfortable overall than the previous-generation Casper mattress. The top foam layer provides a somewhat firmer feel that you'll quickly notice, especially in position-sensitive areas like your back. To some degree, this top layer of foam replicates the support that a memory foam mattress delivers. And while a box spring might leave you feeling recoil from yours or your partner's movements, this mattress is shock-absorbant. A nice win!
The breathable foam makes it a bit more forgiving for sleepers who tend to run hot, as the foam design keeps air flowing through and runs on the cooler side.
The Original is available in all the usual sizes: $595 for Twin, $695 for Twin XL, $995 for Full, $1,095 for Queen, $1,295 for King or California King.
Nova Hybrid
Casper
If you'd prefer to feel like you're sleeping on a cloud, then the Nova Hybrid deserves a look. This mattress contains several different types of foam inside, including the breathable material mentioned above and a memory foam portion with springs underneath.
Despite sinking into the Nova at first, you'll find that when lying down you're supported throughout your whole body. It's not a hard or rigid mattress; the plush memory foam layer helps distribute your body weight evenly for a comfortable sleep. We think it's the perfect mix between a foam and spring mattress — one that works well for all types of sleeping styles, whether you're a back, side, or stomach sleeper. You'll notice the mattress supports core areas like your shoulders and lower back, ensuring you're in a comfortable position.
And while there are multiple layers inside (underneath the top foam), it still ventilates the mattress allowing air to flow through. This helps keep the mattress cool even under multiple blankets or in a hot room. When tossing or turning, you might engage the springs, which can push airflow as well.
The Nova Hybrid starts at $1,095 for the base Twin model, quite a markup from the Original. It also weighs about 20 pounds more than the Original due to the mixed materials and the addition of springs in the base.
Nova Hybrid is available in the following sizes: $1,095 for Twin, $1,245 for Twin XL, $1,795 for Full, $1995 for Queen, $2,295 for King or California King.
Wave Hybrid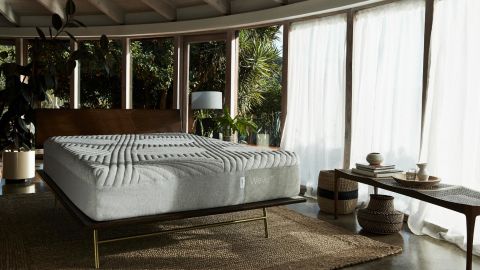 CASPER
The Wave Hybrid is designed to be Casper's most supportive mattress, and it's priced accordingly so, starting at $1,495 for a twin. Casper recommends this for people who have aches and pains. It offers the most support, and it's evident from the moment you lie down. It's not rigid, but it's firm with the least amount of wiggle relative to the others. It also has the greatest number of mixed materials inside.
These materials start with a gel layer on the top and three layers of AirScape foam underneath. Diving deeper, you'll find gel pods embedded within a ZonedSupport Max layer. The latter is a fancy term for memory foam, and it's likely where the overall stiffness comes from. Like the Nova Hybrid, the bottom layer contains springs for a bounce when you get in or out — although it is less bouncy than the Nova.
This firmer mattress conforms to your body but you won't sink in — you're kept at the same surface height of the mattress, which could help to reduce some aches after a night's rest.
More rigid than a traditional box spring mattress, the Wave excels with distributing body weight and providing support. It's an excellent choice for those who suffer from back pain. Similar to the Nova and Original, the Wave tends to keep itself pretty cool.
Wave Hybrid is available in the following sizes: $1,495 for Twin, $1,695 for Twin XL, $2,395 for Full, $2,595 for Queen, $2,995 for King or California King.
What's the same with all of these?
Casper
Casper is still offering the 100-night risk-free trial on these, along with a 10-year limited warranty. You can buy directly from Casper's online store and it will be drop-shipped to whatever address you provide. And unlike a traditional mattress that comes full-sized, Casper vacuum-packs and rolls the mattress up in a cardboard box. Be warned, though, these are pretty heavy.
Out of the box, you'll find the mattress in a tight cylinder. And while it's quite heavy (close to 100 pounds for a full), the compact packaging does make it less cumbersome. Of course, you'll still need someone to help unpack it and move it around.
Once in front of the bed frame, just unroll it and watch it inflate. We'd recommend leaving it alone for a bit so that the mattress can regain its full shape. From there, make your bed and catch some z's. You'll notice the top layer of the mattress is a unique woven design. It may please you to know that it's made from recycled materials.
For those looking for the Essential, aka Casper's most affordable mattress featuring both a foam base and AirScape, it's now the Essential and is also launching today. It starts at just $395 for a Twin.
Casper's latest generation of mattresses is available for order right now. And yes, you can still get the connected Glow lights, pillows, sheets, weighted blankets and even bed frames from the store as well.
Note: The prices above reflect the retailer's listed prices at the time of publication.