(CNN) —
The Adobe Creative Cloud Suite is a powerful, professional set of programs that designers of all backgrounds use every day. But for those of us starting out, these programs can feel overwhelming. Fortunately, The All-in-One Adobe Creative Cloud Suite Certification Bundle holds a trove of lessons that will send you well on your way toward expertise.
This eight-course bundle, which is available for $34 on stacksocial.com, covers a wide array of Adobe CC programs, specifically: Photoshop, After Effects, Illustrator, XD, InDesign, Lightroom Classic, Premiere Pro and Spark. Within, you'll find more than 48 hours of content including step-by-step lessons on the ins and outs of each of these programs and what they're best used to accomplish. For a week, we took a hands-on look through these courses to find out how they stacked up, and this is what we found.
Here's how these courses work
These lessons feature helpful instructors who start at the beginning. Through a process of introducing features, walking you through examples complete with downloadable assets and moving on to advanced techniques, you'll be more confident in your programs of choice in no time. Best of all, once you buy this bundle, it's yours for life. Access it 24/7 on any device capable of video streaming. On a similar note, you don't have to go in order in these courses — if you're looking to skip ahead to specific lessons, go for it.
The Complete After Effects CC Master Class Course for 2020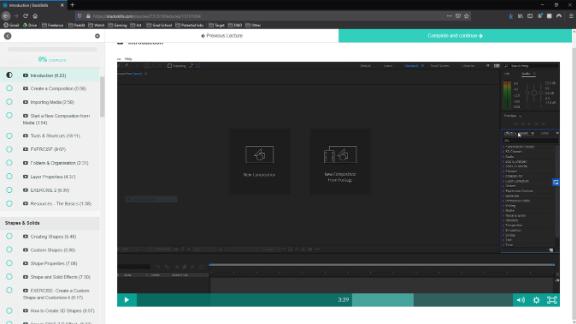 This course is introduced by Joe Parys and taught by Jack Cole, a freelance video editor, videographer and YouTuber. Cole opens with a clear introduction stating what you'll learn. There is even a syllabus video that breaks things down even better. Right after introductions, you and your instructor dive into the basics of Adobe After Effects CC. You start by creating a project and defining its parameters, like frame rate and background color. From there, you'll learn how to import videos and audio, editing together a small composition thereafter.
There are a number of example lessons for which you can download materials and follow Cole through the editing process. This continues from the novice lessons to higher-level lessons, like creating masks and rotoscoping. And as frequent as there are examples, there are reminders on how to keep your project organized. Unfortunately, Jack works quickly at times, so you may need to pause and rewind to follow along.
While this course doesn't go out of its way to define techniques, the instructor presents enough examples that you'll understand a tool and its uses. This is well done in lessons like those on animations and keyframes. Rather than simply spitting a definition at you, you'll learn by trying things and seeing them in action. Still, it may have been helpful to give users the best of both worlds on that front.
Adobe Photoshop CC Course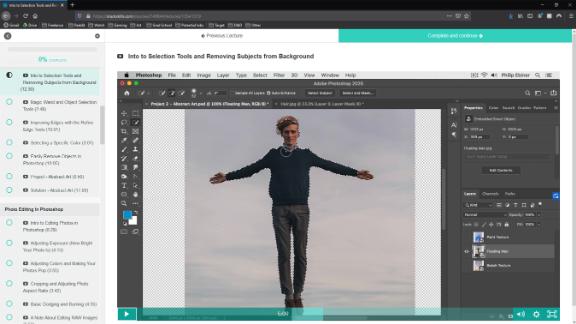 In this course, you're under the tutelage of Phil Ebiner, a photo editing and videography guru. Once again we are treated with a general framework for the lessons, though this intro is less comprehensive than the others. However, the lessons soon begin, starting with one on opening Photoshop for the first time. From here, you'll learn how to start a project and import your files into it. You'll also learn about Photoshop's layout, how to customize it and how to organize your workspace to your liking.
Layers, the next lesson, are a vital aspect of photo editing, so Ebiner spends time building your skills in this area. Soon you'll discover useful features, like layer masks for editing specific areas of your composition. Of course, the basics like adjusting layer light values, contrast and brightness will always come in handy, too.
As the course gets more advanced, Ebiner covers a lot of ground, introducing and teaching techniques like dodging and burning, lens corrections and targeted adjustments. Each technique takes a slightly different array of tools, and each one brings you a few steps closer to expertise. At the end of the course, he'll walk you through full-length projects that take advantage of many aspects of past lessons. One such project is creating an image of an eye with a galaxy reflected in it. That one's sure to impress.
Logo Design Mastery In Adobe Illustrator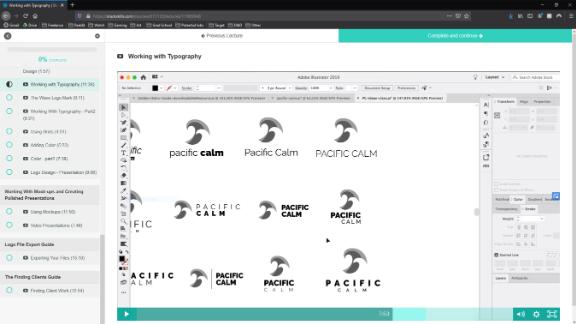 Lindsay Marsh, an educator in graphic design and marketing, provides a thorough overview of what she plans to teach you in this course. Of course, the focus is logo design, so you'll receive a number of lessons on related introductory topics. These include design and color theory, logo styles and what to look for in a strong logo. She also provides tips and lessons on how to find out a client's needs. This includes tips on presenting a focused body of work that puts your best foot forward. From there, Marsh jumps into Illustrator to cover introductory design principles and processes. And if you like design philosophy, you'll love her lessons on the Golden Ratio.
Even though this course concentrates on logo design, you'll learn about the essential tools and functions of Illustrator. Some of the first lessons cover the design process, from sketching all the way to applying textures and finalizing your project. And it wouldn't be complete without plenty of downloadable resources that allow you to follow her through the process. Learning by example seems to be the philosophy in this bundle, and Marsh makes it easy to follow along and learn as you go.
You'll learn how to export files, doing so to meet the needs of your client, of course. We enjoyed this client-based approach, as it adds a layer of applicability on top of already excellent lessons. Just as she puts emphasis on this in the beginning, she provides valuable tips near the end on finding and maintaining clientele.
Bottom line
This Adobe CC bundle is ideal for users who are starting out, but has a lot to offer for intermediates too. Those who already have considerable skill in these programs can likely pass it up. Even so, this bundle covers enough programs that most people will find something to learn.
Get lifetime access to The All-in-One Adobe Creative Cloud Suite Certification Bundle ($34, stacksocial.com) and hit the ground running with its experienced teachers and abundant lessons.
Note: The prices above reflect the retailer's listed price at the time of publication.