CNN —
Whether you just splurged on a newly released phone or your old, reliable device needs a makeover, this OtterBox sale has everything you might need — including some extra savings. Right now, everything from the brand is 15% off.
Obviously, OtterBox has thousands of cases to choose from, so it's best to sort by device as you search for something to suit your personal style. (Otter + Pop and Viva Series cases are excluded from the sale.) In terms of screen protectors, choose from the Alpha Glass, Alpha Flex and Amplify series and opt for features including anti-glare and edge-to-edge protection. And as you look to power up, consider picking up a new wireless charger, car charger, power bank or even just an extra cable.
Plus, be sure to check out Otterbox's stellar outdoor line, which includes everything from hard and soft coolers to drybags and drinkware.
This sale will last through March 17, so be sure to hurry if you want to snag the full complement of accessories for your phone or your next outdoor adventure at a discount. Our top picks are below, but browse the site's full offerings here.
iPhone 11 Pro Max Commuter Series Case ($34.81, originally $40.95; otterbox.com)
This classic Otterbox design is compact enough to fit in your pocket, and grippy edges ensure your phone stays put in your hand. If it does somehow end up on the floor, though, the case's two tough layers are made to absorb and deflect impact.
Galaxy S20+/Galaxy S20+ 5G Defender Series Pro Case ($60.31, originally $70.95; otterbox.com)
If you just ordered the new Galaxy S20+, make sure it's protected with OtterBox's rugged Defender Series Pro case, featuring Pro Drop Protection and a handy holster.
iPhone 11 Symmetry Series Clear Case ($43.31, originally $50.95, otterbox.com)
Keep it simple with a clear case that puts your phone's design on full display.
iPhone 11 Pro Max Amplify Glass Edge-2-Edge Screen Protector ($50.96, originally $59.95; otterbox.com)
The Amplify Glass Edge-2-Edge fits your phone to a T, and it's made from actual long-lasting, high-strength glass to guard against scratches and damage from drops and impacts.
Alpha Flex Screen Protector for Galaxy S10+ ($42.46, originally $49.95; otterbox.com)
This Alpha Flex protector conforms to the shape of your screen, and it ensures that your display's sensitive touch response is in perfect working order.
iPhone 11 Pro Amplify Glass Glare Guard Screen Protector ($55.21, originally $64.95; otterbox.com)
No matter what lighting you find yourself in, you'll always have a clear view of your screen with the Amplify Glare Guard protector. It's made to offer superior display readability in all lighting conditions, plus it will help you save battery by negating the need to turn up your display's brightness.
OtterSpot Wireless Charging System ($110.46, originally $129.95; otterbox.com)
Bid your cables and cords farewell with this charging pad that can fast-charge Qi wireless devices.
OtterBox USB A-C + Qi Wireless Power Bank ($67.96, originally $79.95; otterbox.com)
Stop worrying about your device going dead while you're out and about. The 10,000-mAh OtterBox Qi Wireless Power Pack can quickly charge up to three devices at once, and its exterior is dust- and splash-resistant.
OtterBox USB-A Car Charger ($21.21, originally $24.95; otterbox.com)
Plug your phone in while your cruise in your car with this OtterBox USB-A Car Charger. Two USB ports mean you can simultaneously power up two devices at high speeds.
Venture 45 Cooler ($254.99, originally $299.99; otterbox.com)
This hard cooler is as sturdy as can be. This 45-quart cooler is certified bear-resistant by the Interagency Grizzly Bear Committee when secured with a locking kit, so you know it's designed to take a beating. And it's not just tough; it can also keep ice for up to 14 days.
Elevation 28 Growler ($29.74, originally $34.99; otterbox.com)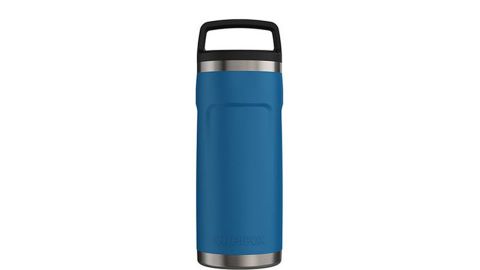 This 28-ounce growler has an internal copper lining to maintain the temperature of any drink. It can be paired with different lids such as the Thermal Lid to fit your style. Plus, the stainless steel build ensures this bottle will survive anything you throw at it for years to come.
Drybox 3250 Series ($33.99, originally $39.99; otterbox.com)
Built with super strong polycarbonate, this drybox isn't going to break anytime soon. Store your keys, wallet or even a small phone to keep them safe no matter where you go. The box is even waterproof up to 90 feet for 30 minutes, so no need to worry if it rains or if you drop it off the boat.
For more great deals, check out CNN Coupons.
Note: The prices above reflect the retailer's listed price at the time of publication.