An apple with peanut butter. Greek yogurt with berries. Avocado toast. These are the kinds of snacks that can transform a very average day into a wonderful one, all while keeping your energy up so you can effectively tackle the day.
However, as you may know, not all snacks are innately healthy and balanced. And that especially goes for pre-packaged snacks, which can be loaded with enough sugar and sodium to bring your energy level to a screeching halt. So whether you're packing snacks to take to the beach, or still stuck inside trying to curb your boredom-induced hunger, it's time to switch to some healthy options to brightening your day with a dose of tasty nutrients. Because hey, just because something is healthy doesn't mean it shouldn't taste great.
How to choose a healthy snack
So, what constitutes a good, healthy snack? "Ideally, snacks should be minimally processed, with either protein or fat paired with a carbohydrate," Brittany Modell, founder of Brittany Modell Nutrition and Wellness, says. Protein, fat and fiber are the keys to feeling satiated, says Monica Auslander Moreno, founder of Essence Nutrition, but many snacks on the market lean heavy on carbs, which, without other nutrients, can leave you even more hungry than when you started.
When you're browsing through endless snack options, there are few criteria to keep in mind. Start by reading the snacks' ingredients. The fewer, the better.
"Snacks should incorporate real and wholesome ingredients," Moreno says. She says "added sugar" is another part of the nutrition label you'll want to focus on (all packaged foods will clearly note the grams of added sugar by the middle of 2020). While many nutritious foods are naturally high in sugar (like dried mango, for example), you'll want to stick to snacks that have little to no additional added sugar.
Another label line to keep an eye on: Fiber. "Fiber keeps you full, helps balance blood sugar and assists in cholesterol metabolism," says Moreno. "I like to find a snack that has at least 4 grams of fiber per serving."
There's no doubt that browsing snack options online can be as overwhelming as it is exciting; bursting with flavor and possibility, the task of picking a nutritious nibble can be daunting. With assistance from nutritionists, we've put together a list of 17 snacks on Amazon that are just as delicious as they are healthy and nutritious.
Whisps Cheddar Cheese Snacks ($11.99; amazon.com)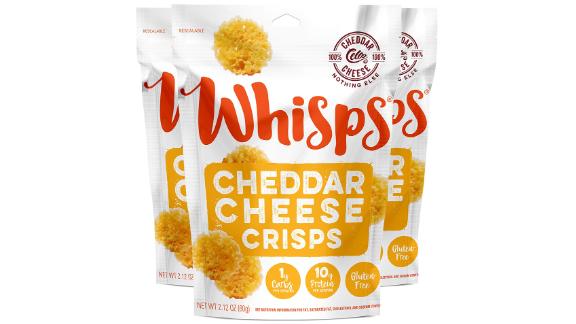 These taste like crackers, but they're grainless, says Moreno. With just 1 gram of carbohydrates and 12 grams of protein per serving, these cheesy crisps will keep you full — as every good snack should.
Perfect Keto Bars, 12 Pack ($39.99; amazon.com)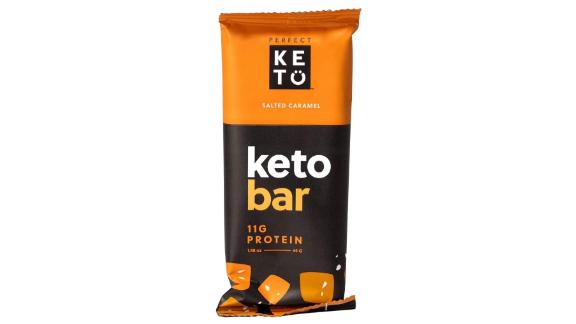 With 11 grams of protein and 9 grams of fiber, plus zero added sugars this keto bar is lean and clean to give you sustained energy throughout the day.
Emerald Nuts Variety Pack (starting at $9.98; amazon.com)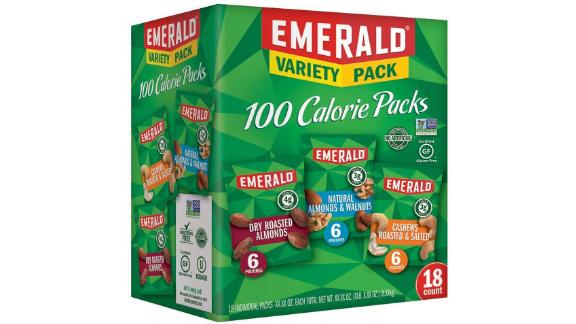 Healthy fat and a solid protein count are the reasons why nuts sit on top of the healthy snack totem pole. But their addictive, salty goodness can make portion control tough. Emerald's 100-calorie packs of walnuts, almonds and cashews mean you don't have to try.
Seedible Organic Sesame Butter ($9.99; amazon.com)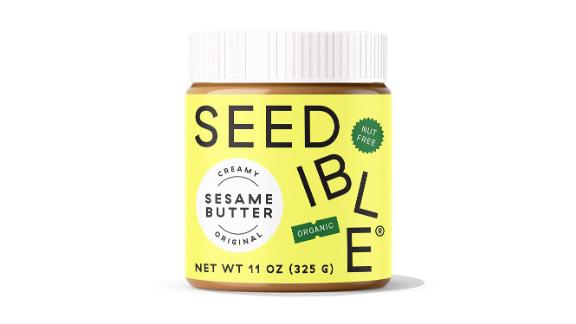 Try replacing your sweetened peanut butter with this organic sesame butter. This spread is packed with 6 grams of protein and has zero grams of added sugars.
Enlightened Bada Bean Bada Boom, 24 Pack ($19.50; amazon.com)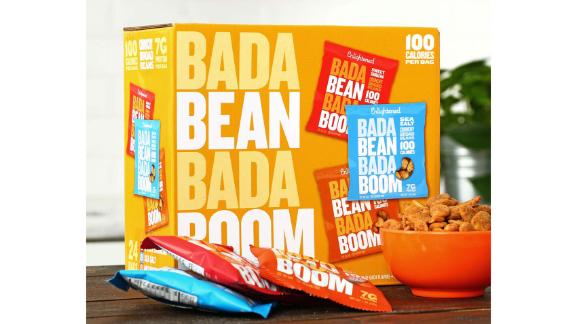 Perhaps you never considered yourself the type to snack on beans. But here we are. These adorable snack packs are filled with protein- and fiber-rich broad beans that come in three varieties: sea salt, sweet sriracha and mesquite barbeque. Don't knock the small but mighty bean: Each 100 calorie serving of this snack boasts 7 grams of protein and 5 grams of fiber.
Artisana Organic Raw Pecan Butter Single Serve Tear-Open Packs, 10 Pack ($19.99; amazon.com)