San Francisco
CNN Business
—
The organizers behind the closely-watched CES technology trade show are facing tough questions after a Canadian cannabis company pulled out of the event over its policies for presenters.
Keep Labs won a 2020 CES Innovation Award for its smart cannabis storage device that is climate-controlled and includes features such as facial recognition for childproofing and preventing unauthorized access.
But when the company said it was told by CES organizers not to mention cannabis or show depictions of the plant on the showroom floor, Keep Labs pulled out as a CES exhibitor.
The move, first reported by TechCrunch, sparked a round of press coverage this week with echoes of another recent CES controversy over the conference's handling of sex toys.
Last year, sexual health startup Lora DiCarlo won a CES Innovation Award for its personal massager, only to have its honors revoked by CES organizers. The female-founded firm pushed back on the decision, highlighting longtime complaints that the show fostered gender inequity and sexism.
The award for the Osé massager was reinstated four months later. CES has since beefed up its gender diversity efforts and gave space to sex tech companies to exhibit as part of a one-year trial. Now, Keep Labs hopes a similar fate awaits cannabis-related technology.
"We believe this was a huge step in the right direction of taking cannabis out of the shadows and talking about innovation," Philip Wilkins, co-founder of Keep Labs, said in an interview with CNN Business.
The show's organizers say a policy tweak for cannabis is possible, but there's a big, complicating difference from sex toys: Cannabis remains federally illegal.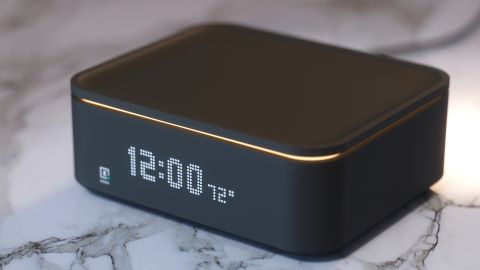 "When it comes to marijuana, this is actually a much tougher one for us," said Jamie Kaplan, senior director of global event communications for the Consumer Technology Association, the trade group that puts on CES. "What we have been following, really, is the legislation and what is legal on the federal level."
Kaplan added: "I do think this is an area where I wouldn't be surprised if this [changed] in the future."
While CES has drawn some hard lines – prohibiting pornography, tobacco, cannabis, vaping devices, content showing children being killed – the show has evolved over the years to feature innovative technologies from unlikely sources, Kaplan said. She noted the presence of companies like venerable tractor maker John Deere and meatless burger company Impossible Foods.
"We don't always get it right," Kaplan said. "We look every year to see what are ways to improve."
This isn't CES's first run-in with cannabis. For several years now, makers of cannabis-related technology have tried to get past the velvet ropes into the CES club. Even as Keep Labs gave up on this year's event, others stayed without incident.
Exhibiting this year at CES was Trova, a Denver-based company that makes and sells an app-connected vessel to discretely store items such as jewelry, prescription medication and recreational products such as cannabis.
"If you're dealing with any organizations that are national or global, they're going to be very uncomfortable touching something that's federally illegal," said Scott Loeppert, who co-founded Trova with his wife.
Cannabis has become a multibillion-dollar business in America as an increasing number of US states have established laws regulating the sale of cannabis for medical and recreational use. Nevada is one of 11 US states where recreational marijuana is legal; and Las Vegas also plays host to MJBizCon, the cannabis industry's largest trade show.
The booming new business has seen a slew of technology innovations aimed at supporting and solving problems unique to a first-of-a-kind industry. They're ancillary businesses that aren't plant-touching but designed to help companies that work directly with the cannabis plant.
"We will not ever quit trying to be at the forefront of eliminating the stigma around cannabis," Wilkins said. "We would love more than anything to partner with the CTA to talk about the importance of innovation [in new industries such as cannabis]."