Editor's Note: Peniel Joseph is the Barbara Jordan chair in ethics and political values and the founding director of the Center for the Study of Race and Democracy at the LBJ School of Public Affairs at the University of Texas at Austin, where he is also a professor of history. He is the author of several books, most recently "Stokely: A Life." The views expressed here are his. View more opinion articles on CNN.
(CNN) —
The news that John Lewis, the civil rights icon and congressman from Georgia, has been diagnosed with stage 4 pancreatic cancer represents a sobering reminder. This legendary man now faces a mighty challenge – and the sad news of his illness reminds us of the fortitude so many brought to the civil rights struggle and the somber reality that we are slowly losing the generation that defeated Jim Crow segregation in America.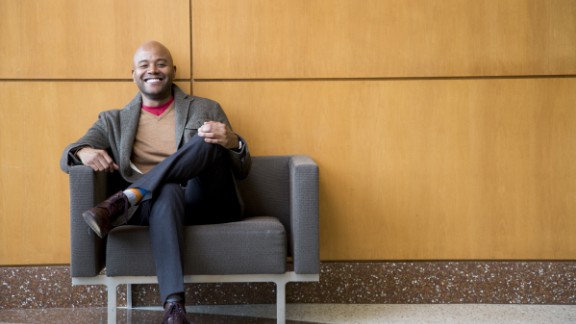 Every generation that passes into history takes with it vital institutional memory that indelibly shapes contemporary notions of citizenship, freedom and democracy. Lewis' generation has done this in momentous ways. Beyond the quest for voting rights and struggles to end Jim Crow in public schools and neighborhoods lay the undiscovered country of full citizenship for everyone from semi-literate sharecroppers in the Mississippi Delta to the unjustly incarcerated in big cities across America.
The life and legacy of John Lewis encompasses the complex relationship between race and citizenship in America. The outpouring of love, support and concern that greeted the news of the congressman's medical diagnosis should be refracted though the lens of our own tumultuous time: an era marked by racial divisions, a democracy in peril and the alarming frequency of violence such as mass shootings and police killings of unarmed black people.
In the age of Donald Trump, the possible loss of a statesman such as John Lewis matters more than ever. In that sense the nation now finds itself lamenting the potential loss of its best self, the side of the national character purposeful enough to believe that sacrifice inevitably led to democratic renewal and reinvigorated moral purpose.
John Lewis, through non-violent sit-ins, protests and demonstrations, helped to shape a generation of Americans who sought to transform a political reality long based on racial segregation, poverty and violence. As a Freedom Rider in Anniston, Alabama, in May 1961, Lewis experienced a brutal attack by a white mob that nearly killed him. Four years later, as the chairman of the Student Non-Violent Coordinating Committee (SNCC), Lewis faced off against mounted Alabama state troopers at the Edmund Pettus Bridge, emerging as one of the heroes of "Bloody Sunday" and experiencing another beating that left him with permanent physical scars, wounds that helped to heal America's political soul.
The young John Lewis, although a fierce advocate of non-violence, frightened white liberals and conservatives alike. Lewis agreed to revise his 1963 March On Washington speech, which originally forecast a march through Dixie in pursuit of racial justice in uncompromising language.
"We shall fragment the South into a thousand pieces and put them back together in the image of democracy," Lewis' original draft promised. Lewis' amended speech still resonated as a cri de coeur against racial apartheid in America.
The March On Washington's youngest speaker has proven to be among the most resilient survivors of the civil rights era, seeming to almost effortlessly transition from political outsider to an elected official representing Atlanta. It would be too facile to characterize Lewis, or the generation he encapsulated, as merely shifting from protest to politics. In fact, Lewis took the hard fought victories and lessons experienced during the civil rights era as fuel as he has entered new arenas of struggle.
Lewis embraced the age of Barack Obama as a generational shift that he, in part, helped to produce. Resolutely humble about his place in history, Congressman Lewis has lived an extraordinary life, but one contoured by appreciation for the way in which ordinary lives could transform history.
Lewis imbibed the Jim Crow-weary wisdom of long marchers such as SNCC founder Ella Jo Baker and education pioneer Septima Clark; took on Martin Luther King Jr. as a personal mentor and role model; dialogued with Malcolm X in Kenya; and braved white mobs and those law enforcement authorities who believed in white supremacy as the core principle of American democracy.
The breadth and depth of Lewis' personal experiences – which span from the segregated Alabama black belt of the Depression era to the more racially integrated, but no less politically fraught, present – comprises the ongoing search for a better America.
Our contemporary age of mounting anxiety and increasing anger over the very meanings of citizenship, democracy, and freedom can make Americans of all backgrounds wistful for the moral clarity of the civil rights era, when Lewis and other young student activists risked their lives in search of what Dr. Martin Luther King Jr. characterized as the "beloved community."
Get our free weekly newsletter
Yet the major lesson of John Lewis' life so far has been that political transformation is a marathon and not a sprint. Long distance runners believed in the "beloved community" during the age of segregation and continue to do so even in the face of racial division and violence. Long before Barack Obama evoked hope in a national presidential campaign, John Lewis' generation clung to a stubborn faith in the possibility of racial justice, equal citizenship and radical democracy that remains the basis of their freedom dreams and our own.