(CNN) —
Nurses and doctors at a Philadelphia-area hospital's maternity ward saw a bumper crop of babies this year. But this time, the babies were their own.
So far, 15 nurses and two doctors from the labor and delivery ward at East Norriton Township's Einstein Medical Center have given birth this year. Two more nurses are expected to give birth in January, according to staff in the ward.
"We always feel it's a privilege to take care of any patient, but when it's your own, it's something extra special to you," said AnnMarie Papa, the hospital's chief nursing officer. "It makes you prouder."
Postpartum nurse Abby Deardorff began tracking just how many expectant mothers there were after she gave birth to her third child this past January but says there was no special reason for the localized baby boom.
"Obviously, we like babies," Deardorff said.
Some, like Deardorff, delivered in the same hospital where they had recently been making rounds. Deardorff gave birth the day after her fellow nurse, Erica Hopper.
"She wheeled her baby and his crib into my room, so we could introduce the babies," Deardorff said.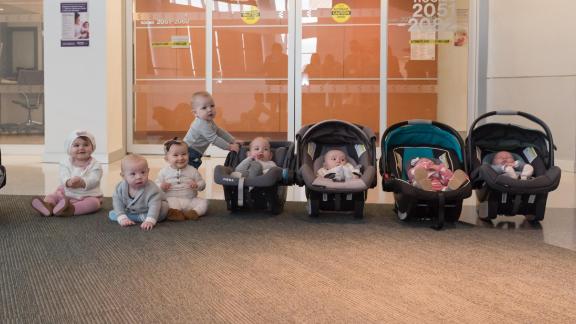 Dr. Melissa Poot, an OB-GYN, gave birth to triplets in November. She said nurses would check in during her shifts while she was pregnant, making sure she was drinking enough water.
"I think we could all sympathize with what each other was going through, and trade tips about making it through long shifts on our feet," she said. "We all took care of each other."
While some of the staffers were already mothers — both Deardorff and Poot have other children — they said the experience brought them closer to their patients.
"When anyone who's pregnant sees another pregnant person, it's like, 'Oh, they know what I'm going through," Papa said.
As Deardorff got closer to her due date, parents who had just given birth would help if she dropped a blanket.
Even postpartum, the coworkers relied on each other for support, asking their fellow midwives, lactation consultants and obstetricians for advice.
"You're scared, because you know it's your first baby and you want to keep this tiny human alive," Deardorff said. "But we know what the serious things are, so we kind of don't sweat the small stuff."