(CNN Business) —
The Saudi Cup in February is set to become the richest horse race in history, boasting a first prize of $10 million.
With that kind of money up for grabs it's easy to see why racehorses can sell for millions of dollars at auction. But for the owners of a select few horses, eye-popping prize funds aren't the biggest money-maker.
Racing stallions, or male horses of breeding age, earn a "stud fee" for each broodmare (female horse) they breed with. The fees vary hugely but the very best stallions, with a winning history on the racetrack, can earn more than $100,000 each time. A select few can earn much more.
Expensive bloodlines
Irish stallion Galileo, who had a highly successful racing career around the start of the century, now has an undisclosed stud fee reported to be as much as $700,000 per mating, according to Thoroughbredracing.com.
That might sound like a lot of money to pay for racing genes but it could be a sound investment. Galileo has sired the winners of many major races across Europe. One of them, Frankel, has become a highly successful stallion in his own right, commanding a stud fee of around $225,000.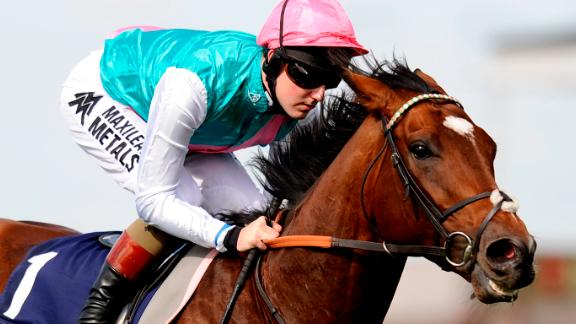 A Japanese horse, Deep Impact, commanded up to 40 million yen ($366,000) each time it bred, until its death this year, according to Thoroughbredracing.com. And Tapit, an American horse that had only modest success at racing, partly because of illness, became a breeding sensation and was valued at $120 million in 2015, according to Bloomberg — with a $300,000 stud fee at the time.
Some stallions will breed with well over 100 mares a year, and their studding careers can last a decade or more; Galileo's, for example, has already lasted almost 20 years.
Best of the best
But for would-be horse breeders there's a catch: only a tiny proportion of race horses become successful stallions. "There are only five horses in the UK with a stud fee of £50,000 ($65,400) or more, and 15 above £20,000 ($26,000)," says Tom Goff, chairman of UK horseracing consultancy Blandford Bloodstock.
The potential for huge returns from such a small number of horses means the most promising colts (young males) can command huge prices at auction. In October, Dubai ruler Sheikh Mohammed bin Rashid Al Maktoum splashed out $4.3 million on a young colt with an impressive bloodline. Sheikh Mohammed is the driving force behind Godolphin, one of the biggest operations in horseracing, and owns the Darley breeding outfit, which has around 80 stallions in seven countries.
"The reason the top of the bloodstock market for colts is very expensive is that the bigger owners and the larger farms are trying to buy colts that might make stallions," says Goff.
"If you get it right and buy the right stallion you can make tens of millions of pounds, which is why people are willing to take such enormous risks," he adds.
And it's clearly a high-risk business. Expensive racehorses can get injured, or struggle with illness. Promising stallions can end up siring horses that aren't successful racers, reducing the stallion's stud fees.
Fusaichi Pegasus won the Kentucky Derby in 2000 before reportedly being sold for between $60 million and $70 million to Coolmore Stud. Although he sired a number of major race winners, he wasn't considered a huge breeding success, and his stud fee today is just $7,500. Bloodline alone is not a guarantee of success.
That could explain why so many racehorse owners are millionaires to begin with. For them, the potential financial return is only part of the attraction. "With thoroughbreds it's not just about an income," says Goff. "All owners are passionate about racing; they simply wouldn't take those risks without a passion."