(CNN Business) —
As with many aspects of Dubai, the city's diamond trade has grown up fast.
"Back in the 1990s, there was no diamond industry in Dubai," says Martin Leake, special adviser for precious stones at the Dubai Multi Commodities Centre, a free zone where the Dubai Diamond Exchange is incorporated.
In 2018, the value of diamond trading in the city exceeded $25 billion, according to the Dubai Multi Commodities Centre.
From being barely a pinprick on the international map, Dubai's diamond industry is now gunning for Antwerp's crown as the world's leading center of the trade. The Belgian city's diamond business was worth $46 billion in 2018.
The Emirate's progress has been facilitated by its minimal tax demands and convenient location between producer countries in Africa and major sales markets such as India, says Leake.
Another factor is rapid development of the city's trade infrastructure. This includes the world's largest diamond trading floor at the Almas Tower, a skyscraper located near the Persian Gulf. The exchange features 41 viewing tables, private cabins, and white crystal windows that allow for accurate appraisal of the color of precious stones.
The Dubai Diamond Exchange has undergone multiple renovations in recent years and now accommodates more than 1,000 companies involved in the trade. The site contains facilities for processing diamonds, jewelery merchants, and an office of the Kimberley Process — the authority charged with ensuring diamonds are ethically sourced.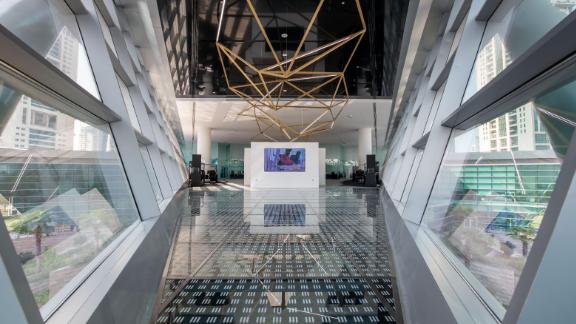 Preparing rough diamonds is a painstaking process that can be highly lucrative.
Painstaking preparation
"When the diamonds come out of the ground, they often have grease on them or parts of rock — so they need to be cleaned," explains Leake.
The rough stones are treated with a mix of acids and heated in specialized ovens to clear out impurities. Most are then freighted to India to be cut and polished — apart from exceptional stones that are treated on site with technologies that heightens their value.
"We make a 3D model," says Jan de Henau, operational manager at Almas Diamond Services. "Basically, we plot all the cracks that are inside and then we add an algorithm to calculate what the highest value is of the stones inside."
Dubai's diamond developers are also using new tools such as a waterjet laser, which keeps the diamond cool and stable while it is cut.
"The value of the machine is $1 million, which might sound a lot of money," says de Henau. "But the profit you make sometimes with one or two incisions in one stone [can be worth] tens of millions of dollars."
The Dubai Multi Commodities Centre is determined to maintain a rapid rate of progress, to draw even more companies to trade at the diamond exchange, and increase the pressure on Antwerp as the global capital of the diamond trade.
Dubai is already established among the leading players. But as Leake puts it: "The only place you want to be is number one."