Editor's Note: Karthick Ramakrishnan (@karthickr) is professor of public policy at the University of California, Riverside and is the co-author, most recently, of "Framing Immigrants: News Coverage, Public Opinion, and Policy." The opinions expressed in this commentary are his. Read more opinion on CNN.
Later this week, all eyes will be on Los Angeles as the Democrats hold their final primary debate of 2019. It would be a mistake, however, for the presidential candidates to simply fly in and out of town, perhaps adding a fundraiser or two before getting back to campaigning in Iowa or New Hampshire.
They should head instead into inland California, where millions of votes are stake, with dozens of delegates that could prove valuable in a crowded race to the nomination.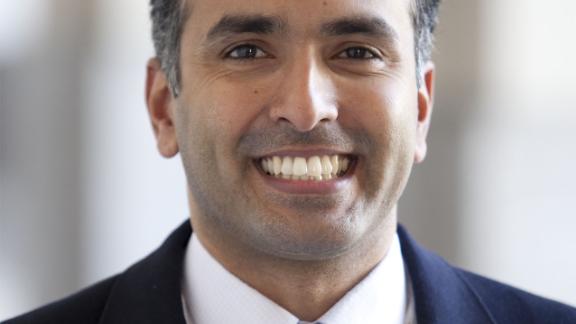 Woodrow Wilson Center
California will play an outsized role in choosing the party's presidential nominee next year. The state has 495 delegates up for grabs, which is 10 times larger than the number of delegates from Iowa and counts for nearly 1 of every 9 total delegates. It is also an early-voting state in 2020. Mail-in ballots will be sent out on February 3, the same day as the Iowa caucuses, and if the 2018 primary is any indication, about two-thirds of California voters are likely to avail themselves of that option.
Democratic presidential candidates are certainly aware of the overall importance of California; according to the Sacramento Bee, they have made over 300 visits to the Golden State, although most of them have been fundraisers clustered in coastal California, mostly around Los Angeles, San Francisco and Silicon Valley.
These candidates would be well served by spending more time in inland California, including the population-rich areas of the Central Valley – such as Sacramento, Fresno, and Stockton – and the big cities of the Inland Empire, an area east of Los Angeles, including Riverside and San Bernardino counties.
It is no exaggeration to say that inland California could determine the winner of the California primaries.
There are more than 3 million voters in the Central Valley and the Inland Empire eligible to participate in the Democratic primary, or about 1 in 5 of a statewide total of 14.4 million eligible voters. In the Inland Empire alone, about 1.3 million voters are eligible to participate in the 2020 Democratic primary, with about as many district delegates at stake as Iowa. Inland California voters are also more persuadable, with a higher proportion of undecided voters, according to a recent survey from UC Berkeley.
Importantly, the economic struggles of inland California are the struggles of many other parts of the country. For example, according to economists John Husing and Manfred Keil, the Inland Empire shed nearly 40,000 manufacturing jobs during the Great Recession and has gained back only about 16,000 since then.
Furthermore, much of the region's new job growth is concentrated in warehousing, with lower pay and increasing risks of automation. Job loss from automation is also a significant concern in the agricultural heartland of the Central Valley, as a Brookings Institution report from early 2019 found that nearly 50% of jobs in Stockton, Fresno, and Bakersfield were at risk of automation.
Perhaps not surprisingly, Michael Bloomberg made his first visit to California as a presidential candidate – not to Los Angeles, where the next debate will be held, but to the Central Valley, where he discussed a new "war on poverty."
There, he picked up the endorsement of Stockton Mayor Michael Tubbs, an African American mayor and rising star in the Democratic Party, who is luring public as well as private investments into the once-bankrupt city, and has championed early experiments in universal basic income. Tubbs had previously backed Kamala Harris, but shifted his support to Bloomberg soon after the California senator dropped out of the presidential race.
Other Democratic presidential candidates would be smart to follow Bloomberg's lead, to pick up endorsements and hold major rallies in inland California. To be fair, Bernie Sanders was scheduled to hold a rally in Riverside in early October but had to postpone the event because of his heart surgery. More recently, he has held a campaign rally in Fresno and is making two stops in the Inland Empire before the Los Angeles debate.
Still, none of the other major candidates have held rallies or seem to have sought out significant endorsements in inland California.
Pete Buttigieg held a small "meet and greet" in Fresno and a fundraiser in Sacramento, while Julian Castro made a visit to Delano, the place that helped launch Cesar Chavez and the farm worker movement. Joe Biden and Elizabeth Warren have made no visits to the Central Valley, according to the Sacramento Bee tracking map
More candidates would be wise to make visits to inlands parts of California, since they would earn free local media coverage that can help counterbalance the massive advertisement buys in California that candidate Bloomberg has already made.
Get our free weekly newsletter
Many of the questions at the Los Angeles debate will likely center on national issues, including impeachment, health care, and immigration. The candidates might make occasional mention of the ways such issues affect California, and sprinkle in shout-outs to communities in Los Angeles.
They would be well-advised, however, to spend more time in the inland parts of the state. Winning the vote in inland California will be a strong barometer for winning in many other inland parts of the country that are struggling to catch up with their coastal counterparts.