Editor's Note: This story contains descriptions and images of torture victims that will be upsetting to some readers.
It is a moment nearly six years in the making. A moment he has had to risk his life for time and again. He smuggled photos of war crimes out of Syria to demand that the world, specifically the United States, do something about what was happening in his home country.
On Tuesday, he would see the strongest ray of hope that someone finally would place sanctions on Syria for the horrific things he saw there. In the $1.4 trillion National Defense Authorization Act of 2020, which passed the Senate 86-8, there is a section that bears the man's code name, the only way he is known to the world: "Caesar."
If signed into law by the President, as expected, The Caesar Syria Civilian Protection Act would slap new sanctions on Syrian leaders and commit the US to support international prosecution of those accused of human rights abuses.
Its inclusion is based almost entirely on Caesar's 2014 testimony to Congress and his repeated visits to Washington over the years to meet with lawmakers and to document and describe the horrific scenes he has witnessed.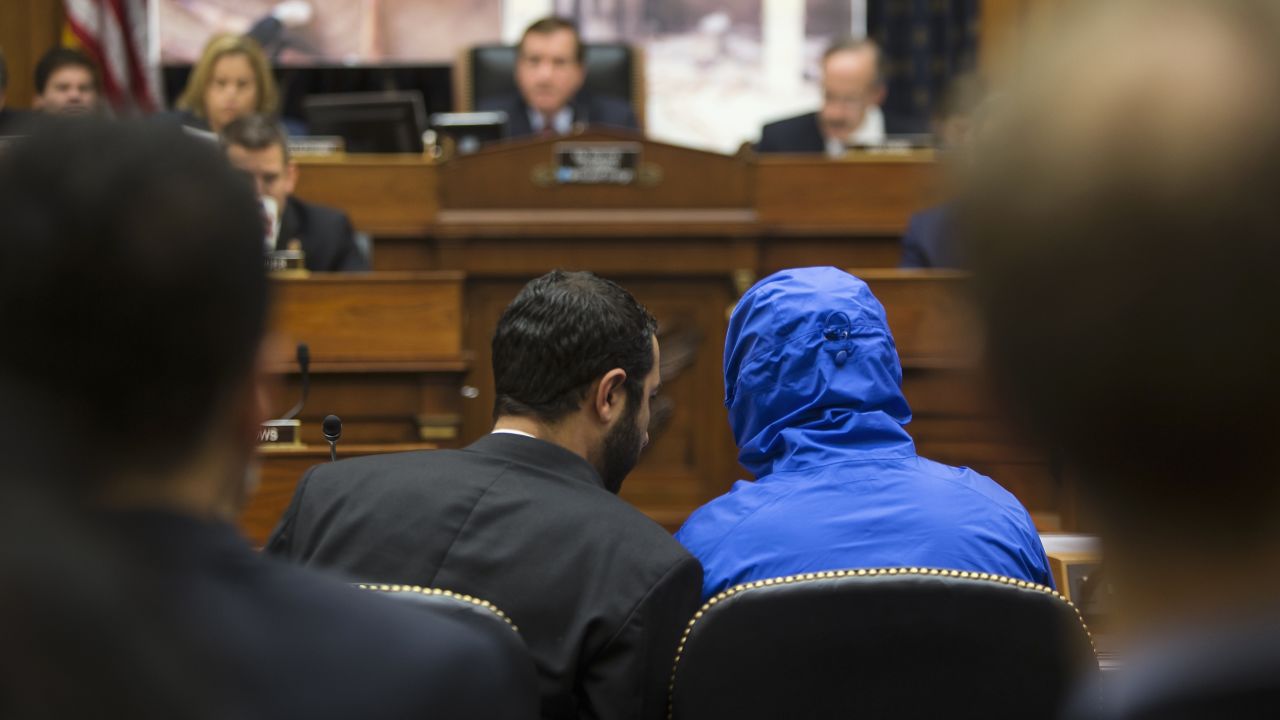 Caesar was part of a military police forensic photography unit in Damascus. He began saving photos surreptitiously to thumb drives before smuggling them out of the country to lay bare the brutality of the Bashar al-Assad regime.
The horrifying pictures – almost 55,000 of them, taken by Caesar and others – showed scenes that were compared to the depravity of the Nazis.
They showed women and men starved and slaughtered by the Syrian government. Caesar spoke to CNN three months ago as he made another push on Capitol Hill to plead for someone to care and took CNN's Kate Bolduan to an exhibit of his photos at the US Holocaust Memorial Museum.
In his signature blue parka, which disguised his identity, Caesar also walked the halls of Congress, shuttling from meeting to meeting, hoping it would make a difference.
At that moment, he said he hoped it would be his last visit to the Capitol – and now it may well be if President Donald Trump signs the defense bill as expected.
On Tuesday, Caesar told CNN he is grateful for this moment. That while those he saw tortured cannot be brought back, he hopes it means the killing can finally stop and the number of bodies will stop piling up.
"Today the People of the United States that we look towards as a shining light for Freedom and Democracy have once again stood with the oppressed civilians in Syria and in defense of Justice," Caesar told CNN through his translator, Mouaz Moustafa, who is executive director of the Syrian Emergency Task Force, a US-based nonprofit agency.
Caesar hopes passage of the act will send a message not only to the Assad regime, but also to the people suffering in Syria at the hands of the government.
"I want to say to the brave Syrian people, do not lose hope, truth and justice will always prevail, no matter how long the darkness lasts in Syria, we will not stop working until the light comes," Caesar told CNN. "The killing and torture in Syria will End and we will have our freedom and democracy one day."
Moustafa, who has spent years working on Caesar's behalf and was his translator during testimony in front of Congress, hailed the passage of the bill as the culmination of years of hard work by people who "did not standby as a 'Never Again' moment continued to unfold in Syria."
He specifically praised Reps. Eliot Engel, a New York Democrat, Mike McCaul, a Texas Republican, and Adam Kinzinger, an Illinois Republican, for their tireless battle to pass a bill in Caesar's name.
'Heartening'
And he thanked those from both sides of the aisle who had joined the bipartisan effort after years of stalled legislation in the Senate.
"It is heartening to see Republicans and Democrats in the House and Senate coming together to stand against the ongoing genocidal massacres by Assad, Iran and Russia against Syrian civilians," Moustafa told CNN on Tuesday after the bill passed.
"This is the most powerful legislation aimed at civilian protection to ever pass Congress since the start of the peaceful uprising in Syria," Moustafa said.
Kinzinger said he hoped the bill will send a clear message.
"It took a few years, but the Caesar Syria Civilian Protection Act will finally make its way to the President's desk to become law. And for the Syrian people, this means there will finally be some justice brought to the evil Assad regime and those who act on his behalf," Kinzinger said in a statement. "We know these sanctions will not end the pain and sorrow that this war in Syria has caused, nor recover the many lives lost, but the message of the Caesar Bill is loud and clear. We will not turn a blind eye to the atrocities in Syria, and we will make sure those responsible will pay for their crimes."
Documenting the horrors: 'I see them still'
The journey for Caesar has been painful at times, but he has never wavered in his quest for justice.
A bill bearing his name has passed the House of Representatives with bipartisan support three times since 2016, but it had languished in the Senate until Tuesday.
Since he left Syria six years ago, every trip Caesar has taken to Washington to bring attention to war crimes has meant he has had to risk leaving his family, who have found refuge in a Western European country he will not name. He always believed Washington held the final, best hope to make a real difference in stopping or, at the very least, slowing Assad's brutality.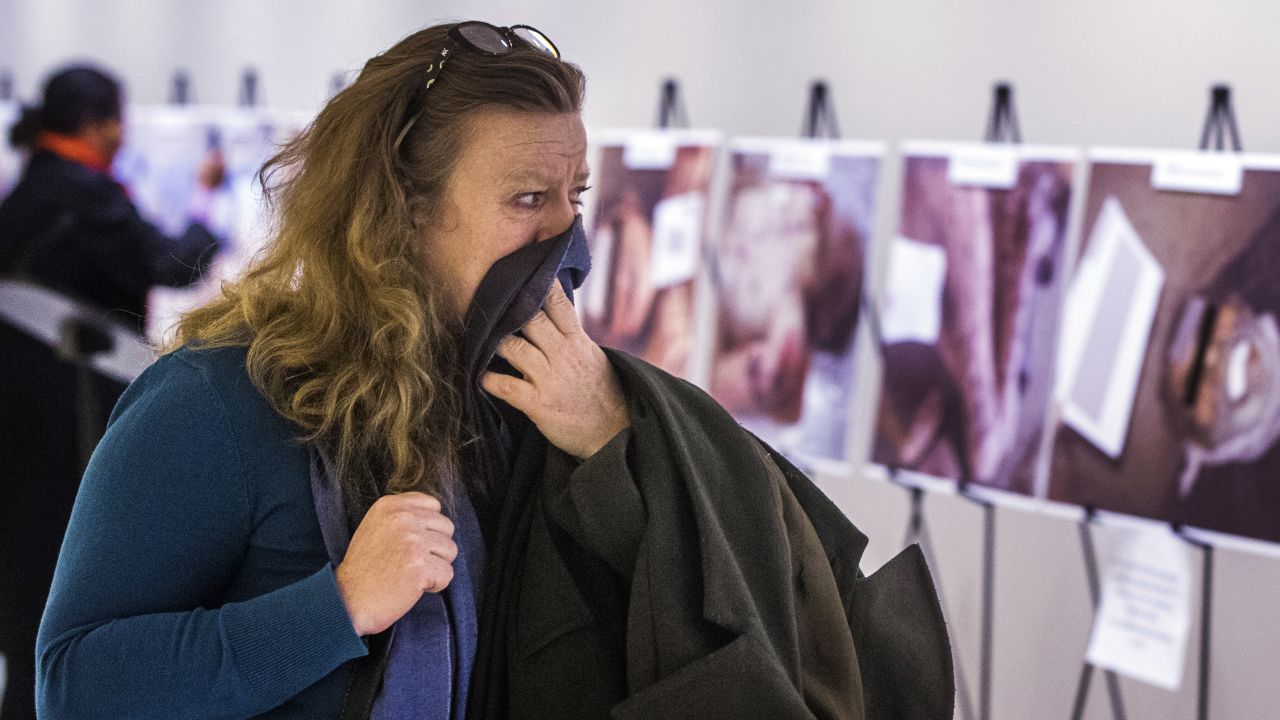 When CNN caught up with Caesar in Washington a few months ago, as he pushed for the bill to pass, he struggled with putting his life on the line again and taking the risk of being unmasked. But he said he knew he had to.
The visit and tour through the Holocaust museum exhibit also meant he had to grapple once again with the horrific images, which never leave his mind. While those images represent evidence of war crimes to the world, to him they are moments he cannot forget.
Before Syria descended into civil war, Caesar was part of a military police forensic photography unit in Damascus. He photographed the aftermath of car crashes, fires, suicides and any accidents that involved the Ministry of Defense. When protests began in March 2011 as part of the Arab Spring, he and the others were reassigned.
"Our entire team was asked to go to military hospitals and take photographs … of detainees, of civilians that have been tortured to death," Caesar explains. "And that became our sole job for the entire time until I escaped."
It started out as a few victims a day, he says. Then it might be 10 or 11. Soon there would be days when there were 40 or 50 bodies. By September 2011, he decided he couldn't be a part of it anymore. But he wanted to expose the atrocities first. So he stayed, secretly copying the photos and planning how to get them and himself out of Syria.
"I would work for hours taking photographs, loading the photographs, the files on the state computer, categorizing them, doing the reports," Caesar told CNN. "I would see innocent people that have been tortured in some of the most horrific ways that I have ever seen, that I couldn't even imagine."
But he had to keep talking about it. It was the only way he thought there might be some justice.
It has meant reliving some of the toughest images he recorded.
There is the sandy garage that looks like a slaughterhouse, except no one would treat animals that way. The emaciated bodies of fathers, mothers and children strewn on floors, many showing signs of torture. Holes where eyes had been gouged out, probably while the people were still alive. That's just one photo.
In others, bodies show marks that appear to be from electric cables used to beat them. Broken jaws and broken teeth. Each corpse is numbered.
Seeing the pictures again was hard for Caesar, though it's not like the images have ever really left him. These bodies – some of the people were his neighbors and friends – haunt his sleep as well as his waking moments.
"There isn't a moment that passes that I don't think about them. It stays in your mind, it stays in your heart," Caesar says. "When I close my eyes, I see them still."