(CNN Business) —
YouTube channels posing as American news outlets racked up millions of views on false and inflammatory videos over several months this year, all with the help of YouTube's recommendation engine.
Many of the accounts, which mostly used footage from CNN, but also employed some video from Fox News, exploited a YouTube feature that automatically creates channels on certain topics. Those topic channels are then automatically populated by videos related to the topic — including, in this case, blatant misinformation. YouTube has now shut down many of the accounts.
YouTube's own algorithms also recommended videos from the channels to American users who watched videos about US politics. That the channels could achieve such virality – one channel was viewed more than two million times over one weekend in October – raises questions about YouTube's preparedness for tackling misinformation on its platform just weeks before the Iowa caucuses and points to the continuing challenge platforms face as people try to game their systems.
In recent years, YouTube, which is owned by Google, has taken steps to increase the likelihood users will be recommended videos from what it determines as authoritative sources, like news outlets.
Plasticity, a San Francisco natural language processing and artificial intelligence startup that gathered and analyzed the YouTube data, provided CNN with hundreds of examples of how the accounts had doctored on-screen graphics to make stories appear inflammatory.
YouTube told CNN Business on Thursday that its threat analysis team had investigated and determined the channels were run from Southeast Asia and were part of a spam campaign, designed to make money from online ads. The company said it found nothing to suggest that the channels were linked to a state-backed campaign or that they were part of a coordinated influence campaign. Although Plasticity and CNN saw hundreds of videos that were about news and politics, YouTube said they removed many more videos that were entertainment clips.
To help their videos go viral the person or people behind the YouTube channels created hundreds of false images that altered CNN's on-screen graphics to make stories and CNN's coverage of them appear inflammatory. Once the user clicked into the video, unaltered CNN footage would play.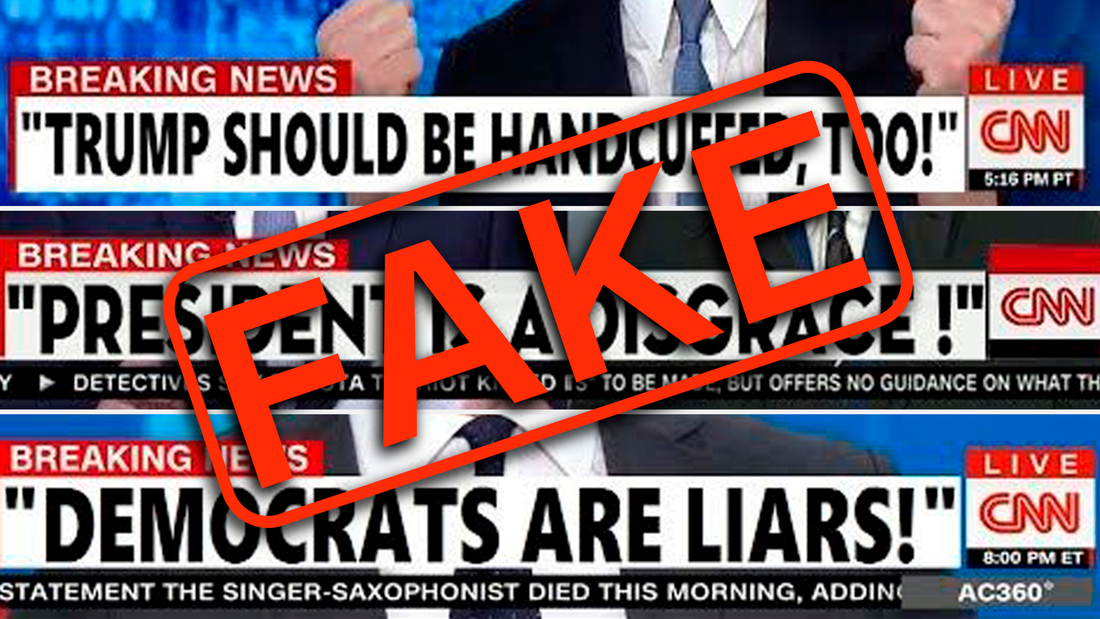 PHOTO-ILLUSTRATION; YOUTUBE/CNN
One video was promoted using an image that falsely made it appear as if CNN had run an on-screen graphic that stated the "President is a disgrace" and showed a doctored image of President Trump with a noose around his neck.
Another image showed a fake CNN on-screen graphic that read "War officially started!" and showed pictures of President Trump and the president of Iran.
Responding to the findings on Thursday, a CNN spokesperson said YouTube needs to take responsibility.
"Manipulation of our brand and intellectual property with the specific intent to misinform the public is an incredibly serious problem that platforms need to urgently address," the spokesperson said. "Platforms like YouTube bear a responsibility to manage the integrity of the content they deliver to audiences. That's something journalists know and have been doing effectively for generations. It's a core difference between platforms and publishers."