If you've made the decision to forgo a live Christmas tree after this year's holiday, congratulations. In doing so, you're saving yourself a boatload of effort for next year. And for those of you still on the fence, we're here to invite you to the faux side! Less mess, long-term savings and zero contact with bugs are just a few reasons why you should consider switching. Plus, tons of our favorite artifical trees are on sale in the new year, including from places like Amazon, Wayfair and Walmart.
Just as festive as the real thing, artificial Christmas trees come in every size, color and type — but not all fakes are created equal, which is exactly why they initially got a bad wrap. Today, however, the market is laden with beautiful, incredibly realistic trees, ranging from sweet little table toppers to towering 16-foot options perfect for anyone with a vaulted ceiling.
Like everything we shop for these days, faux trees are susceptible to holiday decor trends. While last year saw a surge in black trees, this year it's all about statement-making pink, champagne and ombre hues that are perfect for a home office, a second family room or—if you want to double down—smack dab in your living room.
Below are 20 of the most realistic, highly reviewed and on-trend trees available. Starting at just $40, these are the best artificial Christmas trees you can buy for the next holiday season.
Best artificial Christmas trees
The Holiday Aisle 6.5-Foot Green Fir Tree with Colored & Clear Lights ($221.42, originally $574.99, wayfair.com)
If a fir tree is your preference, look no further than this super realistic stunner from Wayfair. Available in four heights (all the way up to 12 feet!), the tree has more than 500 positive reviews, comes pre-lit with dual colored LED lights and a metal stand. A folding iron frame makes storage easy peasy.
Best Choice Products 6-Foot Pine Tree Holiday Decoration w/ Metal Stand ($43.99, amazon.com)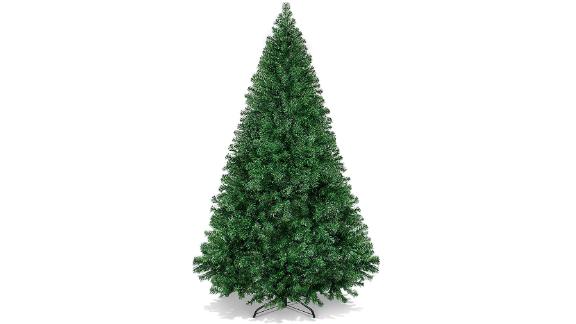 If you're looking for a classic, full-bodied pine tree for a bargain, this is it. With more than 1,500 Amazon reviews, this 6-foot hinged tree is easy to assemble via three sections, comprises more than 1,000 branch tips and rests atop a sturdy metal stand — all for under $45! (Note: This tree is not pre-lit.)
7-Foot North Valley Spruce Tree ($106.54, originally $137.99; homedepot.com)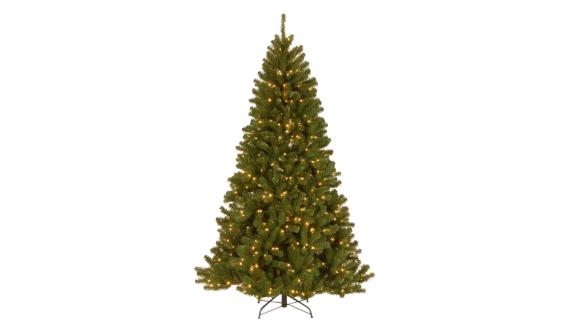 We're hitting all the tree categories here, so if you're a spruce loving family, then we've got just the one for you! At 7-foot tall and with more than 1,000 evergreen branch tips, this tree from Home Depot has 500 clear lights. It's also available in three additional sizes (4, 10 and 12 feet) and comes in three sections for easy setup.
Wondershop 7-Foot Pre-lit Full Flocked Douglas Fir Tree ($325, target.com)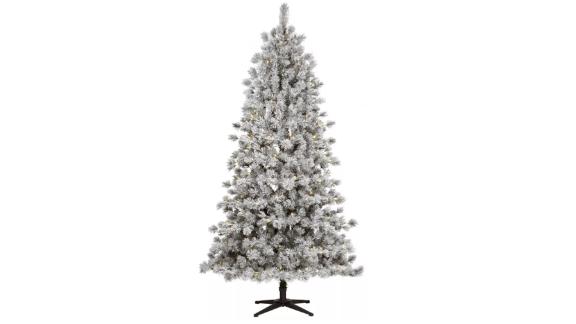 Guarantee yourself a white Christmas this year with this wintry, frosted tree from Target's Wondershop brand. At 7 feet, the Douglas fir comes with 350 clear lights, can be broken down into four sections and rests atop a four-point stand.
National Tree Company 6.5-Foot Kingswood Fir Pencil Tree ($60.52, originally $169.99 amazon.com)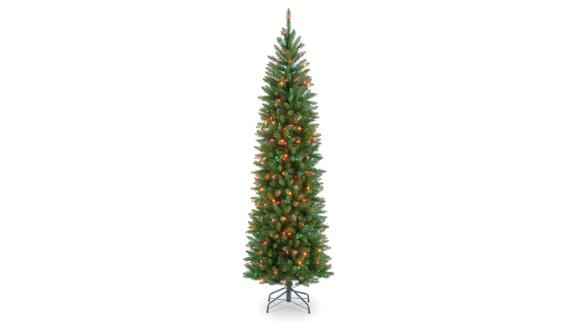 Are you tight on space but not on ceiling height? Then this ultra-skinny, 28-inch wide "pencil" tree is going to suit your abode just fine. With more than 700 branch tips, the tree is realistic and comes with 250 pre-strung, multi-colored lights. More to know: It also comes in a variety of sizes from 3 to 7.5 feet.
National Tree Company 7.5 Foot Carolina