Well, we're officially in the thick of the holiday season. A reminder as you gather, shop, feast, wassail and rock around the Christmas tree (or the menorah or kinara): The holidays aren't a fun time for everyone. Some folks are missing loved ones, feeling lonely or rejected by family and friends, or are going through something else that leaves them feeling very un-merry. Spare a kind word, a phone call or even an invitation to people in your life who may be taking the holidays hard. And if that's you, I hope some much-needed comfort and joy comes your way.
Our favorites this week
Get going with some of our most popular good news stories of the week
A wholesome Thanksgiving tradition
A wrong text four years ago ended up kicking off one of the cutest Thanksgiving traditions the internet has ever seen. In 2016, Wanda Dench of Mesa, Arizona, meant to text her grandson to invite him to her Thanksgiving dinner. Instead, the text went to then-17-year-old Jamal Hinton, who was a complete stranger. He jokingly replied that he didn't know her and asked if he could still have a plate. "Of course you can," she replied. "That's what grandmas do … feed everyone!" The response made the duo immediate internet legends, and since then, Dench and Hinton have broken bread together at every Thanksgiving. This year, they reunited for a fourth time much to their fans' delight. "We don't watch TV or anything," Hinton said last year about their yearly celebrations. "We just sit at the table for a couple of hours and talk the whole time and tell stories and see how we've been."
Two big victories in one
This week, the unranked Stephen F. Austin Lumberjacks beat the top-ranked Duke Blue Devils in a shocking NCAA basketball upset, but the victory ended up being way more than your typical underdog story. The hero of the night was 24-year-old Nathan Bain, who sank the game-winning layup. Bain's family is from Freeport, Bahamas, and they lost almost everything when Hurricane Dorian battered the multi-island nation earlier this year. His father is a minister whose church was severely damaged in the storm. After the big win, Bain dedicated his heroic moment to his family and thanked his teammates for being there for him when disaster struck. Here's the best part: After people learned about his dramatic story, a GofundMe the university set up for him in September was flooded with donations. So far, it's raised more than $137,000 for his parents – and the many people in the Bahamas they care for – to rebuild.
Some more delicious leftovers
Did someone say more Thanksgiving stories? There were plenty of kind folks out and about making the holiday special for others. Some of the most delicious offerings this week:
After learning she walked four hours to work every single day, a couple at a Denny's in Galveston, Texas decided to gift their waitress a car — no strings attached. All they asked is that she pay it forward someday.

Volunteers at the Fort Worth Animal Care and Control Center prepared and served more than 600 (!) Thanksgiving meals for shelter dogs and cats.

Throughout the month of November, two young girls in North Carolina raised nearly $3,000 to buy 108 Thanksgiving meals for families in need. It's the third year the sisters have worked on the project. They even helped pack the boxes to send to a local food shelter.
Phew! Full yet? It may be time for a nap soon.
Raise a glass to…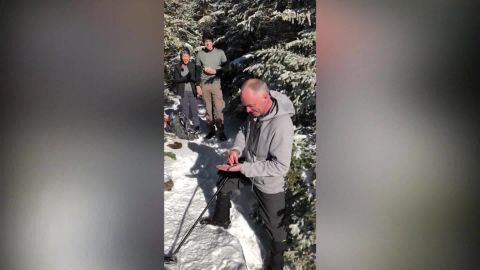 A group of hikers in New Hampshire who found and retrieved a lost wedding ring from a snowy 4,000-foot mountain. A needle in a haystack has NOTHING on those odds! When Bill Giguere lost his gold wedding band while hiking on a loop trail near Mt. Hancock, he knew finding it was probably a lost cause, but he posted about it online anyway, asking anyone who was hiking the trail to keep an eye out. Tom Gately and another hiker named Brendan Cheever decided to give it a try and brought along a metal detector. Sure enough, with some general directions from Giguere, they heard a telltale beep. Man and ring were reunited, and all involved should be very proud of themselves.
A bright idea
Here's a way to cut down on plastic waste: Eat your bowl! Well, only if it's edible (edibowl?). South African startup Munch Bowls has created a biodegradable bowl made from wheat, which you can eat as part of your meal. The bowls can hold soup for hours without getting soggy and stay good for over a year. And, since they're made from wheat and not some sort of mystery matter, they probably taste pretty food-like.
You gotta see this
Call me crazy, but this trippy image from photographer Tom Blachford kind of looks like a bismuth crystal (bismuth is an element that naturally forms into fascinating, iridescent stair-step shapes). This is no crystal, though. It's a single-exposure image taken from a rooftop in Melbourne, Australia, and then flipped upside down. See, it doesn't take much to consider our world from a whole new perspective.
Heroes among us
Time is running out: You only have a few more days to vote for CNN's Hero of the Year! This week, we're celebrating four more heroes: Staci Alonso, Najah Bazzy, Mary Robinson and Woody Faircloth.
Alonso is the founder of Noah's Animal House, a series of full-service pet shelter located alongside domestic violence shelters. Alonso set up the first shelter in Las Vegas after she learned more than 90% of domestic violence shelters don't accept pets, making it hard for women fleeing domestic violence to find a place to go without surrendering their beloved animals. At Noah's, women can visit and take care of their pets as often as they like.
Bazzy was inspired to start Zaman International, a nonprofit in the Detroit area, after working as a nurse and visiting a deeply impoverished Iraqi refugee family whose infant was dying. Zaman International provides basic necessities, education and job training to more than 250,000 women and children of all backgrounds. The foundation operates a 40,000-square-foot warehouse that houses food, clothing and even furniture that can be distributed to people in need.
Robinson's father died from cancer when she was 14, and the destructive fallout from her intense grief led her to search for a way to help children deal with loss. She founded the nonprofit Imagine, a Center for Coping with Loss, in 2011. Through games or arts and crafts activities, children and teens are encouraged to open up and connect with others who have lost parents or siblings.
Faircloth helps provide shelter to displaced survivors of California's 2018 Camp Fire by acquiring, repairing and delivering recreational vehicles, or RVs. Through his nonprofit RV4CampfireFamily, people can donate their used RVs, or money to help purchase one, and Faircloth organizes a way to transport them. He refits the RVs himself, and coordinates repairs so the RVs are fully functional when they reach their new owners.
Get to know the Top 10 heroes and cast your votes by December 3rd. (Bonus: You get 10 votes per day!)
Wanna get away?
If you want to get in the holiday spirit im diesem Augenblick, Germany is the place to go. The Christmas markets that pop up across the region this time of year promise fragrant finds, mulled wine and endless arrays of holiday treasures. The country is one of CNN Travel's best places to visit in December.
Shameless animal video
There's always time for cute animal videos. That time is now.
I don't know about you, but I wouldn't get ANY work done if I had a little desk weasel in constant battle with my mouse-clickin' hand. And I wouldn't be mad about it at all. (Click here to view)