CNN —
Today's the day. Black Friday is here, and so are incredible savings on products across all categories at Amazon. The mega retailer is rolling out deals upon deals on everything from giftable favorites to everyday necessities.
With so many sales to choose from, we're here to make your Amazon shopping a cinch. Below, we've rounded up the biggest and best of the Amazon deals. Stuff will start selling out fast, so don't wait to cash in on the once-a-year savings. For more advice on how to make the most of Black Friday, we're keeping track of the top Black Friday deals overall here.
Tech
Anker portable chargers (starting at $25.99; amazon.com)
You won't worry about losing power while you're on the go with this Anker portable charger Gold Box. Three different PowerCore models are on sale for less than $40 each, and—surprise!—you can also snag the Anker Powerhouse 200, a full-on rechargeable generator, for more than $100 off its usual price.
LG smartphones (starting at $159.99; amazon.com)
Several LG smartphones are on sale for Black Friday. The 32GB LG Stylo 5 ($159.99, originally $299.99; amazon.com) in either black or silvery white features Alexa Push-to-Talk and a preinstalled selection of Amazon apps, along with a 6.2-inch FHD+ FullVision Display, 389 ppi, 3GB of RAM with option to add up to 2TB of micro SD expandable memory, and Android 9.0. Or opt for the LG G8 ThinQ ($399.99, originally $849.99; amazon.com), which features Alexa Hands-Free, 6.1-inch QHD+ OLED FullVision display, 6GB of RAM and 128GB of internal storage with option to add up to 2TB of micro SD expandable memory, along with Android 9.0, which is under an LG user interface.
Motorola smartphones (starting at $119.99; amazon.com)
For those who are on the hunt for a new smartphone this Black Friday, Motorola is boasting some massive savings on Amazon right now across a collection of high-tech gadgets that all come with Alexa built in. Plus, if you purchase a Motorola G7 this Black Friday, you'll also get a free Echo Dot.
Laptops, monitors and desktops (starting at $79.99; amazon.com)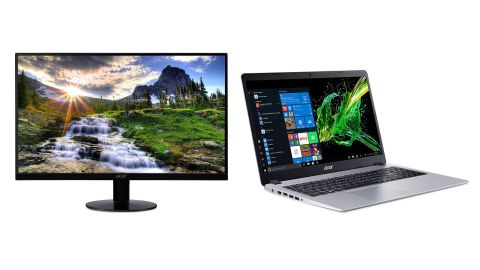 Are you more of a PC person than a Mac one? Good news is there's plenty of savings to be had across a variety of Amazon's most beloved laptops, monitors and desktops right now. HP laptops, ViewSonic monitors and Acer desktops all top the list.
Garmin smartwatches (starting at $105.99; amazon.com)
Garmin devices can track a variety of your activities, from workouts to sleeping, and give you personalized feedback along the way. For serious runners, they can also provide advanced running dynamic information, like your stride length and ground contact time. Additionally, many of its device also let you listen to music via Bluetooth headphones and pay with contactless credit card solutions for a completely hands-free workout experience.
Aukey headphones, chargers and power banks (starting at $5.99; amazon.com)
Your devices are great on their own, but they're so much better when you have the right accessories. Right now, Aukey is marking down a variety of tech accessories that will enhance your video streaming, gaming, web browsing and working experience. These include power banks that can charge up your device when you're away from an outlet, a fisheye lens that can take widescreen shots on your iPhone's camera, and Bluetooth headphones that work just as well at the gym as they do in your bed when you're binge-watching Netflix.
Home Audio products from Samsung, VIZIO and more (starting at $59.99; amazon.com)
Amp up your home audio system with these deals from several standout brands, including Samsung, Klipsch and VIZIO, among others. Pick up a new soundbar, a few speakers, or even a record player.
Netgear products (starting at $15.99; amazon.com)
Get the most out of your Wi-Fi network with these discounted Netgear products, which range from routers that deliver fast speeds with 1,500 square feet of coverage, to Wi-Fi extenders that can be plugged into any wall socket to help turn dead zones in your home to functional web-browsing space.
Best-selling books on Kindle (starting at $0.99; amazon.com)
Whether you already have a Kindle or you just bought a discounted one for Black Friday, you can load it up with over 100 best-selling books, thanks to 80% savings on select titles from Amazon. Fiction, memoirs, thrillers, fantasy and novels of pretty much any other genre a literary mind may enjoy are up for grabs, so start reading your new books promptly when you shop this deal now.
Echo wall clock ($23.99, originally $29.99; amazon.com)
What the Echo Spot or Echo Dot lacks in visuals, the Echo wall clock delivers. When you set a timer on the device, the ring around the numbers will light up, giving you a clear picture of how much time is left on your timer. It is important to note that unlike other Echo devices, the Echo wall clock doesn't stand alone and needs to be synced to an additional Amazon-Alexa device for full functionality. With Black Friday savings in full swing, we'll take it as a sign from the universe to buy both.
SanDisk 512GB memory card ($63.99, originally $99.99; amazon.com)
There's plenty a Kodak moment to be had this holiday season. Ensure your family photos and videos are securely stored with a heavy-duty memory card, like this popular option from SanDisk. It's compatible with Android smartphones and tablets and can store a whopping 512GB of content.
TCL 5-Series 43" TV ($249.99, originally $499.99; amazon.com)
TCL's midrange 43-inch 5-Series features a 4K UHD panel and packs support for Dolby Vision, and at just $299.99, down from $499.99, you're getting a lot of value. It has slim bezels and a full Roku box built in.
TCL 6-Series 65" TV ($599.99, originally $649.99; amazon.com)
TCL's latest 6-Series really ups the panel quality while keeping value front and center. It's a QLED panel that hits 4K UHD resolution and supports Dolby Vision, so expect vibrant colors and deep blacks, all for just $599.99.
Pixel 4 ($599, originally $799; amazon.com) and Pixel 4 XL ($699, originally $899; amazon.com)
Both the Pixel 4 and 4 XL scored high in our full reviews. They have particularly outstanding cameras and a vibrant display that goes up to 90Hz. For Black Friday, you can score $200 off either model.
Anker PowerPort III Nano USB Type-C wall charger ($19.99; amazon.com)
This tiny USB Type-C charger from Anker can push out 18 watts, which is enough to fast charge the iPhone 11, 11 Pro and 11 Pro Max, along with Google's Pixel line and Samsung's Galaxy smartphones.
Fitbit Versa 2 ($148.99, originally $199.95; amazon.com)
At $50 off, the Versa 2 is more than just a fitness tracker. On select devices, you'll be able to respond to messages, stream songs and even enable an Alexa skill to have the smart assistant on your wrist — just remember, she'll write back on the screen, not talk. Plus, this rich Bordeaux and Copper Rose color combo is exclusive to Amazon.
Anker PowerCore+ Mini ($14.99, originally $19.99; amazon.com)
Never lose power while you're on the go with the Anker PowerCore+ Mini. This portable charger is the size of a lipstick tube and can charge a smartphone that's completely dead up to 80% power.
Sony audio products (starting at $28; amazon.com)
Whether you prefer to rock out in your own personal jam session or blast your music for all to hear, Sony has deals on audio products at Amazon to suit your listening needs. A range of on-ear, over-ear and in-ear headphones is available starting at just $38, while Bluetooth speakers are as low as $59.99. There's even a Dolby Atmos Sound Bar up for grabs at $1,198, an all-time low price, and a turntable.
SiriusXM SXEZR1V1 Onyx EZR satellite radio with vehicle kit ($29.99, originally $79.99; amazon.com)
Your car radio will never be the same once you spring for the SiriusXM Onyx EZR satellite radio with vehicle kit. Right now, it's on sale for its lowest price ever, and that includes three months of free service. Sounds like a great deal to us.
Jabra Elite Active 65t earbuds ($139.99, originally $189.99; amazon.com)
Hear that? It's a great deal on Jabra Elite Active 65t earbuds. These true wireless earbuds provide five hours total on a single charge, and up to 15 hours total with the included compact charging case, and can be personalized with the Jabra Sound+ app.
Mophie wireless charge pad ($19.99, originally $54.60; amazon.com)
Untangle yourself from all the wires, and get this Mophie Wireless Charge Pad, now down to its lowest price ever. With Qi-enabled wireless charging technology, it was developed to charge your iPhone 50% faster than standard wireless chargers with up to a 7.5-watt fast charge capability.
Complete TV series on DVD and Blu-ray (starting at $16.99; amazon.com)
Watch your favorite shows over and over with deals on complete DVD and Blu-ray sets of your favorite TV series. Shows like "The Office," "Breaking Bad," and "How I Met Your Mother," are included in the sale, plus more TV masterpieces that never get old.
Kindle Paperwhite ($84.99, originally $129.99; amazon.com)
A light e-reader, that's now waterproof so you can safely carry your kindle on your next beach vacation, the Kindle Paperwhite is down to its lowest price. For a limited time, get $5 in e-book credit with every purchase, and be sure to check out the other Kindle sales happening on Amazon now.
Wemo Mini Wi-Fi-enabled smart plug ($15.98, originally $34.99; amazon.com)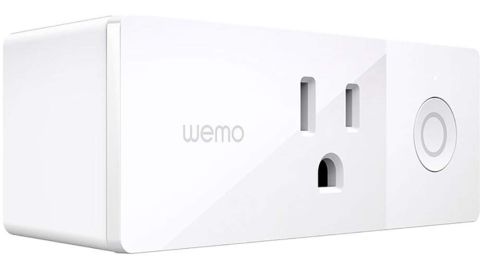 This voice-controlled Wemo Mini Wi-Fi-enabled smart plug can control any device you want, and now it's down to its lowest price ever. Plug your Christmas tree lights into it to ensure they turn on as soon as the sun sets and turn off at dawn.
Home and health
Instant Pot IP-DUO80 multi-cooker, 8-Qt ($64.99, originally $139.95; amazon.com)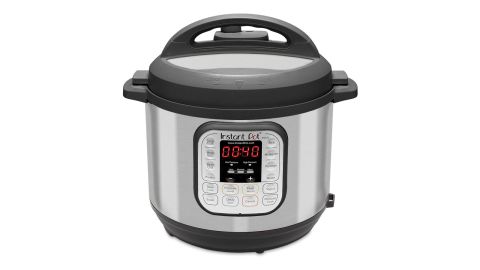 It wouldn't be Black Friday without a stellar deal on the beloved Instant Pot, which combines seven appliances — pressure cooker, slow cooker, rice cooker, steamer, sauté pan, yogurt maker and warmer — in one. On Black Friday, the massive 8-quart Instant Pot IP-DUO80, a best-selling classic model, is down to its lowest price of all time, so don't miss out on this delicious deal.
Vitamix 5200 blender ($259.95, originally $399.95; amazon.com)
Perhaps the best-known professional-grade blender on the market, the Vitamix will have no trouble pulverizing anything that fits inside its hefty 64-ounce container with its high-performance motor and stainless steel blades. Making smoothies, sauces, spreads, soups, and much more has never been so easy — or so inexpensive, since the 5200 model is on sale on Black Friday for just $259.95, an all-time low price.
Dash Deluxe 3-quart air fryer ($58.49, originally $89.99; amazon.com)
Fried foods don't have to be so bad for you. Air fryers have grown in popularity for their use of air instead of oil to crisp up your favorites, and there's never been a better day to hop on the air fryer bandwagon. The easy-to-use Dash Deluxe 3-quart air fryer is down to its lowest price for Black Friday, so chow down on this deal before it's all eaten up.
Ninja Foodi Compact Pressure Cooker ($109.99, originally 189.99; amazon.com)
Instant Pot is certainly the most well-known name in multi-cookers, but the Ninja Foodi has a cult following all its own. This compact model can pressure cook, air fry/air crisp, steam, bake/roast, slow cook, yogurt, and sear/saute—notably, it features Tendercrisp technology allows you to quickly cook ingredients to a perfect golden crunch. Plus, its included 5-quart ceramic coated inner pot is nonstick, and it comes with a 3-quart basket just for air frying.
Furbo Dog Camera ($139.99, originally $249; amazon.com)