Editor's Note: Kate Andersen Brower is a CNN contributor and the author of "The Residence," "First Women" and "First In Line." Her forthcoming book Team of Five: The Presidents Club in the Age of Trump, is being published in May 2020. Unless otherwise indicated, the facts in this piece reflect research for those works. The views expressed here are hers. Read more opinion on CNN.
The Carters spent just four years in the White House during troubled times and almost four decades out of it redefining what a former president and first lady can accomplish.
Jimmy Carter was president from 1977 to 1981 and he won a Nobel Peace Prize in 2002 for his humanitarian work. They have broken every record: Jimmy Carter, 95, is the oldest living American president and he and Rosalynn have the longest presidential marriage in history. They celebrated their 73rd wedding anniversary on July 7, 2019. They have been married longer than Bill Clinton and Barack Obama have been alive. (George W. Bush was born the day before they got married.)
Up until 2014 Rosalynn Carter went to Africa with her husband a couple of times each year. Rosalynn Carter got emotional when she talked with me about visiting a village where guinea worm, a debilitating disease that in 1986 afflicted an estimated 3.5 million people a year in Asia and Africa, had been eradicated. There were only 28 cases in 2018 because of the work of the Carter Center.
"It's just so wonderful," she told me, pausing for a moment, "just to see the hope on their faces that something good is happening." She added, apologetically, "I didn't mean to get emotional."
As Americans sit glued to impeachment hearings centered on allegations of bribery and self-interest over country, I can't help but be emotional myself when I think about the Carters' specific brand of patriotism and the fear that we may never see another president and first lady like them again.
There is no starker contrast to Donald Trump than Jimmy Carter. Today, Jimmy Carter prefers not to be called "Mr. President." He says there is only one president at a time and his respect for the office runs too deep. Even when he was in the White House he would not allow "Hail to the Chief" to be played when he walked into the room, a tradition that dated back to 1829, because he thought it was ostentatious.
He saw it as his mission to help the nation heal from the trauma of Watergate and Richard Nixon's imperial presidency.
Unlike other public figures, Carter does not brag about how much money he has. In fact, he doesn't have nearly as much as the other former presidents – and for the Carters the money has never been the point.
In 1977, Carter took the oath of office wearing a $175 business suit made in his home state of Georgia. Rosalynn even decided to wear the same ensemble that she wore to her husband's inauguration as governor of Georgia to his presidential inaugural balls six years later. It is a far cry from the $51,500 Dolce & Gabbana jacket Melania Trump wore while traveling in Italy in 2017. Or the way Trump and his family brag about their wealth, fame and power on a near daily basis.
Even while Jimmy Carter was in office, the Carters were remarkably relatable. During his inaugural parade, Jimmy and Rosalynn ignored security concerns and broke with tradition when they decided to walk hand-in-hand with their daughter Amy down Pennsylvania Avenue.
As president, Carter pledged to cut back on chauffeured cars for staff members, and he sold the presidential yacht, the Sequoia, in his effort to be a citizen-president. He became the butt of jokes for being too folksy, pilloried for being a Georgia peanut farmer.
Now we have a president who has made it his mission to roll back regulations aimed at limiting global warming and who we cannot imagine delivering a fireside chat, as Carter did in 1977, in a beige cardigan sweater imploring Americans to follow his lead and keep their thermostats at 65 degrees during the day and 55 degrees at night in order to conserve energy.
When they left the White House, in 1981, the Carters returned to Plains, Georgia. They were the first president and first lady to go home since Harry Truman and his wife Bess, which is fitting because Truman is Carter's favorite president. I was lucky to get the chance to interview the Carters in Plains last year and it was like traveling back in time. Plains is about 150 miles south of Atlanta and has a population of well under a thousand and a nearly 40% poverty rate. It was their campaign headquarters in 1976 and Carter's famously toothy grin is emblazoned on vintage campaign posters still sold in stores along the town's tiny Main Street.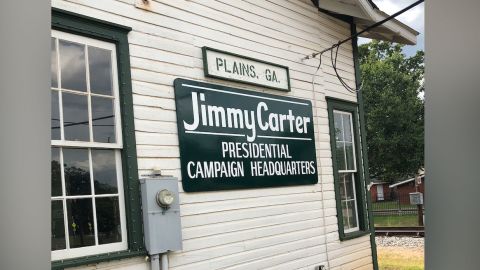 Plains is just one mile in diameter – even smaller than the Trumans' hometown of Independence, Missouri – and it is home to Carter's boyhood farm, which had no running water or electricity. Carter was born in 1924 and he was the first US president to be born in a hospital.
When he was in the White House, Carter asked the Truman Library to loan him the original "The Buck Stops Here" placard that Truman kept on his desk in the Oval Office. Like Truman, Carter was loyal to his roots. "There is no chance I would not live in Georgia forever," he said. Plains was home, and it would always be home. He and Rosalynn go to church almost every Sunday. Carter still enjoys delivering lectures about the Bible on Sundays at his beloved Maranatha Baptist Church nestled amid flat Georgia farmland.
The idea for the Carter Center came to Carter suddenly as he was wrestling with what to do after he left the White House at just 56 years old. In January 1982, he shot up in bed in the middle of the night, startling his wife, and said he knew what he wanted to do with his presidential library – he wanted to do something entirely different. "We can make it into a place to help people who want to resolve disputes," he told her. "There is no place like that now." They created the Carter Center and based the organization in Atlanta, about two and a half hours from Plains, to "wage peace, fight disease and build hope."
All these years later they still do it all together.
The Carters built their two-bedroom $167,000 ranch house in Plains in 1961 and it is the same house they live in today. It was in a state of disrepair when they returned after living in the governor's mansion in Atlanta and then the White House. The family's peanut farm had been mismanaged when they were in the White House, and when he and Rosalynn returned to Plains, they discovered that losses from their farms and warehouse businesses, which had been held in a blind trust when he was in office, left them almost a million dollars in debt.
Because he was a one-term president, and because, like his role model Harry Truman he considered profiting off the presidency reprehensible, he had to write to make a living. His main source of income has been from his career as an author. He has written an astounding 33 books. His 2003 novel about the Revolutionary War, "The Hornet's Nest," was the first novel published by any American president. He also published a children's book with his daughter, Amy. He writes these books out of a garage he converted into an office.
Carter's post-presidency costs taxpayers less than half of those of the other living presidents. Now that former presidents can rake in more than half-a-million dollars for a single speech (Bill Clinton was paid $750,000 for one speech he delivered in Hong Kong) and tens of millions for a book advance (the Obamas together were reportedly paid more than $60 million for their memoirs) there is something nice and almost quaint about this presidential couple who actually installed a Murphy bed in their office at the Carter Center. They pull the bed down from the wall during the one week they spend there each month –they consider it a small luxury.
As politics becomes more cutthroat and politicians more money hungry, the Carters stock with the public has risen. Even though Carter's occasional criticism of his fellow presidents' policies has made him an outlier in the Presidents Club, he has become a modern day moral beacon in the Democratic Party.
Now it is considered a rite of passage for 2020 Democratic presidential candidates to make the trip down to Plains to get the Carters' blessing.
Ronald Reagan defeated Jimmy Carter in a landslide in 1980. Carter won just 41% of the popular vote, and it was hard not to take Reagan's victory personally. The day after the election, Carter told an aide, with tears in his eyes, "Forty-one million, six hundred thousand people don't like me." Even years later, Rosalynn told me, "My biggest regret in life was that Jimmy was defeated."
Defeat stung, but the Carters found a way to move on and they have helped us keep the faith that goodness can one day return.
Get our free weekly newsletter
Sign up for CNN Opinion's newsletter.
In 1999, then-President Bill Clinton presented Jimmy and Rosalynn Carter with the Presidential Medal of Freedom, the country's highest civilian honor. He said they had "done more good things for more people in more places than any other couple on Earth."
To be sure, things were far from perfect when Carter was in office – long lines at gas stations, rising inflation and the excruciating Iran hostage crisis all led to his defeat. His Southern drawl was mocked at the time, but now we can see it as something else: being honest about who he was and where he came from.
There was an underlying decency and honesty that permeated the White House when the Carters lived there that makes today's bloviation and lies particularly appalling.