(CNN) —
A "freak incident" fractured his face in multiple places and damaged his retina, but a leading British hockey player says he hopes to recover in time for the 2020 Tokyo Olympics.
Sam Ward, who plays for Great Britain and England, was struck in the head by a ball during an Olympic qualifier against Malaysia earlier this month.
"Reports that I am retiring are completely not true and never were true," the 28-year-old Ward told CNN Sport. "It's rumor mill … I do have some sight loss in my left eye but I still have peripheral vision and a fully functioning right eye."
Ward posted photos to Instagram showing the extensive stapling that weaved through the middle of his skull. In all he had 31 staples removed on Monday.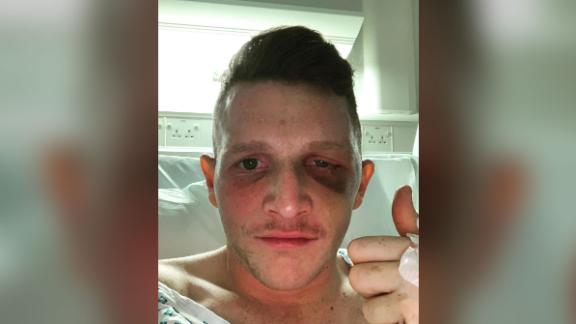 PHOTO: Sam Ward/Instagram
The forward, who has scored 72 goals in 126 appearances for GB and England hockey, spoke candidly about his horrific injury.
"Staples have come out of my head today. I'm on the road to recovery and the swelling has gone down — I am starting to look like a normal human being again," he said.
Ward has perfect recollection of what happened on November 3 in the game against Malaysia, and remembers the ball coming straight towards his head.
The 28-year-old suffered "six or seven fractures" to the side of his eye and cheekbone and underwent surgery on November 13.
Last week Ward saw a number of eye specialists and acknowledged that the time scale for his recovery is still unknown.
PHOTO: Alex Pantling/Getty Images
"I will work hard, train hard, and put myself in the best shape possible. It's a waiting game," said Ward, though he acknowledged he needs to "sit back for a bit and give it a rest in the build up to Christmas," before starting to rehabilitate in January.
It will be a number of months before the full extent of the damage to Sam's retina will be known, GB hockey said.
"Sam has suffered a very serious injury," said GB Performance Director Ed Barney.
"At present, our focus is on supporting Sam to the best possible extent and ensuring that he has access to the best medical provision and wider support. The players and staff wish Sam well during this challenging period."
Despite the gruesome injuries he suffered, Ward defended the safety of hockey, calling it a "freak incident" and if anything a game situation he "slightly misjudged."
"These are very skilled players and the safety of the game is not really a concern," he said. "The ball was heading towards the goal and hit my head."