Abbeville, South Carolina
CNN
—
Joe Biden said he is "embarrassed" for South Carolina Sen. Lindsey Graham over the Republican's willingness to do President Donald Trump's bidding and investigate the former vice president's actions in Ukraine.
"Lindsey is about to go down in a way that I think he's going to regret his whole life," Biden told CNN's Don Lemon in an interview Friday in South Carolina.
Asked what he would say to Graham, who in the past had expressed his admiration for his long-time Senate colleague, Biden said: "I say Lindsey, I just – I'm just embarrassed by what you're doing, for you. I mean, my Lord."
The interview comes as the House's impeachment inquiry dominates national headlines – with Trump's effort to convince Ukraine to investigate the Bidens as its focal point. Republicans, including Graham, have rallied to Trump's defense less than a year from the 2020 election.
Graham, the Senate Judiciary Committee chairman, this week requested documents related to Biden and his son Hunter Biden's previous work in Ukraine. He is seeking documents from the State Department of Joe Biden's phone calls with former Ukrainian President Petro Poroshenko in February and March 2016 – including whether there was any mention of the country's investigation into the business activities of Mykola Zlochevsky, who owned the natural gas company, Burisma Holdings, where Hunter Biden served on the board. There has been no evidence of wrongdoing by the Bidens.
"They have him under their thumb right now. They know he knows that if he comes out against Trump, he's got a real tough road for reelection, number one," Biden said of Graham.
"I am disappointed, and quite frankly I'm angered, by the fact – he knows me; he knows my son; he knows there's nothing to this," Biden said. "Trump is now essentially holding power over him that even the Ukrainians wouldn't yield to. The Ukrainians would not yield to, quote, 'investigate Biden' – there's nothing to investigate about Biden or his son."
Democrats, meanwhile, are 10 weeks from the Iowa caucuses – but the field is far from settled, with a four-person top tier that includes Biden, Massachusetts Sen. Elizabeth Warren, Vermont Sen. Bernie Sanders and South Bend, Indiana, Mayor Pete Buttigieg.
Concerns within the Democratic establishment over the field – and Biden's standing in it – have prompted late entries. Biden said he welcomed new entries to the races, specifically New York City Mayor Michael Bloomberg, who has taken steps toward a late entrance into the 2020 Democratic presidential race, and former Massachusetts Gov. Deval Patrick, who recently entered the race.
In the interview, also Biden responded to Trump having questioned his mental state on Fox News.
Biden responded that he is "used to bullies."
"Mr. President, I can hardly wait. I can hardly wait. You're a serial liar. You're corrupt," he said. "And I know you think yourself the handsomest and smartest – you know, look Mr. President, you've made a botch of the job."
And Biden continued to insist that if Trump loses his reelection bid in 2020, he can work with congressional Republicans.
"And when we can't work with them, we go out and defeat them," Biden said.
But he said Republicans' actions during the impeachment inquiry "angers me. It angers me."
"Especially Trump trying to intimidate witnesses while they're testifying. What kind of man is this?" Biden said. "That alone is enough for him to be viewed as a pariah. I mean think about it."
"I welcome the competition"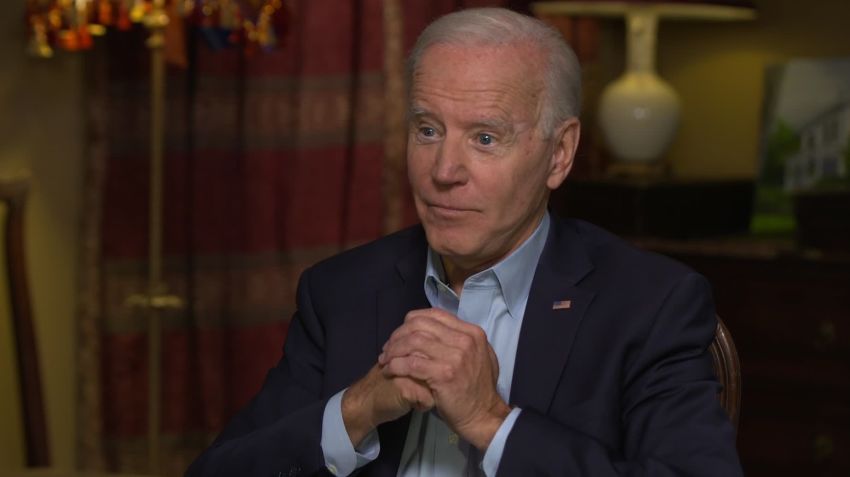 Biden calls out candidates who question his health
Asked about concerns he can't carry the presidential race through to the finish line, Biden said, "Come on. I welcome the competition."
"Watch me. Watch me," Biden said. "The idea that I'm not in better shape than Mayor Bloomberg, physically and otherwise?"
"Look, this – Trump is so bad as a President, and so corrupt as a President, that everybody in America who has ever been involved in politics, especially if they have a billion dollars, thinks they could beat Trump. Maybe they could," Biden said. "And so what do you have to do? I'm the guy sitting on the top of the pyramid. I get it. I'm a big boy. Never complain, never explain."
Biden also mentioned the lack of interest in Patrick's campaign in its early days. He pointed to an event Patrick had planned at Morehouse College on Wednesday that the former Massachusetts governor canceled after only two people were in the audience.
"He went down to Morehouse and had all these hundreds of seats, and no one showed up," Biden said.
"I like Deval. I really do. He's a good guy. He's a solid guy," he said. "But I think this is about deciding who is ready for day one to unite this country and demonstrate that they could, and number two, who in fact is ready on day one to be commander-in-chief."
'Putin knows I know him'
Biden said each presidential election is different, and that the most important quality in the 2020 race is identifying a Democratic nominee who is able to step onto the world stage immediately and restore the United States' role and reputation.
"If the perfect president has 10 virtues, none of us show up with more than five. And the question is, what are the most important things in the moment?" Biden said.
He questioned "the idea that you're going to on day one enter a world stage and be able to know what you're doing, never having been there, never having been involved."
"Vladimir Putin knows I know him, and he knows me. And the fact is that this is what is needed on day one," Biden said. "We're in trouble. We're in trouble. This President is shredding our alliances. This President is yielding to Putin in ways that are obsequious."
Support from black Democrats
Biden raised eyebrows in this week's Democratic presidential debate in Atlanta when – as he highlighted his support from African-American voters nationally and in key states, particularly South Carolina – he said he comes from the black community.
Biden had 44% support among black voters in South Carolina in a recent Quinnipiac University poll. That far outpaced his competitors, who were all at or under 10% among black voters.
"What I meant was politically I come from the black community, and I really do. It's the reason why I ran in the first place," he said. "I got engaged because of what was happening in my community."
He compared his entrance into politics in Civil Rights era to young activists motivated today by the treatment of migrants at the US-Mexico border.
"It's a little bit like today, a lot of young people seeing those kids in cages at the border, it can't be true," he said.
He pointed to his positions on education, where he has called for the tripling of Title I funding for schools in low-income areas, as well as child care and paid leave, as appealing to black women, who he said "have led politically in the Democratic Party."
Biden said it might be "presumptuous of me to say this, but I've always been engaged with the community my whole career." He said African-Americans have "had my back my whole career, and I hope I have the back of everybody."
"It's all about treating people with dignity, as my dad would say. I have never, never, never taken the black community for granted," he said.
'I think we can win Iowa'
Biden returned to Iowa this weekend, and though polls show him trailing there, he said he thinks he will win the state's February 3 caucuses.
"You've got to go out to Iowa and make the case town to town," said Biden, who has scheduled an eight-day bus tour there later this month. "And so we have a first-rate operation there now. I think we can win Iowa."
He acknowledged that polls show Buttigieg having surged to the lead in Iowa, but said he expects the race to shift in its late stages.
"Every major Iowa election, caucus, has been determined in the last three to five weeks," Biden said.
"I eclipse everybody," he said, on what voters have told pollsters matters most to them: "They said the most important thing they need is a candidate to beat Donald Trump."
This story has been updated with additional quotes from Friday's interview.