(CNN Business) —
A version of this article first appeared in the "Reliable Sources" newsletter. You can sign up for free right here.
Americans will wake up on Thursday to historic — and powerful — front pages from the nation's top newspapers. The New York Times banner headline will quote EU Ambassador Gordon Sondland saying, "WE FOLLOWED THE PRESIDENT'S ORDERS." That headline will be paired with stories noting that Sondland implicated top Trump officials in the Ukraine scheme.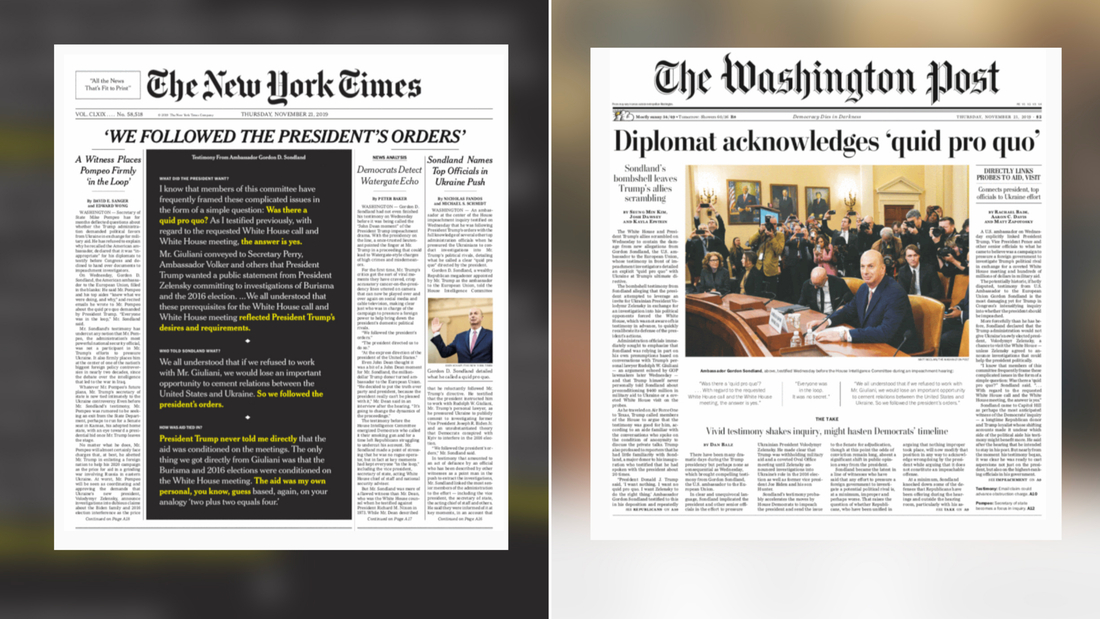 The Washington Post's A1 banner will read, "Diplomat acknowledges 'quid pro quo.'" That headline will be accompanied by stories noting that the testimony left Trump allies "scrambling."
"This is a John Dean moment"
"Gordon D. Sondland had not even finished his testimony on Wednesday before it was being called the 'John Dean moment' of the President Trump impeachment drama," NYT's Peter Baker wrote for his piece slated to publish in print on A1 Thursday. "With the presidency on the line, a once-trusted lieutenant pointed the finger at Mr. Trump in a proceeding that could lead to Watergate-style charges of high crimes and misdemeanors."
Baker was right. Throughout the day, Sondland's testimony was compared to Dean's 1973 implication of President Richard Nixon. "Feels like John Dean in 1973," tweeted Princeton University historian and CNN political analyst Julian Zelizer. George Conway commented, "This is a John Dean Moment. It will live forever in American political history." And Fox's Judge Andrew Napolitano said the information provided "makes Gordon Sondland the John Dean of this testimony."
Toobin: Only question now is will GOP care?
Speaking on CNN, Jeffrey Toobin said, "I think you can divide the Trump presidency into two periods, before November 20th, 2019, and after, because now we know. I mean, now we know that every fantasy about how corrupt this administration was is actually true. That this was a corrupt enterprise from the very beginning."
Toobin distilled things down to one remaining question: "Now the only question is does anyone care? Do the Republicans care? Does it matter to them that this corrupt enterprise is now proved clearly."
…probably not
The answer to Toobin's question? Probably not. The headline on Max Boot's latest column for WaPo explains why: "Sondland was devastating. But Republicans don't care about the facts." Boot chronicled how Sondland's testimony dismantled the Republican narrative, piece by piece.
"In a sane world, Sondland's testimony would have ended the Trump presidency," Boot wrote. "But Republicans have made clear that their devotion to Trump is irrational and, like other religious faiths, not subject to rational refutation. Without an actual tape of Trump ordering a shakedown of Ukraine – and maybe even with one – Republicans will not be shaken in their cultlike devotion to the president."
In fact, Republicans are "winning' in the alternative universe they have constructed
Over at BuzzFeed, Ryan Broderick hit the nail on the head with this piece: "There Are Two Separate Impeachment Hearings Happening Right Now — And Republicans Are Winning Theirs." Broderick explained, "Nothing Republican Rep. Devin Nunes does during the hearings makes sense if you watch it in the moment. When it's posted on Facebook later, though, it works perfectly."
"Each round of GOP questioning is not meant to interrogate the witnesses, which today included Sondland, but instead to create moments that can be flipped into Fox News segments, shared as bite-size Facebook posts, or dropped into 4chan threads," Broderick wrote. He added, "These exchanges may seem irrelevant, but they create content for the pro-Trump information machine, which is running parallel to the hearings."
>> Related: Ben Collins wrote Wednesday, "As Sondland testified, a misleading Ukraine story spread among conservatives on social media…"
Reminder: This alt-universe is not bound by gravity
Former Republican-turned-independent Justin Amash noted Wednesday that Sondland "eviscerated the Trump/Republican narrative." Which is, of course, accurate. Sondland confirmed a quid pro quo, among many other things. But the thing about the alternative narrative promoted by Trump and his defenders is that new storylines are always being written — and consistency is not a key feature. When one narrative is shot down, several others quickly pop up to take its place.
One subtle way Fox sidesteps news in its chyrons
If you pay attention to cable news chyrons, you'll have noticed something peculiar as you've watched the impeachment hearings. Networks like CNN and MSNBC will use the space to inform viewers of the substance of the hearings.Fox, on the other hand, tends to opt for general descriptions of what is happening when it is not-so-good for the President.
Take Wednesday's testimony for example. Instead of prominently telling viewers who might be casually glancing at the screen that Sondland had confirmed a quid pro quo, Fox's chyron for much of the morning read, "HOUSE INTELLIGENCE CMTE MEMBERS QUESTION AMBASSADOR SONDLAND IN PULBIC HEARING." This tactic was actually mocked by "The Daily Show" on Wednesday…
>> Of note: This isn't Fox's opinion hosts doing this. These chyrons are a product of the network's "straight news" division that execs like to boast about to advertisers…
Fox's opinion hosts are far more overt
No surprise here. I tuned into Fox's prime time shows to see what talkers like Tucker Carlson, Sean Hannity, and Laura Ingraham had to say. The answer? Nothing new. The hosts continued to deny reality (Ingraham actually claimed the fact-based truth was an alternative reality), and spin for the President. In the Fox world: The sun continued to shine on Trump.
>> Of note: On the damning news day, Trump promoted Fox's prime time talk shows on Twitter Wednesday evening, telling his followers to tune in…
"Mountain of evidence tells different story"
Chris Cuomo summarized things neatly at the end of his show. Cuomo noted that Trump and his defenders want to tell a story contrary to fact-based reality, but as the chyron for the segment explained, a "mountain of evidence tells [a] different story." Cuomo closed telling viewers that the GOP "can deny the charges," but "their problem is they cannot disprove them."
Read more of Wednesday's "Reliable Sources" newsletter… And subscribe here to receive future editions in your inbox…
NYT editorial board: Don't rush things
The NYT Editorial Board said Wednesday that it believed Sondland had "implicated the President and his top men." The editorial board said, "Americans shouldn't be distracted by Republican smoke bombs." And it noted "All the witnesses whose testimony has been damaging to Mr. Trump have given that testimony under oath. All of those who we are led to believe would exonerate the president have so far refused to testify."
BUT, the NYT editorial board also cautioned Congress not to move too quickly, and to avoid conducting a "truncated" inquiry. "It is essential for the House to conduct a thorough inquiry, including hearing testimony from critical players who have yet to appear. Right now, the House Intelligence Committee has not scheduled testimony from any witnesses after Thursday. That is a mistake. No matter is more urgent, but it should not be rushed — for the protection of the nation's security, and for the integrity of the presidency, and for the future of the Republic."
Democratic candidates weigh in at MSNBC / WaPo debate
"Gordon Sondland's bombshell testimony at the impeachment hearings on Wednesday overshadowed the Democratic debate, as candidates were immediately grilled on the question of removing President Donald Trump from office," Deadline's Ted Johnson wrote Wednesday night. Here's what some of the candidates said about Trump at the debate:
>> Elizabeth Warren questioned how Sondland got his job: "You know, this is not a man who had any qualifications except one. He wrote a check for a million dollars. And that tells us about what's happening in Washington, the corruption."
>> Joe Biden: "I would not direct" my Justice Department to probe Trump: "I don't think it's a good idea that we model ourselves after Trump and say, 'Lock him up.' Look, we have to bring this country together."
>> Bernie Sanders: Trump is "likely the most corrupt President in the modern history of America. But we cannot simply be consumed by Donald Trump. Because if we are, we are going to lose the election."
>> Amy Klobuchar: Evidence so far shows Trump "committed an impeachable offense."
>> Kamala Harris: "We have a criminal living in the White House."
>> Pete Buttigieg pointed to the Trump Foundation settlement: He's "confessed to illegally diverting charitable contributions that were supposed to go to veterans."