(CNN) —
When Vice President Mike Pence departed a September meeting with the Ukrainian President, the US ambassador to the European Union moved quickly across the room on the mezzanine level of the Warsaw Marriott to corral one of the new President's top aides.
After a meeting in which President Volodymyr Zelensky expressed concern over the status of US security assistance to Ukraine, Ambassador Gordon Sondland had a possible solution: publicly announce investigations into President Donald Trump's political rivals and the hold on the aid would be released.
It was a meeting that Sondland, the US ambassador to the EU, left out of his initial deposition in front of House impeachment investigators – and only came to light after Sondland amended that testimony. The episode was, however, described in more detail by others who have testified since, including one White House official who was so unsettled that it was reported to the White House counsel.
The meeting – and its halting disclosure – underscores why Sondland, a hotel magnate who had little political and zero diplomatic experience but could seemingly get Trump on the phone when needed, has become a central witness in the House's impeachment inquiry – and also its most problematic.
A review of thousands of pages of witness depositions, interviews with members inside the depositions, and conversations with sources with direct knowledge of how Sondland operated, reveal a picture of an unlikely diplomat – one impressed with his own stature and access, who regularly unsettled seasoned foreign policy hands inside the White House, and whose operational security, sources said, left him a prime target to foreign intelligence services. It's also a window into a man who drove toward securing a deal, no matter how unseemly, that would deliver what, at least in Sondland's mind, was what Trump wanted most in Ukraine: a public statement announcing investigations into the son of a top political rival.
But Sondland's testimony also creates issues. The deposition itself is riddled with contradictions or recollections that differ from those of other witnesses. Sondland failed to mention conversations with the President that others later recounted.
Beyond Sondland's need to amend his testimony, several officials questioned what they perceived to be his inflated sense of self. In conversations with other officials, Sondland bragged about his connections to Trump and regularly touted – for effect – his ties to acting White House chief of staff Mick Mulvaney. In his testimony, he minimized his connection to both the President and his top aide.
Sondland's attorneys have declined to comment on many of the specific developments that appeared to contradict his testimony.
"Ambassador Sondland looks forward to testifying next Wednesday," his lawyer Kwame Manley said Friday.
In his amended testimony, Sondland said that he "presumed" that the freezing of aid was linked to announcing an investigation – a clause that Republicans have seized on to argue Sondland was only stating his opinion. It remains unclear whether he was operating unilaterally or under explicit orders from Trump.
One thing is certain, however: Sondland has the most questions to answer when he sits at the witness table, by himself, in front of the House Intelligence Committee on Wednesday. And his knowledge – much of it first hand – has the potential to reshape the direction of the impeachment proceedings against Trump.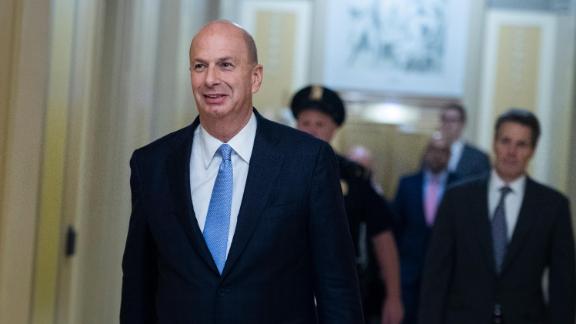 Tom Williams/CQ Roll Call/AP
'An op-sec nightmare'
Sondland came to his post as EU ambassador after a career founding a hotel chain and as a major donor to the President's 2016 campaign.
Sondland is described by other officials as having often rubbed career foreign policy hands the wrong way. It was the way he operated in his portfolio that created the most heartburn – and landed him in the middle of the ongoing investigation. Former White House Russia expert Fiona Hill clashed with Sondland, though she did defend his intentions.
"He was clearly, you know, a savvy guy," Hill told lawmakers during her closed-door deposition. "He's charming. He's funny. He was well-meaning." She recounted his efforts at the embassy, including reports of significant spending on upgrades, and said she viewed them as positive efforts to boost morale.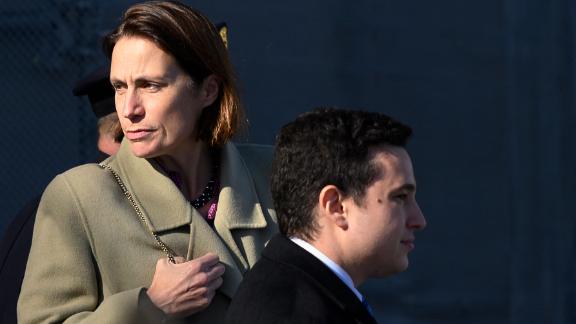 ANDREW CABALLERO-REYNOLDS/AFP via Getty Images
But she and others also recounted that the same gregarious nature had serious potential pitfalls.
One source who works closely with Sondland told CNN he is "an op-sec nightmare" given his penchant for using his personal phone, calling repeatedly on insecure lines, texting and using What's-App regularly and emailing at will.
"He was also doing this in a way that I thought put him at risk," Hill said.
Hill recounted that Sondland would pass out her number, and the numbers of others on the White House staff, to foreign officials who would then show up at the White House unannounced and call for entrance and a meeting.
In another instance, the National Security Council's top Ukraine expert Lt. Col. Alexander Vindman said there was a presidential delegation to Ukraine, and Sondland's name was taken off the list because there was concern he would freelance.
"It was outside of his portfolio, and he tended to go off script, so there was some risk involved," Vindman said.