Editor's Note: This story originally published on November 17, 2019. It has been updated to include 12 new instances in which President Trump has gone easy on Russia.
President Donald Trump has an Achilles' heel when it comes to Russia.
Over the years, he's made no secret that he has a soft spot for the country and its authoritarian leader, President Vladimir Putin. Trump has proved that he is willing to reject widely held US foreign policy views and align himself with the Kremlin on everything from Russian interference in US elections to the war in Syria.
Most recently, Trump has denied the veracity of US intelligence reports accusing Russia of paying bounties to Taliban fighters to kill US troops in Afghanistan. Pressed on the topic during an interview with Axios that was released on Wednesday, Trump said he did not raise the issue during a recent phone call with Putin, and continued to suggest that the reports are "fake news."
During the 2016 campaign, Trump's ties to Russians were so concerning that the FBI believed there was good reason to investigate potential collusion between his 2016 campaign and the Kremlin. Counterintelligence investigators also examined whether Trump himself was somehow a Russian asset. (Special counsel Robert Mueller did not establish a criminal conspiracy of collusion.)
In Trump's eyes, these allegations are proof of a conspiracy against him by Democratic lawmakers and other "deep state" enemies within the US government. He has bombastically declared, "There's never been a president as tough on Russia as I have been" – a dubious claim that he repeated during the Russian bounties scandal.
But Trump's narrative is simply false, based on his own actions over the last few years. Here's a breakdown of 37 occasions when Trump was soft on Russia or gave Putin a boost.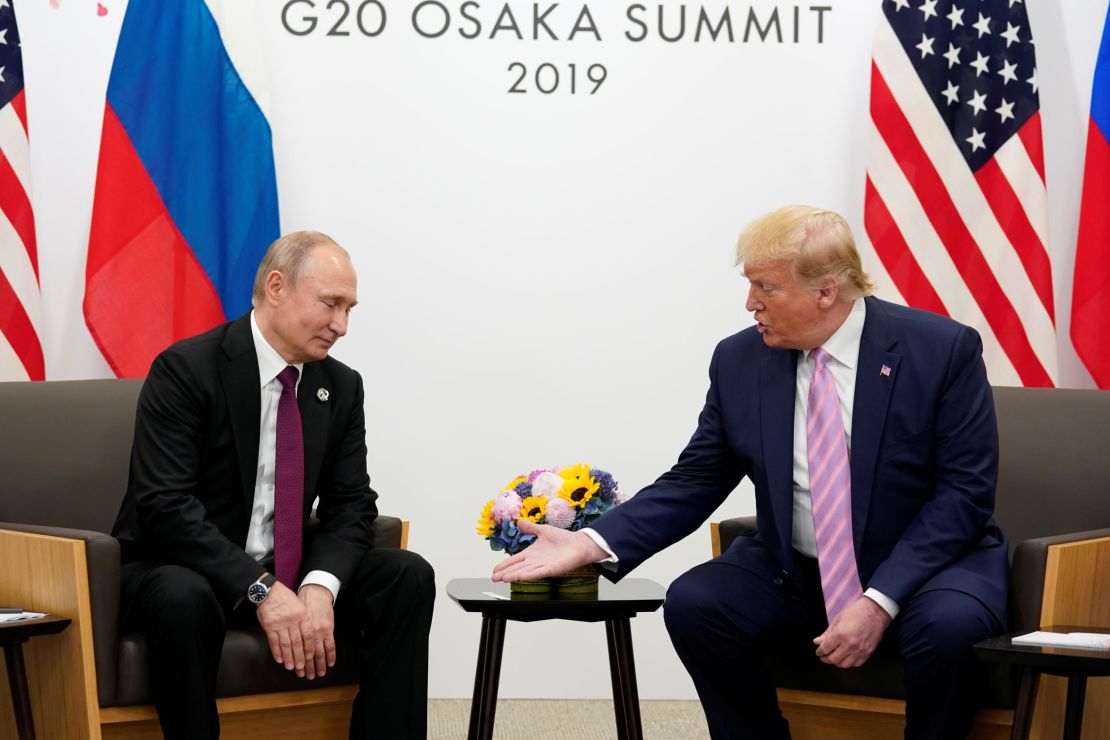 Trump has repeatedly praised Putin
While he was a private citizen, during his 2016 campaign and throughout his presidency, Trump has showered Putin with praise. He said Putin was "so nice," he called Putin a "strong leader" and said Putin has done "a really great job outsmarting our country." Trump also claimed he'd "get along very well" with Putin. Few, if any, Western leaders have echoed these comments.
Trump hired Manafort to run his campaign
Trump raised eyebrows in spring 2016 when he hired GOP operative Paul Manafort to run his presidential campaign. Manafort spent a decade working for pro-Russian politicians and parties in Ukraine and cultivated close relationships with Putin-friendly oligarchs. Manafort was sentenced in 2019 to 7.5 years prison for, among other things, evading taxes on the $60 million he had made in Ukraine. (He was released to house arrest in May 2020 amid coronavirus concerns.)
Trump suggested Russia can keep Crimea
Trump said Putin did "an amazing job of taking the mantle" when Russia annexed Crimea in 2014. During the 2016 presidential campaign, Trump broke with US policy and suggested he was OK if Russia kept the Ukrainian territory. He repeated a Kremlin talking point, saying, "The people of Crimea, from what I've heard, would rather be with Russia than where they were."
Trump aides softened GOP platform on Ukraine
Ahead of the 2016 Republican National Convention, Trump campaign aides blocked language from the party platform that called for the US government to send lethal weapons to Ukraine for its war against Russian proxies. Mueller investigated this for potential collusion but determined the change was not made "at the behest" of Russia. (The Trump administration ultimately gave lethal arms and anti-tank weapons to the Ukrainian military.)
Trump made light of Russian hacking
Throughout the 2016 campaign, Trump cast doubt on the US government assessment that Russia hacked the Democratic National Committee and Democratic nominee Hillary Clinton's campaign chairman. At a news conference in July 2016, he even asked Russia to hack more, saying, "Russia, if you're listening, I hope you're able to find the 30,000 emails that are missing,"
Trump capitalized on Russian meddling to win
Instead of condemning Russia for hacking and leaking Democratic emails, Trump eagerly capitalized on the Kremlin's meddling, and used the emails to attack Clinton on a near-daily basis in the final stretch of the campaign. The Mueller report said Trump's campaign "expected it would benefit electorally from information stolen and released through Russian efforts" and that top officials believed they had inside information about WikiLeaks, so they planned a strategy around the expected release of hacked emails.
Trump denied that Russia interfered in 2016
The Office of the Director of National Intelligence, the FBI, the CIA, the National Security Agency, the Department of Homeland Security, the Justice Department and the Senate Intelligence Committee all confirmed that Russia interfered in the 2016 election to help Trump. But Trump has repeatedly rejected this view, and publicly sided with Putin at the Helsinki summit in 2018, saying he accepted Putin's denials.
Trump transition undermined Russian sanctions
After the 2016 election, the Trump transition team asked Russia not to retaliate too strongly against new US sanctions imposed by then-President Barack Obama. The sanctions were intended to punish Russia for interfering in the election, but then-Trump aide Michael Flynn asked the Russian ambassador not to escalate the situation so they could have a good relationship once Trump took over.
Trump was open to lifting Russian sanctions
Days before his inauguration, Trump told The Wall Street Journal that he was open to lifting sanctions on Russia. He said: "If you get along and if Russia is really helping us, why would anybody have sanctions if somebody's doing some really great things?" Putin has tried for years to persuade the US and European countries to end crippling sanctions on Russia's economy.