Editor's Note: Sign up to get our new weekly column as a newsletter. We're looking back at the strongest, smartest opinion takes of the week from CNN and other outlets.
The Joker told Batman, "This is what happens when an unstoppable force meets an immovable object."
That line, from the closing minutes of "The Dark Knight", is one way to anticipate what will happen on Capitol Hill next week: Public hearings in the impeachment inquiry into President Donald Trump begin Wednesday.
The unstoppable force? A parade of witnesses testifying that Trump's White House appeared to be shaking down Ukraine's president to force an investigation of former vice president Joe Biden and his son Hunter, despite a lack of evidence of wrongdoing.
The immovable object: Trump and his GOP supporters, who this week tried out an array of defenses, including Sen. Lindsey Graham saying he won't read the witnesses' transcripts and that the process is "BS."
"As the President faces an impeachment inquiry, he, like any individual facing a serious allegation, has a right to mount a robust defense," noted Elliot Williams. "However, President Trump's behavior toward those tasked with congressional oversight and investigations into his personal conduct, and his attitude toward the current congressional impeachment inquiry are all rooted in the same idea: that our country's basic systems themselves are illegitimate."
Trump is relying on "public mistrust of government" and showing he doesn't understand the limits on presidential power, Williams wrote.
The problem for Democrats is that Trump's approach may be working, wrote Susan Glasser in the New Yorker.
"The allegations of abuse of power are striking and unprecedented: a President seeking to privatize American foreign policy for his personal political benefit." But we know how this will end, she suggested. "For Trump and his defenders, it is a coup, a show trial, a witch hunt. When that is the starting point, there is no place for the facts, no process that can satisfy, no way to split the difference… the President has successfully rendered the investigation irrelevant, at least for his most fervent supporters."
Fighting to sway the public
The open hearings may shift opinion. So far, polls show a huge partisan divide between an overwhelming majority of Democrats who favor impeachment and an equally solid bloc of Republicans who don't.
Arick Wierson argued that Democrats should drop the "quid pro quo" talk when describing Trump's interaction with Ukraine's president: "Americans are never going to agree to removing a President from office for engaging in acts described by a Latin term many don't understand or at least would never use." Instead, "rebrand Trump's alleged transgressions with a term that most Americans don't need to Google to understand – one with teeth. Bribery. Extortion. Payola. Shakedown. Ransom payment. There are plenty of better ways to say it than quid pro quo."
All week Trump hammered away at the whistleblower, wrote Elie Honig, who called the "relentless assault" by the President and his backers "wrong, irrelevant and dangerous." Witnesses have backed up all of the whistleblower's key allegations.
Meanwhile the impeachment controversy dragged in Vice President Mike Pence, who met with Ukraine's President Volodymyr Zelensky before military aid to that nation was released. Trump (and Pence) biographer Michael D'Antonio suggested that the vice president might not be an immovable object. "If Trump needs to find a scapegoat to take the heat off himself in the Ukraine scandal, Pence is the perfect target," he wrote.
OK Boomer, OK Millennial
In the New Zealand parliament, Chlöe Swarbrick's response when an older colleague heckled her during a climate crisis speech was instant: "OK Boomer." And it went viral.
So my colleague Pat Wiedenkeller asked two of CNN Opinion's regular commentators to hash it out. Millennial Jill Filipovic wrote to Boomer Paul Callan: "You Boomers have called us 'snowflakes,' mocked us for trigger warnings and safe spaces (which are just an attempt to be sensitive to others), and even derided avocado toast (which is delicious). You were born into post-war prosperity, enjoyed the riches of government hand-outs and affordable education, then moved into your subsidized suburban homes and pulled the ladder up behind you."
Callan fired back: "Your professional success is undoubtedly the result of your Boomer parents raising you in a 'subsidized suburban home,' thereby facilitating the 'affordable education' you now criticize. The participation trophies were a Boomer error I readily admit."
And from there, the exchange got a little…tense – and enlightening. And nobody got hurt.
In a related vein, two former Nobel Peace Prize winners, congratulated young activists for acting on climate issues while adults have largely abdicated. Leymah Gbowee and José Ramos-Horta wrote, "Unencumbered by bureaucracy, conformity and conventional wisdom, young people have the raw, out-of-the-box thinking that could lead to the development of the 'moonshot' ideas we need to save the planet."
2020 countdown
Everything in politics may look different less than a year from now, when voters choose a president. Tuesday's off-year election offered some intriguing clues.
Julian Zelizer described key results as "extraordinarily frightening for Republicans. Like the 2018 House midterms, which were devastating to the GOP, the results in Kentucky and Virginia offer evidence that the president's record is putting their party in real jeopardy. They show that the President's imprint on politics – more than almost anything else – has the capacity to drive up Democratic turnout as the party's loyalists, including union members, show they are furious about what has taken place."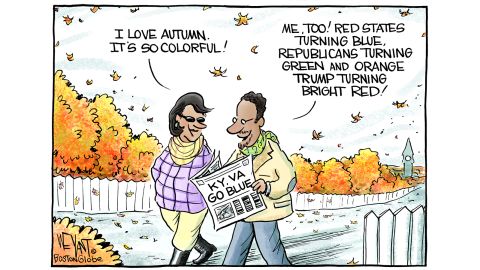 Alice Stewart was in accord with fellow Republicans who argued that their loss of the governorship in very red Kentucky wasn't Trump's fault. But she urged the Trump campaign to pay attention: "Suburbs are the new Florida, so focus on suburbia."
In the Atlantic, Ron Brownstein, noted that the GOP "suffered resounding repudiations in urban centers and inner suburbs, which contain many of the nonwhite, young-adult, and white-collar white voters who polls show are most resistant to Trump." If the trend continues, it's hard to see how the President could again go down the narrow path that brought him victory in 2016.
There's alarm on the Democratic side too as the battle between two of the top tier candidates, Joe Biden and Elizabeth Warren, grew more fiery, particularly after Warren rolled out a Medicare for All plan that wipes out private health insurance.
Bakari Sellers warned: "If Democrats are serious about defeating Trump, flipping the US Senate, and expanding our lead in the US House, we must understand that purity tests – making sure that a candidate's ideology lines up perfectly with their party's – do not work."
At the end of the week, former New York Mayor Michael Bloomberg roiled the field with news that he was considering entering the race. Two people who have worked for him, Arick Wierson and Bradley Honan, argued that Bloomberg is the perfect antidote to Trump, but others, including Peter Beinart in the Atlantic, were skeptical about his chances.
Virginia's election results were important for more than just statewide issues. Carol Jenkins wrote that new Democratic majorities in the state legislature will be in position to make it the 38th and final state needed to ratify the Equal Rights Amendment: "Earlier this year in Virginia, the measure lost – by one vote." She added, "Deliberately left out of the Constitution when it was written, women have paid the price in opportunities, rights and protections ever since."
Other smart takes on politics:
Jennifer Rodgers: On Trump taxes, the Supreme Court should do the right thing
Robert Redford: A race against time to undo the damage caused by Trump
Michael Bociurkiw: After Trump debacle, Ukraine has one card to play
James Gagliano: It's not just Barr – we need a new way to keep attorneys general nonpartisan
Michael D'Antonio: What really 'triggered' Donald Trump Jr.
Joe Lockhart: GOP's raging hypocrisy on impeachment
Donald Trump, sports fan
President Trump has discovered his inner sports fan, leaving his resorts and the White House in recent weeks for a World Series game, a UFC fight and the LSU-Alabama game. In Alabama, he was cheered. But at the first two events he heard a sound that is never directed at him at his rallies: boos.
It's what he deserves, wrote Dean Obeidallah: "Given polls showing nearly 60% of Americans disapprove of the job Trump is doing, he should brace himself to hear a lot more boos between now and when he finally vacates the White House."
Politics and sports often don't mix. When the World Champion Washington Nationals visited the White House Monday, some team members didn't show up, including relief pitcher Sean Doolittle, who has objected to Trump's rhetoric. But some were enthusiastic, including catcher Kurt Suzuki who wore a MAGA hat for the occasion.
It took guts for both players, wrote Paul Begala: "When liberal Sean Doolittle pitches, MAGA-loving Kurt Suzuki catches him…when they step inside those white lines to earn their living playing a kids' game, Suzuki and Doolittle have to put aside whatever political differences they may have and work together in perfect harmony for the good of the team. I think a lot of politicians could learn from these two ballplayers."
A special day
A century ago, on November 11, 1919, Americans marked the one-year anniversary of the end of World War I with a new holiday.
"Armistice Day" is now known as Veterans Day and it honors those who have served in the military in war and peace. Among those we should remember Monday, wrote Admiral Mike Gilday, the US Navy's Chief of Naval Operations is Cmdr. Ernest Evans, "who chose to sail the USS Johnston into harm's way during the Battle of Leyte Gulf in the Philippine Sea in 1944. Despite the superior Japanese force of battleships, heavy cruisers, and destroyers, Johnston's actions ultimately crippled the Imperial Japanese Navy. Evans, who died in action, was posthumously awarded the Medal of Honor."
The lesson to remember? Gilday wrote, "Across the nation this Veterans Day, we honor the service, sacrifice and commitment of those men and women who have worn the cloth of this great nation. If you believe as I do that there is a desire in every human heart to live in freedom, then this day is a special day."
Don't miss:
Jill Filipovic: Mourning the Mormon victims and opening our hearts
Glenn Gamboa: Lizzo is primed to end cancel culture
Mark Osler: Wisconsin's governor should pardon Brendan Dassey
Lisa Woolfork: 'Harriet' breaks open what we know about slavery
Kovie Biakolo: Nigeria's 'Lionheart' disqualification is bigger than the Oscars
Ernesto Garratt: Chile's elites aren't listening to the protesters
AND…
Emma Watson looked shame in the face and won
Emma Watson, famous for playing Hermione Granger in the Harry Potter movies, spoke out about the pressures she deals with as her 30th birthday approaches. "It took me a long time, but I'm very happy (being single)," she said in an interview with Vogue. "I call it being self-partnered." The phrase drew some jeers on social media, but Holly Thomas wrote that there's nothing wrong with Watson's mindset and she didn't deserve "a maelstrom of criticism for her honesty."
The larger question, according to Thomas: "why does the pressure for women to partner up remain so rife? There is little evidence that, for them, being in a couple is necessarily better than being single in terms of life expectancy, happiness or health."
The answer: "It is, however, in men's interests for women to believe that they should partner up. Studies have repeatedly shown that a man is likely to live longer and enjoy better mental and physical health if he is married to a woman. It's little wonder that centuries of PR in a male-run world have been dedicated to teaching women that they are sad or somehow deficient if they remain alone."