Correction: This story corrects Sanders' polling number in The New York Times/Siena College poll.
(CNN) —
In the first few minutes of his bus tour that began Saturday, Pete Buttigieg said he misspoke. He hadn't meant to say that the 2020 Democratic primary was a two-person race between himself and Elizabeth Warren.
His message this weekend, however, told a markedly different story.
Buttigieg spent much of his time on his three-day, 330-plus mile bus tour through northern Iowa preaching the need for unity, drawing a not-so-subtle contrast with Warren's focus on fighting. It's a new strategy that exemplifies the belief inside the Buttigieg campaign that Warren – whose growing and powerful campaign in the state is seen by Iowa operatives as outflanking former Vice President Joe Biden or Vermont Sen. Bernie Sanders – is the biggest obstacle the South Bend, Indiana, mayor faces over finishing first in Iowa.
Buttigieg, in both conversations with reporters and voters, argued that Warren's message is divisive, questioned the impact that calls for "purity" will have on both the race for the White House and Congress and decried her "my way or the highway approach." He denied that he is overlooking Biden and Sanders – calling them "formidable" in the state – but spent far more time this weekend subtly contrasting himself to the Massachusetts senator.
Warren, who also spent the weekend in Iowa, was not mum on this new dynamic, either. She added new lines to her stump speech that accused other nameless Democrats of "running a vague campaign that nibbles around the edges" and trying to "make yourself sound very sophisticated, very smart" by giving up "on big ideas."
This clash has been building for weeks – and played out on national television during the Democratic debate in October – but this past weekend in the Hawkeye State could provide a preview of how the final three months of the campaign will play out in Iowa.
"Fighting is not enough," Buttigieg said as his bus rolled between Waverly and Charles City. "And if we get so absorbed in the fighting that it is as though fighting were the purpose, that's where I think we really get in trouble. If you win the fight, then what?"
This – and a series of other lines Buttigieg worked into his weekend speeches – directly contrasts Warren.
When asked about Buttigieg's strategy, Warren's campaign honed in on its own.
"Since the beginning we've been solely focused on calling out the corruption, presenting our plans to fix it, and building a grassroots movement in Iowa and across the country to get it done. We're running a positive campaign committed to listening and organizing – regardless of pundit chatter or process stories," Jason Noble, Warren's Iowa spokesman, told CNN.
The senator used her speech before Iowa's most devout Democratic activists on Friday rally the party around, what she sees, as imperative fights.
"Look, anyone who comes on this stage and doesn't understand that we're already in a fight is not the person who is going to win that fight," Warren said. "Anyone who comes on this stage and tells you they can make change without a fight, is not going to win that fight."
That, Buttigieg believes, is not accurate – and the mayor spent three days in Iowa subtly pushing back against Warren.
Once he left the state, the mayor's campaign unveiled Tuesday a new statewide ad with that same message, featuring his Friday night speech: "We will fight when we must fight, but I will never allow us to get so wrapped up in the fighting that we start to think fighting is the point."
A series of veiled shots
"The premise of my candidacy," Buttigieg told voters on Saturday in Decorah, is that he is a candidate who is capable of being "bold enough to solve the problems in front of us and capable to unite the American people."
The next afternoon, during an event in Waverly, Buttigieg said the country needs a president who knows how to "solve these big problems with big answers and do it in a way that unifies, not polarizes, the American people."
And during a town hall in Charles City later on Sunday, Buttigieg decried the "political warfare we have gotten used to out of Washington" and pledged, as president, to tackle issues important to Democrats by unifying people at the same time.
The trip at times felt like a lengthy veiled shot at Warren.
In between the town halls and rallies, Buttigieg took endless questions from around a dozen reporters crammed onto a blue and yellow bus as the mayor sipped black coffee or dove into a sandwich sitting in a black captain's chair.
"It's definitely not unifying," Buttigieg said about Warren's message.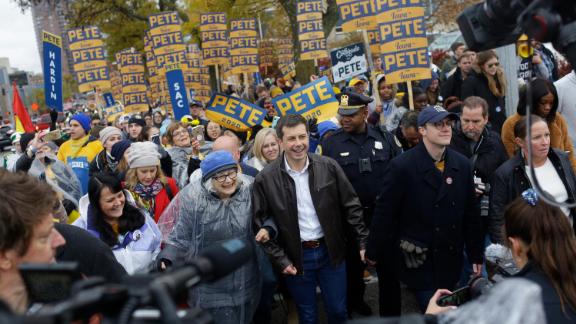 Joshua Lott/Getty Images
On "Medicare for All," a liberal single-payer health care p