Editor's Note: Lisa Woolfork is an associate professor of English at the University of Virginia and the author of "Embodying American Slavery in Contemporary Culture." She is a Public Voices Fellow with the Op-Ed Project and an organizer with Black Lives Matter Charlottesville. The views expressed here are hers. View more opinion on CNN.
"Harriet" is a unique Hollywood offering that avoids the common pitfalls of blockbuster films about American slavery. Co-written and directed by a black woman, the film sidesteps the prevailing white savior trope and effectively presents what scholar Saidiya Hartman has described as the antebellum period's "profound indifference to black suffering" by illustrating ideas and practices that dehumanize black people.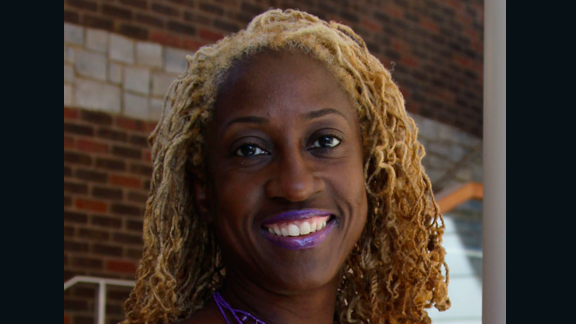 University of Virginia
Most crucial, however, is the film's approach to black women's liberation. Unlike recent films set in the antebellum period that center black bondsmen ("The Birth of a Nation" in 2016, "12 Years a Slave" in 2013, "Django Unchained" in 2012) or elevate white experience ("The Free State of Jones" in 2016), Harriet stands out as a representation of a black woman committed to freedom by any means necessary.
Womanism, introduced by Alice Walker in 1983, describes a black women-centered, community-based alternative to (and/or expansion of) feminism. The film's privileging of a black woman is significant. For as James Baldwin told Dick Cavett in 1963, black people were and to a great extent still are subjected to a bitter double standard.
Baldwin explained, "when any white man in the world says, 'Give me liberty or give me death,' the entire white world applauds. When a black man says exactly the same thing, word for word, he is judged a criminal and treated like one and everything possible is done to make an example of this bad n—-r so there won't be any more like him."
Baldwin was explicitly referring to two generations of black liberationists: Nat Turner and Malcolm X. He described them as black heroes who were perceived as threats marked for assassination — not veneration.
Harriet Tubman's life and legacy complicates this description, and the film about her breathes new life to Baldwin's words by showing a black woman uttering the nation's founding creed as an ultimatum. For the film's protagonist, this phrase is an explicit demand followed by direct action.
Harriet Tubman is greatly admired as a social justice activist. Born in Maryland between 1815 and 1822, she was subjected to heinous physical abuse from early childhood. She suffered a traumatic brain injury as a teenager when an overseer threw a 2-pound weight that struck her in the head. Some speculate that this caused her debilitating "spells" or blackouts, while others believe she may have had epilepsy or narcolepsy. She fled Maryland alone after her two brothers quashed a previous attempt for the three of them to escape together.
After liberating herself in 1849, she frequently returned South to rescue her family and other enslaved people. During the Civil War, she used her knowledge and resourcefulness as a spy for the Union army. In 1863, she led 150 soldiers in a raid along the Combahee River in South Carolina that liberated more than 750 people.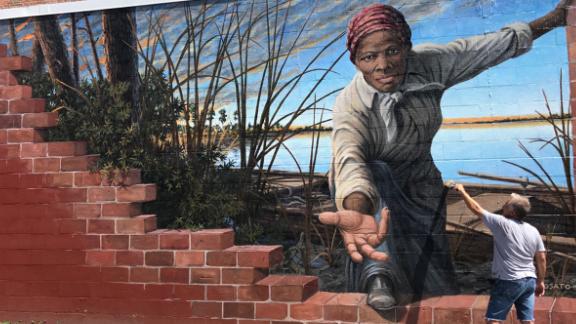 Michael Rosato
She co-founded the National Association of Colored Women in 1896 with Mary Church Terrell, Ida B. Wells-Barnett and Frances Ellen Watkins Harper. These and other acts of community care, robust self-regard, and devotion to family demonstrate Tubman's approach to liberation. These qualities that made her a model for subsequent generations of black women's resistance.
The story of a black woman's quest for freedom
As a representation of a radical womanist vision and practice of black liberation, "Harriet" brings to a mainstream movie audience the story of a black woman actively pursuing an individual and collective quest for freedom. The film's approach to Tubman's life takes apart the imagery of America slave resistance familiar to most scholars and students.
For example, two major 19th century slave narratives — Frederick Douglass' "The Narrative of the Life of Frederick Douglass" and Harriet Jacobs' "Incidents in the Life of a Slave Girl" — are often taught in tandem as gendered modes of resistance. The pivotal scene of Douglass's story is a physical brawl, where he physically bests a brutal overseer.
By contrast, Jacobs' story is defined for many by a scene of confinement. Described as her "loophole of retreat," Jacobs escapes by hiding in an attic crawl space for seven years until she can secure passage north. "Harriet" circumvents this gendered dichotomy between men who fight and women who hide. Harriet does both, and the result is an onscreen liberation narrative that takes the viewer beyond what slave narratives have historically taught them about resistance.
In the 19th century, written accounts by the formerly enslaved were one of the most common tools for advocacy in the American antislavery movement. Known as "slave narratives," these first-person tales of the journey from bondage to freedom used moral and persuasive arguments to demonstrate the evils of slavery. Later, some replaced the term "slave narratives" with "liberation narratives" to make the story more about freedom than captivity. Like the debate over the terms "slave" and "enslaved," the stakes are more than vocabulary. A "slave narrative" can be seen to imagine slavery as a natural or permanent condition. A "liberation narrative" focuses on securing freedom from slavery. As historical fiction, "Harriet" engages with the 19th-century tradition but is ultimately a liberation narrative.
The film begins with the tactics of negotiation and waiting. Harriet, her husband, parents and other family members approach the Brodess family with legal proof of their emancipation. As historian Stephanie E. Jones-Rogers has noted was true for many Southern white women slave owners, Eliza Brodess was given Harriet's mother, Rit, when she was a child. The terms of the gift, detailed in Eliza's father's will, stated that Rit would be freed when she turned 45. In the film, Harriet's husband, a freeman, gingerly presents a legal affidavit confirming that Rit, now more than 50 years old should be free, as should her children. Edward Brodess dashes any hope that Harriet or her family (current or future) will ever be free of the Brodess family.
The futility of negotiating with tyranny
This scene illustrates the futility of negotiating with white people educated in tyranny. It is not possible to rely on law for liberation or juries for justice when both systems are committed to maintaining a racist status quo. The film depicts the vicissitudes of capitalism, white perfidy and caprice that maintained slavery as lucrative labor model, a system of dominance, and a regime of terror. After her hopes are dashed by the destruction of her family's freedom papers, Harriet concludes that there is no point in negotiating with terrorists. And she has waited long enough. Her true path to liberation is to fight and run.
Harriet's fight is not like Frederick Douglass's physical fight with an overseer. Nor is her flight like Harriet Jacobs's debilitating confinement. By taking complete possession of her own life and trusting in her prophetic vision, Harriet uses physical movement to upend the racist, sexist and ableist assumptions that say a black woman disabled by recurrent blackouts from decades-old head trauma, traveling alone, is no match for the comprehensive system of white supremacy and its network of slaveholders and accomplices.
Harriet routinely overcomes these ideological and physical challenges. In an early scene that shows the dangers of attempted escape, Harriet is surrounded on a bridge by men led by Gideon Brodess, the slaveholder Harriet was forced to care for when they were children. Gideon slowly approaches Harriet, perched on the bridge railing, his hands spread out in front of him, offering promises of emancipation in a low voice. Harriet sees through this ruse, saying, "I'm going to be free or die," before launching herself into the river below.
In this and other ways, Harriet's fight is not hand-to-hand combat but nonetheless physical. Patrick Henry's "give me liberty or give me death" is not hyperbole for her. In fact, on the bridge and throughout the film, she is not asking for these things to be "given" to her but seizing them, sometimes with words, sometimes with a gun.
Kasi Lemmons, the film's director, describes the gendered dimension of telling Harriet Tubman's story. "I don't want to rob her of either her womanhood or her superheroism, because we need our black women superheroes," Lemmons said.
However, Harriet's superheroism is not the source of the film's power. Black women have long labored beneath the burden of that superlative. Instead, the film motivates by offering a womanist glimpse into the life of a regular black woman who did extraordinary things. "Regular" in this context is not a diminution. It is an affirmation of what Tressie McMillan Cottom calls "black-black." Regular black" women.
Get our free weekly newsletter
Harriet Tubman's practice of direct action — mobilizing rather than waiting for laws or times to change — remains a model for current and future generations of black women who choose to be activists, advocates and organizers that disrupt harmful systems. Harriet Tubman's immediate, measurable, and physical steps to break the yoke of bondage laid the groundwork for immediate and future liberation. Today, when black women take direct action against injustice, we are following Tubman's signs which reveal that a better world is possible.