(CNN) —
Democrats and Republicans got into a shouting match behind closed doors on Tuesday while interviewing a witness in the impeachment investigation, with Democrats accusing Republicans of trying to out the anonymous whistleblower who sparked the impeachment inquiry, according to five sources from both parties.
House Intelligence Chairman Adam Schiff objected to a line of questioning from Republicans during the deposition of Lt. Col. Alexander Vindman, the National Security Council official in charge of Ukraine policy, charging that the GOP questions were part of an effort to out the whistleblower, sources said.
Republicans pushed back, arguing they were simply asking questions about who Vindman might have spoken with — and that it was not an effort to out the whistleblower.
The back-and-forth led to a heated exchange between Democratic Rep. Eric Swalwell of California and GOP Rep. Mark Meadows of North Carolina, according to multiple sources. Other members joined in.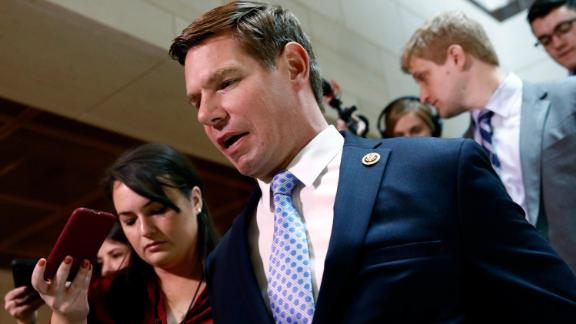 Patrick Semansky/AP
Lawmakers said Vindman testified he did not know who the whistleblower was.
"What the Republicans are trying to do in there, very clearly in their questioning, is try to front-door or backdoor Lt. Col. Vindman into revealing who the whistleblower is, even though in his testimony, he said he didn't know," said Rep. Debbie Wasserman Schultz, a Florida Democrat. "They are trying to, through the back door and through process of elimination by their questions, they are attempting to get him to reveal that, and they have been unsuccessful."
But Meadows pushed back on the Democratic accusations.
"How can we out someone when we don't know he is?" Meadows told reporters Tuesday afternoon.
He said that the Democrats' accusations that Republicans are trying to out the whistleblower are "not accurate."
"I've not been on any fishing expedition," he said. "I only ask questions we know the answer to."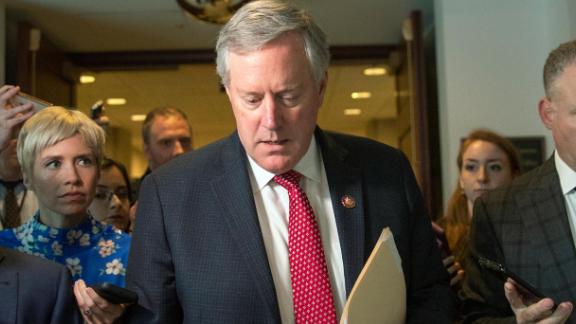 Manuel Balce Ceneta/AP
Schiff said following Tuesday's deposition that the whistleblower's identity should be protected, though he did not specifically reference the Republican questions.
"They have the right to remain anonymous," Schiff said of whistleblowers. "They certainly should not be subject to these kind of vicious attacks and other words and actions that threaten their safety for doing their patriotic duty. And so we will make every effort to make sure that, notwithstanding the President or his allies' desire to come out and exact political revenge on this whistleblower, that our committee is never used for that purpose."
The incident was one fight in a broader battle between the two parties over the impeachment inquiry, which Republicans have slammed as an illegitimate attempt to remove the President from office.
Tensions over the whistleblower's identity have been building in the depositions. Two sources described a pattern of GOP questioning – over the course of several of the depositions – that appeared designed to try to identify the whistleblower through the course of asking witnesses and putting into the deposition record the names of various government officials involved that may fit the professional description that has been made public of the individual.
While the sources said they didn't get the sense Republicans on the panel had identified the whistleblower directly, "it's clear they've been using these depositions as a way to gather evidence to that effect," one of the sources said.
One GOP source countered that the purpose of the depositions was to gather information about the whole universe of those involved in the events that transpired, pointing to the fact that Democrats have made new requests for individuals to come in and testify based on information they gathered from the depositions thus far.
"What we're doing is no different – we're trying to make sure we know who was involved so we can have the most fulsome process possible," the GOP source said.
But that argument rung hollow to some Democrats, who say the specificity with which Republicans have asked their questions has made clear "they're hunting for something – or someone," according to one source. "It doesn't take a rocket scientist to figure out who that someone is at this point.
Some Democrats have pointed directly at President Donald Trump as evidence that Republicans are seeking to bring forth the name of the whistleblower, given that the President has repeatedly tweeted about the whistleblower, and raised questions about the individual's identity.
One GOP lawmaker, who asked not to be named given that the depositions are happening behind closed doors, did not push back that Republicans are trying to figure out who the whistleblower is in the depositions.
"I think we would like to know — with whistleblower protections in mind — we would like to hear from the whistleblower and we would also like to know who the whistleblower talked to," the GOP lawmaker said. "We got one guy who is trying to bring down the President of the United States and we cannot even hear from that person."
Vindman suggested minor edits to call transcript
In his opening statement, Vindman testified that he was so troubled by Trump's July phone call with Ukraine's President that he reported his concerns to a superior.
Vindman testified that the White House's rough transcript was mostly accurate in describing the contents of the July 25 phone call between Trump and Ukrainian President Volodymyr Zelensky, but there were a couple of changes he would have made, according to multiple sources familiar with the testimony. Vindman finished his testimony on Tuesday night after more than 10 hours.
Vindman said that he would have made edits to the transcript, the sources said, who added they were only minor changes. One of the edits Vindman said he would have made was to specifically say Burisma rather than just "the company." Burisma is the company that hired former Vice President Joe Biden's son Hunter, instead of referencing "the company."