Editor's Note: Danielle Brian is the executive director of the Project On Government Oversight (POGO). Read more opinion at CNN.
There has been much ink spilled and many hours of cable television dedicated in recent days to the issue of family members of high-profile political figures using their familial connections for personal gain. Sadly, this phenomenon is all too common, and poses serious ethical concerns.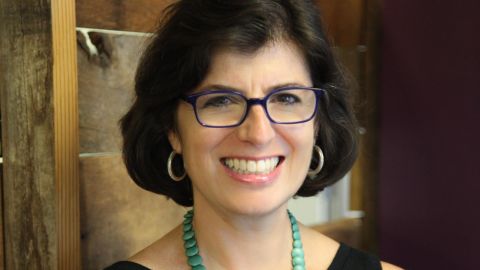 courtesy of the Project on Government Oversight
President Donald Trump has recently made accusations about ties between Hunter Biden, the son of former Vice President and current presidential candidate Joe Biden, alleging sketchy business arrangements in both Ukraine and China. While there is no evidence of any illegal actions by either of the Bidens, it is still the case that the younger Biden appears likely to have traded on his surname and the power of his family in order to obtain board positions and other financial benefits.
Last week, Hunter Biden told ABC News he never discussed Ukraine with his father, other than the former Vice President saying he hoped Hunter knew what he was doing, and the younger Biden responding that he did.
And yet, it is difficult to comprehend how Hunter Biden's activity is different from the ways in which Trump's own children are enriching themselves, with the one big exception: Trump's daughter and son-in-law are simultaneously acting in a governmental capacity.
For example, remember that last year Ivanka Trump's company received numerous trademark approvals in China, in the midst of trade negotiations between her father's administration and the Chinese government. Shortly after the approval of an earlier round of trademark applications, the Trump administration decided to change its policy regarding major Chinese telecommunications company ZTE. A spokesman and attorney for Ivanka Trump had said the trademarks were sought to protect her name from theft, telling The New York Times, "This is a common trademark practice, which is why the trademark applications were granted."
There is also the curious case of Jared Kushner, the son-in-law of the President and the husband of Ivanka Trump, and his meetings with the heads of various financial institutions while performing his duties as a senior White House adviser. In dire need of financial assistance, Kushner's family company received hundreds of millions of dollars in loans from two banks following meetings between Kushner and top officials with those entities. Kushner's dealings during the presidential transition and afterward with executives from a Chinese insurance company and a major Qatari investor also raised questions about potential improper use of his position for personal gain. These questions were serious enough to become one strand of then-Special Counsel Robert Mueller's investigation into the 2016 election. A spokesman for Kushner said he had not been involved with any Kushner Companies business since joining the White House and that he had divested himself, before he began working in government, from a property in which a Qatari entity had invested.
When Chelsea Clinton was named to the board of directors for IAC in 2011, it was reasonable to assume that a leading qualification was having the last name "Clinton" and, even more valuable, a parent who was serving as the then-secretary of state. Much like Hunter Biden, Ivanka Trump, Jared Kushner, and countless others, Chelsea Clinton has appeared to capitalize on the prominence and prestige of her family to gain positions that, in the absence of that familial endowment, she may not have gained. In both Hunter and Chelsea's cases they had a modicum of business experience before joining the boards, but without their parents, it's very unlikely either would have been named to big boards.
Beyond the instances of Trump's and his family's conflicts of interest described above, one might ask if Trump has any credibility when it comes to expressing outrage about the conduct of Joe and Hunter Biden. Given that the President has failed to divest from his own business interests, which are currently held by a revocable trust managed by two of his sons, and in light of the questionable circumstances surrounding the business dealings of Ivanka Trump and Kushner while they serve as senior White House advisers, Trump's fixation on the Bidens' conduct looks like politically motivated crocodile tears.
There are also serious conflict-of-interest concerns surrounding an ongoing Trump Organization development deal in Indonesia, backed by a Chinese state-owned company, and the President's earlier promise that his company would not engage in new business deals while he holds office. The Trump Organization has stated that its licensing deals in Indonesia are not connected to the specific development project backed by the Chinese state-owned company. Let us also not forget that the Trump Organization operates a hotel with the President's name on it – the Trump International Hotel at the federally owned Old Post Office building – of which the Trump administration is the landlord and the Trump Organization is the tenant. This arrangement has raised serious questions from ethics experts, including the Project on Government Oversight, about a potential violation of the emoluments clauses of the Constitution.
The real question is what can be done about all of this.
The fact is that current ethics laws and other accountability mechanisms are inadequate for the task. One way to mitigate an aspect of this disconnect is to implement reforms that would strengthen the role of the Office of Government Ethics, the government watchdog that is tasked with monitoring the conduct of public officials. But that office has been rendered largely toothless over the years, and enhancing its authority and ability to enforce ethics and conflict of interest rules would help. This reality also necessitates new and stronger ethics rules that apply more comprehensively to the family members of public officials and ensure that the relatives of political figures don't gain improper advantages based on their family ties.
In one sense, Trump is not wrong to criticize Hunter Biden (even if the younger Biden's activity would not justify withholding aid to Ukraine). Nor was Vice President Mike Pence wrong when he noted that vice presidents must avoid the "appearance of impropriety," along with actual impropriety. But given all of the ethical questions surrounding the President and his administration, his children, his company, and the myriad ways a president with ongoing business ventures presents opportunities for real and perceived corruption and conflicts of interest, it is also true that Trump is an utterly absurd messenger for this issue. Since the 2016 election, the swamp has only gotten murkier, and the President's situational attempts to "drain" it of his political rivals ring hollow.
This piece has been updated to note Ivanka Trump's and Jared Kushner's active roles in government.