(CNN) —
What kind of music do you listen to while you work? For me, it's almost always classical. It puts me in a productive, relaxing trance and there are rarely any words to distract me from whatever it is I'm desperately trying to finish. However, I know plenty of people who listen to hard rock or metal because they say it gets them hyped up. Sounds stressful, honestly, but more power to them!
Our favorites this week
Get going with some of our most popular good news stories of the week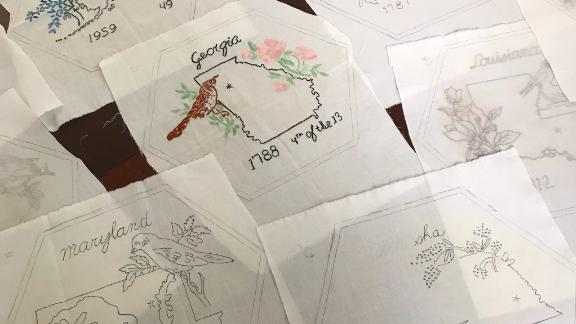 The threads that connect us
Dozens of crafters across the country have united to breathe new life into an unfinished labor of quilting love. Shannon Downey, a well-known fiber artist and "craftivist" (craft+activist) came across some stunning embroidery at a recent estate sale. One of the hidden gems was a massive quilting project combining 100 embroidered hexagons, half with state motifs and the other half with stars. "I sat on the floor and almost cried because I knew I had to buy it and finish it," Downey said. The project belonged to a woman named Rita Smith, who has since passed. To honor Rita, Downey conscripted volunteers to finish the 100 hexagons. Once the pieces are completed and sent back to Downey, another 38 volunteers will assemble the finished quilt, completing a project that, to Rita's family's knowledge, has been lying dormant for decades. "An incredible community has sprung up around this," Downey says.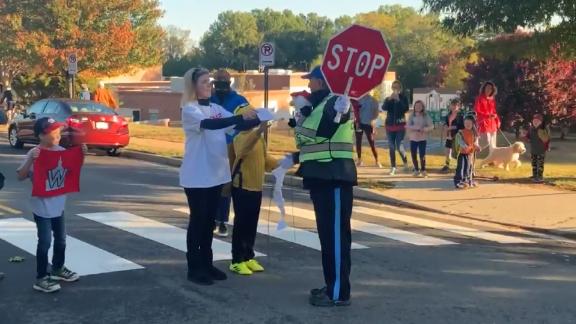 The teams that unite us
Jeff Covel — or Mr. Jeff, as his community knows him — is a crossing guard at Nottingham Elementary School in Arlington, Virginia. He's a diehard Washington Nationals fan and going to a World Series has always been on his bucket list. Now that the Nationals are in the Series for the first time in history, Covel put out a sign near his crossing guard position asking for any tips on how to secure tickets to the big show. Parents Rachel Sullivan and Colleen Wright decided they wanted to rally the community and help make Covel's bucket-list wish come true. Using Facebook groups, they collected more than $2,400 (hey, tickets are PRICEY) to buy Covel tickets to Game 4, which will be played at Nationals Park in Washington, DC, on Saturday night. Covel says he was just hoping someone knew of a deal, and never expected such an amazing gift. "I teared up a little bit when I saw them coming down the street," he said. "To me it means so much to be appreciated for doing something that I enjoy doing. They are my extended family."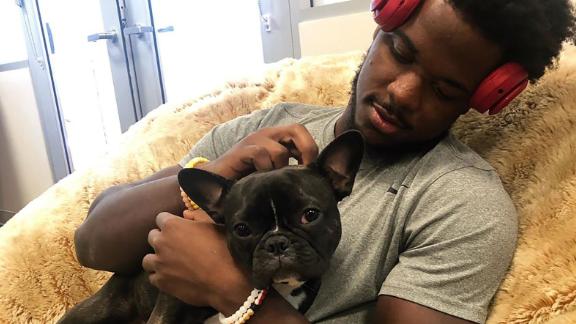 The little paws that delight us
I don't know about you, but something about these big, burly football players cuddling a French bulldog hit me right in the soft spot. This is Zoë, the emotional support dog for the San Francisco 49ers football team, and she is truly a little angel. In 2018, the team fell in love with another little Frenchie one of the team's employees would puppy sit, and defensive lineman Solomon Thomas encouraged the team's director of player engagement to adopt a dog so the players could enjoy all those cuddles and puppy-eyed looks on a permanent basis.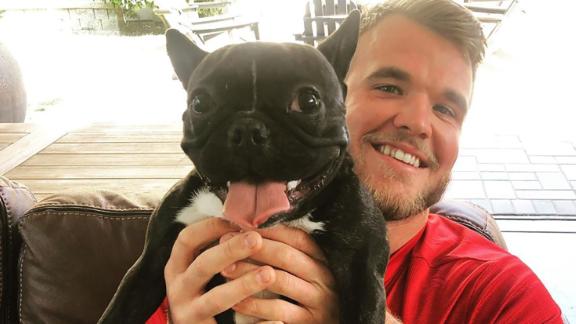 Now, Zoë is the NFL's first "specifically designated" emotional support animal and, unsurprisingly, she gets tons of love from the players in return. "The players rely on Zoë to brighten their day," a 49ers spokesperson told CNN. "Meetings, practice, and workouts can make for a long day. Zoë acts as a stress reliever."
Raise a glass to…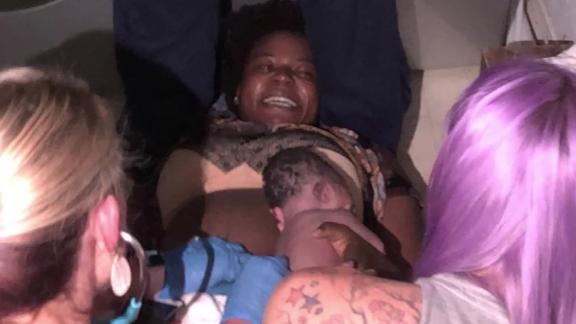 A group of midwives from the Bump Birthing Center in Rowlett, Texas, who safely delivered a baby in a laundry room as a tornado raged outside. A group of powerful twisters rocked the Dallas suburbs this week, so the midwives moved one mama's birthing to the safest place in the building — the laundry room. There, they delivered a baby girl, named Sekani, by candlelight. Mom and baby are doing fine, and the center was lucky to have no damaged or injuries. Now THAT's a birth story!
A bright idea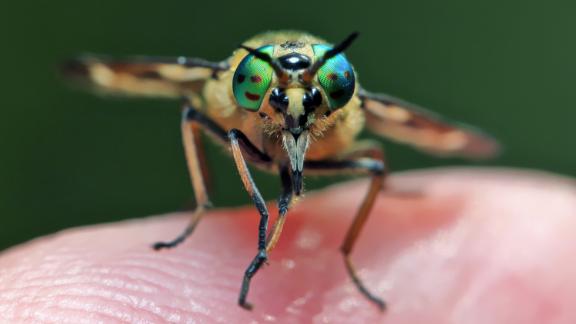 Bugged out by the idea of eating bugs? C'mon, don't be chicken — uh, cricket! Lots of cultures already chow down on creepy, crawly, wiggly little critters, and expanding the world's insect palate could help save the planet. There are more than 2,000 species of edible bugs, and most deliver superfood-levels of protein, iron and other nutrients. Plus, they're more environmentally friendly to raise and eat than methane-producing livestock. Bugs don't use much water, can be grown on organic waste and are space-efficient. Hey, don't knock it until you've tried it!
You gotta see this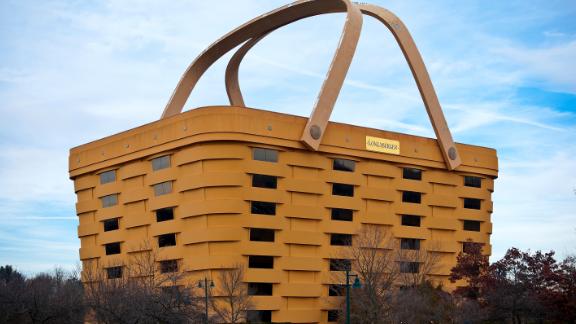 Architecture nerds will recognize this structural marvel as the former headquarters of the Longaberger basket company ("A basket company?" you say. "No way!") Now, the "Big Basket" is set to become a big hotel and will open its, er, lid to tourists next year. The stately example of Palladian refinement is hailed by roadside America as the "world's largest basket," which begs the question — how many building-sized baskets are there?
Heroes among us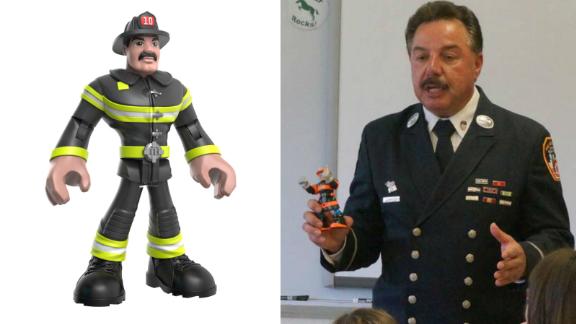 Monday, October 28th is National First Responders Day, and here's a really cute way to help teach kids about the important work firefighters, EMTs, law enforcement officers and other first responders do every day. Fisher-Price is relaunching the "Rescue Heroes" collection, which features figures based on everyday heroes from around the world. As part of the launch, the company is honoring former FDNY Joe Torillo with his very own Rescue Hero action figure. Joe was on his way to an FDNY Rescue Heroes launch on September 11, 2001, when he stopped to provide assistance at the World Trade Center. Torillo says he is "thrilled" to be included in a collection that will inspire future generations of first responders like him.
Wanna get away?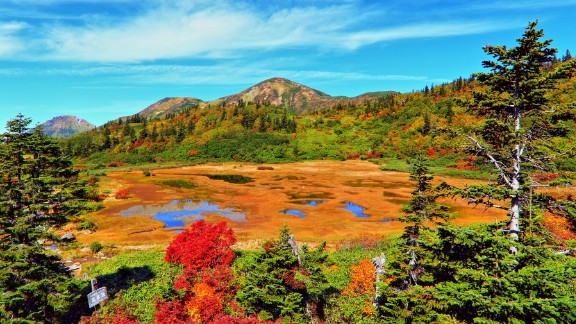 Do not adjust your color settings: The view from Koya Pond in the port city of Niigata, Japan really IS this bright and beautiful. In the fall, the shallow and marshy water covered with vegetation changes colors, flashing red, orange, yellow and green like the forest around it. The marvelous mountainside display is one of CNN Travel's picks for top things to experience in Japan.
Who knew?
Anyone who prefers the analog satisfaction of handwriting over keyboard clacking will appreciate the obsession shared by some of the world's greatest mathematical minds: Chalk. Hagoromo chalk, to be specific. The "Rolls Royce of chalk." A writing experience so smooth and effortless, one math professor says there is a legend that "it is impossible to write a false theorem with it." A few years ago, the company announced it was going out of business, and mathematicians literally started hoarding Hagoromo by the case. Great Big Story dives deep into what may be one of the most unlikeliest — and charming — obsessions you'll ever see.
Shameless animal video
There's always time for cute animal videos. That time is now.
Happy Halloween to all this week! And by all we mean all the dogs, cats and very patient tortoises out there that will be rocking some show-stopping get-ups this spooky season. (Click here to view)