(CNN Business) —
Growth at McDonald's missed some expectations in the third quarter, suggesting that the chain is feeling the heat from competitors who are getting aggressive on breakfast and plant-based menu items.
McDonald's (MCD) shares dropped about 5% on the news Tuesday.
The company reported that sales at US restaurants open at least 13 months grew 4.8% in the third quarter, but Wall Street expected that figure to be closer to 5.2%, according to data from Refinitiv.
Sales growth was down from 5.7% in the second quarter, but up from the same period a year ago. In 2018, third-quarter sales rose just 2.4% at US restaurants open at least 13 months.
Internationally, the chain fared better, posting 5.9% sales growth at stores open at least 13 months and beating expectations. Total revenue for the quarter grew to $5.43 billion, up 1% from last year, while net income fell about 2%.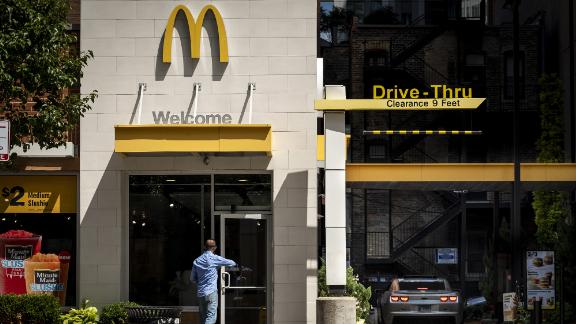 Christopher Dilts/Bloomberg/Getty Images
To improve growth, McDonald's has been adding digital menu boards to stores, expanding delivery options and investing in AI tech for its drive-thrus, among other things.
Focusing on technology is a long-term g