(CNN) —
The funeral of Atatiana Jefferson will officially be held Thursday at 11 a.m., according to civil rights attorney Lee Merritt.
Merritt tweeted the funeral arrangements Monday after a hourslong hearing where a Texas judge heard arguments from Jefferson's father, Marquis Jefferson, who convinced a court to stop his daughter's funeral this past weekend so that he could be included in the arrangements.
Mourners were expected to gather Saturday at a Dallas megachurch to say goodbye to Jefferson, who was killed by a Fort Worth police officer as she played video games with her 8-year-old nephew. A neighbor had called police for a welfare check after seeing her door open late at night.
Dallas County Judge Brenda Hull Thompson signed an order Friday saying Marquis Jefferson has the authority to make arrangements for her funeral and burial, court records show.
The father said in his application for a temporary restraining order that he would suffer "immediate and irreparable injury" if his daughter's aunt were permitted to bury Atatiana without his participation.
Marquis Jefferson has a good relationship with his daughter's mother and siblings, who use the surname, Carr, according to his spokesman, Bruce Carter.
"The Carr family is invited. There is room for them. They are more than welcome. They'll be respected. They'll be treated with dignity, and that's what should happen," Carter said.
Shot while playing video games with her nephew
Former Fort Worth Officer Aaron Dean, one of the officers who responded to the call at Jefferson's house, resigned from the force and has been charged with her murder. Jim Lane, a Fort Worth attorney who is representing Dean, declined to comment on the case.
The shooting left the community on edge. Besides the optics of a police officer shooting a woman in her own home, Dean is white, and Atatiana Jefferson was African American.
Jefferson, 28, was playing video games with her nephew when the two officers arrived, responding to a concerned call from a neighbor about the exterior doors being open at that late hour.
As officers walked in the dark outside the house, Jefferson heard the noise in the backyard, pulled a gun from her purse and pointed it toward the window, police said.
Dean yelled, "Put your hands up! Show me your hands!" before he fired through the window, killing Jefferson, body camera footage shows.
The officers had not identified themselves as police officers.
On Saturday, a small group of protesters marched in Fort Worth. The gathering had been planned to commemorate the 60th anniversary of Martin Luther King Jr.'s visit to the city, but Jefferson's killing gave the demonstration another meaning, according to CNN affiliate KTVT.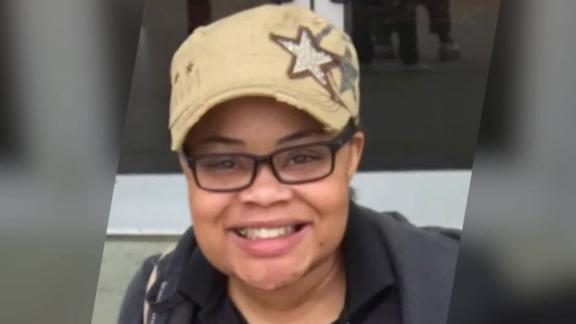 "It cannot continue to remain corrupt. It cannot continue to treat one community better than another community," Kyev Tatum of New Mount Rose Missionary Baptist Church told demonstrators.
The Rev. Al Sharpton sent an audio message to protesters, the station reported. He said the city should prepare because "the battle is in; the fighters are coming," KTVT reported.
"We want the nation to know what's going on in Fort Worth," Sharpton said, according to the station.
Remembering a woman who loved her family
Jefferson had recently moved back home to Fort Worth to take care of her ailing mother. That night, she was looking after her nephew while her mother was in the hospital.
Amber Carr, Jefferson's older sister, said her son shared a special bond with his "Aunt Tay." They didn't just play video games together — his aunt taught him life skills, such as writing a schedule to help him stay organized and showing him how to be better prepared for school.
Jefferson had been looking forward to taking her nephews to the State Fair of Texas while Carr recovered from major heart surgery.
"The relationship she has with my sons is indescribable," Carr said. "Sometimes people think that they're her kids, not mine."
"Tay was love. And that smile? Lord have mercy, it could brighten up any room," her father told reporters Friday night.
Jefferson not only loved her family, she loved helping others. She graduated with a pre-med degree in biology from Xavier University of Louisiana in 2014 and was working in pharmaceutical equipment sales, civil rights attorney Lee Merritt said.
CNN's Nicole Chavez and Holly Yan contributed to this report.