I've tested a lot of phones in my career, from Samsung's original Galaxy S up to the S10 and Note 10, with Google Nexus, the Pixel phones, iPhones, and smartphones from LG and HTC all thrown in the mix. And this is by far the most intriguing device I've seen.
The Galaxy Fold – announced last spring before being delayed – is now finally available. It starts at $1,980, making it a pricey option. It's a true foldable with a specially designed inner display that can – wait for it – fold. You also have a screen on the outside that looks a little tiny for 2019, and there a total of six — yes, count 'em — six cameras on the Fold.
While it's innovative and futuristic, it isn't for everyone … yet.
Let's talk about what happened since May
Samsung originally announced the Fold alongside the S10 line last spring. It was supposed to launch in the summer, but was delayed after reviewers started reporting issues, namely the screens getting particles or dust stuck underneath and resulting in the displays breaking. Not an ideal scenario.
More so, a protective layer above the screen that looked like a screen protector would break the Fold when you peeled it off. Double whammy for not being ideal.
But the company did the right thing, delaying the launch and sending the Fold back to the lab for fixes. Samsung upped the durability by adding caps to either end of the display and is sharing more specific rules for users when they buy the device.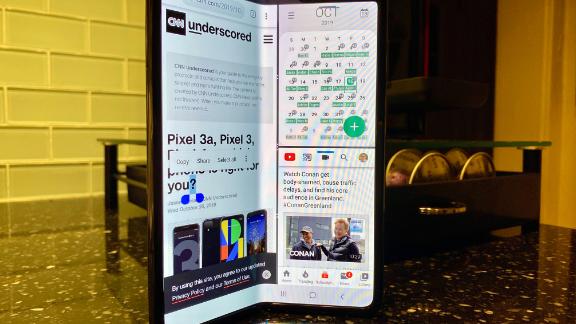 Not pressing hard on the display is one of them. And keep in mind the Galaxy Fold isn't water- or dust-resistant. I've been comfortable keeping it in the front pocket of my jeans, but also careful to make sure that it's not next to another device to avoid scratching. I also found myself throwing it in a breast pocket on my jacket, to be extra careful as to not scratch or damage the device.
After all, if you're spending almost 2 grand on a smartphone, you want to take care of it. But to some degree, I'd like to see a much more durable design that's at least on par with other smartphones.
The unboxing
Along with changes to the hardware, Samsung improved the ordering and delivery process. Not only do you have access to a special support team, but there's a little onboarding process with the Galaxy Fold. A Samsung rep will walk you through the device and help set you up.
Plus you get a nice box with the Galaxy Fold, a fast charger and USB-C cable, a pair of Galaxy Buds (Samsung's $129 true wireless earbuds), and a case. You also receive a disposable screen protector that warns you of the screen's delicate nature, and a one-sheeter.
It's made clear that it's a high-end smartphone with new technologies, but with all these warnings it might feel like a beta device to some degree. You want to be able to use a smartphone to its full degree and in a variety of scenarios, and potentially these warnings might scare some off.
Multiple screens
The Galaxy Fold technically has two displays: A small 4.6-inch display on the front, and a wide 7.3-inch display when you open it up. On the front is what Samsung calls "the cover screen"; the inside screen is called "the main." I tend to agree as the front screen is incredibly small, especially by 2019 standards. There are some uses for it, though.
The quality on both screens is quite good. The 4.6-inch display in front is a Super AMOLED with a resolution of 1,680x720. It's a lower-end HD 720p display, and that shows when you zoom in sharp. But I didn't find myself using this screen very much anyway.
The inside is where futuristic tech shines through. The inner 7.3-inch is an Infinity Flex Display which is a QXGA+ Dynamic AMOLED with a 2,152x1,536 resolution. This display uses a custom adhesive and has a composite polymer build. It doesn't feel like glass and it feels like a light, but malleable, plastic. You can also clearly see the crease when the axis under the display sits. When you open or close the Galaxy Fold, I recommend putting the pressure on the outer shell, rather than on the display.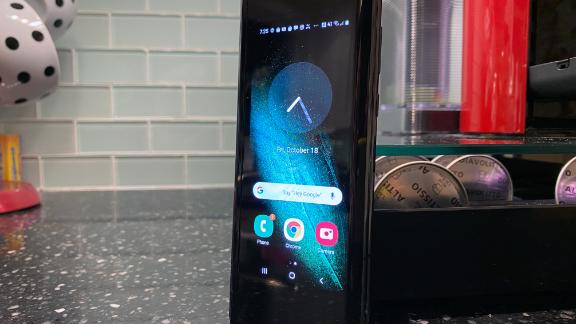 The inside display has an awkwardly placed notch that houses the internal sensor and front facing cameras. It's on the top right-hand corner and cuts out a portion of the display. This is a first-generation foldable, but I hope this is improved in the next generation.
From a quality perspective, the inner 7.3-inch display on the Fold looks quite sharp and is on par with other AMOLED screens from Samsung (and other OEMs on the market). Blacks looked deep and provided ample contrast. And the colors were quite vibrant, especially when viewing images taken with one of three cameras on the back of the device.
Just be sure not to press too hard as it causes an issue on the Fold. Doing so can result in the screen breaking or causing dead pixels. In fact, some other review units have seen this issue recently. This is also a core reason why this phone might not be ready for prime time.
Android with Samsung customizations to take advantage of the inside screen