Editor's Note: Guthrie Graves-Fitzsimmons is a progressive Christian writer and activist. He is the founder of The Resistance Prays, a daily devotional aimed at defeating Trumpism spiritually and politically. Follow him on Twitter @GuthrieGF. The views expressed here are the author's. View more opinion on CNN.
On the Gemstone family compound, you can find a McMansion for each branch of the family: patriarch and megachurch leader Eli Gemstone (John Goodman) and his three children with their respective broods. There's a gun range and a militia's worth of private security guards.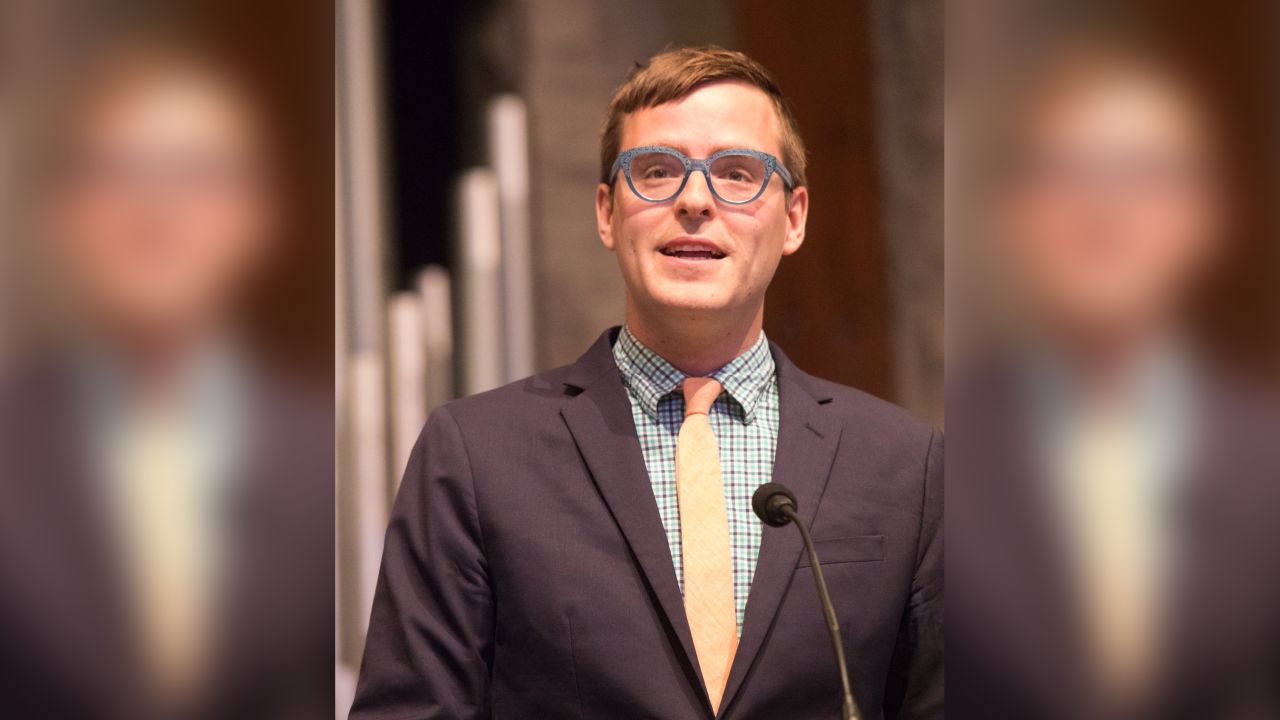 What's missing from the family compound in HBO's new series "The Righteous Gemstones," which just enjoyed the finale of its well-reviewed and quite popular first season, is anything representing the values of a first-century itinerant preacher known as Jesus of Nazareth.
Show creator Danny McBride, who also portrays Jesse, the eldest of Eli Gemstone's children, drives this point home with a sign at the entrance to the compound: "Blessed Are the Poor in Spirit: For Theirs is the Kingdom of Heaven … No Trespassing." The gated and tackily opulent Gemstone estate mirrors the family's theology: They are obsessed with wealth and power, and entirely uninterested in the poor and downtrodden with whom Jesus aligned himself in his own ministry.
My distrust of the theology represented in "The Righteous Gemstones" isn't an indictment of the HBO show, which has become one of my favorites on television. It's a superbly written and acted dark comedy that humanizes its greedy characters as much as it mocks them in preposterous plots that make for delicious television – much like "Succession," the show that precedes it on HBO on Sunday nights. (Disclosure: HBO and CNN share a parent company.)
But unlike the powerbrokers of "Succession," which revolves around a Murdoch-like family running a media conglomerate, the Gemstones present themselves to the world as, well, righteous. In fact, they're anything but.
The show's jaundiced satire offers a mirror to the hypocrisies of big-dollar evangelicalism in America today. Many of today's most prominent leaders would give the Gemstones a run for their money in making a gold-plated joke of evangelicalism.
In 2015, HBO's "Last Week Tonight with John Oliver" put together a highlight reel of evangelical hucksterism based around the prosperity gospel – the idea that God rewards his most faithful with material benefits, from wealth to physical health. Oliver even founded his own church to highlight the absurdity of these churches getting tax-exempt status while their pastors rake in fortunes.
According to CNN, Oliver's (now-defunct) church website read: "When John Oliver found out that Robert Tilton, Kenneth Copeland, and other pastors of their ilk have been taking advantage of the open-ended IRS definition of "church" and procuring a litany of tax breaks, he founded the Our Lady of Perpetual Exemption Church, a tax-exempt organization you certainly can't say is not a church."
In 2017, there was widespread outrage when Houston megachurch pastor and prosperity-gospel advocate Joel Osteen did not open his church to displaced flood victims from Hurricane Harvey until after his church faced intense public pressure. (In response to criticism, Osteen said in a statement that "We have never closed our doors. … We are prepared to shelter people once the cities and county shelters reach capacity." Osteen also said: "The city didn't ask us to become a shelter.")
According to Vox, "Many of the evangelical leaders that surround Trump are proponents of the prosperity gospel." The president's evangelical backers defend President Donald Trump in other ways that seem to contravene the basic social ethics of Christianity, too. Franklin Graham, son of "America's Pastor" Billy Graham, has squandered his father's legacy by subordinating the gospel to deeply partisan concerns: Watch the younger Graham appearing on CNN to defend Trump's words from the "Access Hollywood" tape to see just how far the apple fell from the tree.
Meanwhile, Ralph Reed, who served as an early director of the Christian Coalition, is writing a book urging evangelicals to re-elect the president in 2020. Quoting the book's publisher, Politico reports that Reed "will also rebut claims by religious and nonreligious critics that white evangelical Protestants 'revealed themselves to be political prostitutes and hypocrites' by overwhelmingly backing Trump, a twice-divorced, admitted philanderer, in 2016."
One of the most prominent figures in evangelicalism today is Liberty University President Jerry Falwell Jr. Like Graham, Falwell is one of the most stalwart evangelical supporters of President Donald Trump. Falwell has serially defended or obfuscated Trump's personal sins and vices in ways that seem deeply inconsistent with traditional Christian ethics.
Falwell is currently under fire for a variety of alleged misdeeds at the flagship evangelical school that he runs. Reuters reports that Falwell has been known to disparage students at Liberty University, referring to them as "physically retarded" and "social misfits" in leaked emails. Meanwhile, Politico reports that "more than two dozen current and former Liberty University officials describe a culture of fear and self-dealing" at Liberty, with one employee describing it as a "dictatorship."
In response to the Reuters story, Falwell told CNN that "I don't even know what physically retarded means. I would have to see the context and top of the thread to see what I was talking about." In response to the Politico story, Falwell told CNN that he believes his support for President Donald Trump may be a motivation behind a supposed "conspiracy" to remove him as university president. Falwell has denied all wrongdoing and asked the FBI to investigate a "criminal conspiracy" to oust him at Liberty.
The apparent hypocrisy among these church leaders begins to sound like something out of a dark comedy – specifically, the sort of sharp and devastating comedy that McBride and company deliver in "The Righteous Gemstones."
Perhaps more disturbingly, the Gemstone brand of Christianity as a cult of wealth and power is having a tangible effect on how Americans view Christianity as well.
Multiple academic studies show that the cultural prominence of conservative evangelical Christians has driven progressive people away from church.
One study found that reading a news story about a Republican who spoke in a church could actually prompt some Democrats to say they were nonreligious. "It's like an allergic reaction to the mixture of Republican politics and religion," according to David Campbell, Packey J. Dee Professor of American Democracy at the University of Notre Dame.
According to the Pew Research Center, roughly half (49%) of unaffiliated Americans cite positions that churches have taken on social and political issues as a central reason why they don't identify with a religion.
As a progressive Christian, I'm both laughing and crying while I watch "The Righteous Gemstones." The hypocrisy on display makes for good punchlines, but it also offers uncomfortable truths about the lamentable state of the more prominent avatars of evangelical Christianity in America today.
Still, I find hope in seeing more and more Americans recognize the Gemstones of the world as the antithesis of what it means to follow Jesus Christ.
I do find hope in the 200 students at Liberty University who protested Falwell's alleged corruption earlier this month. According to CNN affiliate WSET, the students carried signs in the rain, including one that read, "If you won't answer to us, answer to God!"
And they're not alone. While the Pew Research Center says white evangelical support for the president "has been consistently high," there remains a minority of evangelicals who disapprove of the President. They can see what a joke the Gemstones of the world have made of following Jesus.
We laugh at "The Righteous Gemstones" because it's absurd – just like the state of evangelical Christianity in America.
The pilot episode opens in the middle of the Gemstones' trip to China to save 5,000 souls. It's clear from the episode that they have little concern for the lives of the Chinese people they're "saving," but the experience gives them material for an emotional sermon once they're back at their own South Carolina megachurch.
After the Gemstones deliver a maudlin report from China to their thousands of parishioners, the rock music begins, and the offering plates are passed. The money starts flowing in. It's all a sad, emotionally manipulative charade. And you see how incredibly intoxicating it is for the rubes in the pews – just as it remains for millions of real Americans.
Get our weekly newsletter
Sign up for CNN Opinion's new newsletter.
This pageant isn't recognizable to me as real Christianity, but as comedy, it offers needful catharsis at a crucial time – because evangelical megachurch hucksterism really has gotten this bad.