Srinagar, Indian-controlled Kashmir
CNN
—
Residents on fixed cellphone contracts in India-controlled Kashmir were surprised to discover they had been billed for the two-month, government-imposed communications blackout when it partially ended earlier this week.
India restored partial services at noon Monday for about 4 million people in the Kashmir Valley with fixed contracts. Mobile internet and broadband remained suspended on Tuesday, as well as phones using prepaid SIM cards.
Shafqat Bukhari, from Srinagar, told CNN that he was "disgusted" to be billed for the more than 70 days that his phone was unusable during the blackout.
"They are charging us for the non-service period, which is not fair. Only incoming calls work. We're also getting calls about pending bills for the period when the service was unavailable," he told CNN.
While many residents welcomed the resumption of services, others still found themselves locked out on Tuesday. They now have to ask friends and family outside Kashmir to help pay outstanding bills, as their phones services cannot be reconnected until the accounts are settled.
Extensive queues at local branches of network providers are also causing frustration.
"I'm happy but I can't use my phone. I'm not able to activate it because there is still no internet," Srinagar resident Shaheena Akhtar said.
"My husband went to the local office but there were so many people there and he wasn't able to reactivate his phone."
Officials have not given a date when internet services will be restored, despite repeatedly saying that life was getting back to normal in Kashmir.
What caused the communications lockdown
Jammu and Kashmir was put on lockdown on August 5 after Prime Minister Narendra Modi's unprecedented decision to strip the state of its autonomy and reclassify it as a union territory.
Article 370 of India's constitution granted the state – which encompasses the area of the disputed Kashmir region controlled by India – special status, including the power to have its own constitution, flag and autonomy over all matters, save for certain policy areas such as foreign affairs and defense. India's move was highly contentious and gives the government in New Delhi greater authority over the disputed Muslim-majority region.
Indian-controlled Kashmir been the epicenter of an often-violent territorial struggle between India and Pakistan, as both nuclear-armed neighbors claim it in its entirety.
Anticipating public backlash to the move to revoke Article 370, India deployed tens of thousands of additional troops to the portion of the disputed Kashmir region it controls and imposed a communications blackout, travel curfews and roadblocks. Millions of residents were cut off from their families because they could not access the internet, send letters or use landlines.
Syed Iqbal, a local business owner in Srinagar, said the past two months had made him realize that "mobile phones are no luxury but a necessity in this modern age."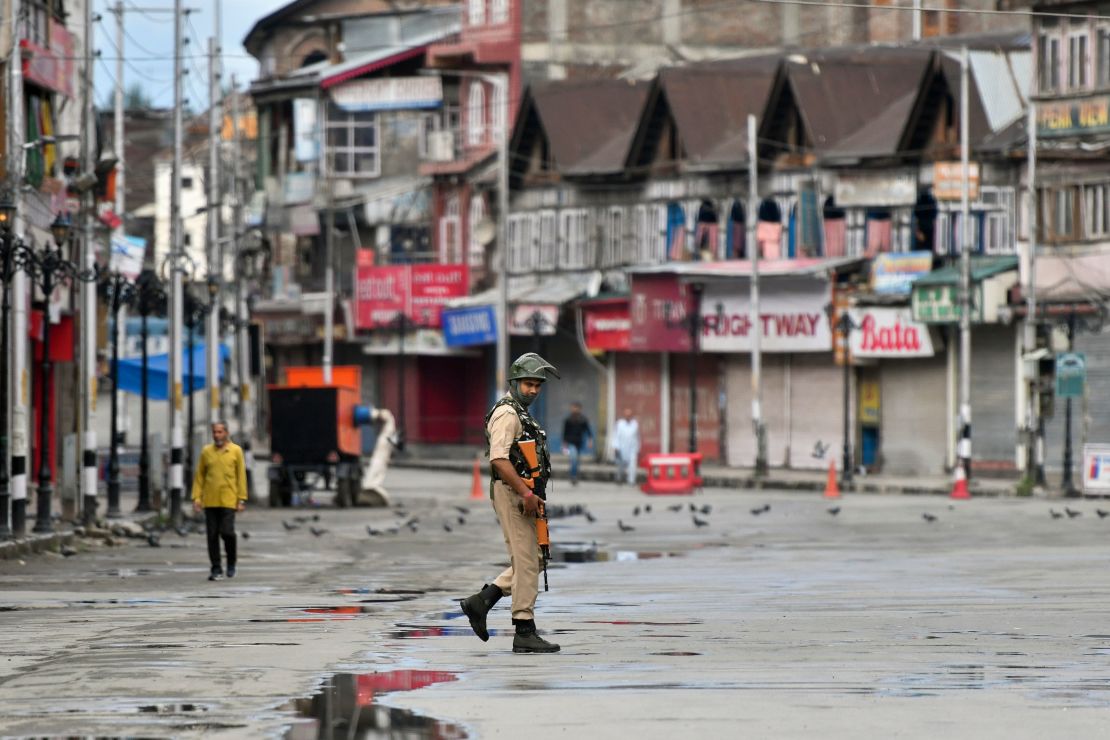 What's life like in Kashmir now?
Partial landline services were restored on August 17, with all landlines declared operational by September 4.
But security measures remain tight and residents say shops only open for a few hours in the morning and evening. Only vehicles with special permits are allowed on the roads, although public transport is operating.
As of Tuesday, most network providers were working with state-owned BSNL the first to reconnect followed by private providers.
There are about 6 million mobile phone connections in the Kashmir Valley, according to the Indian Department of Telecommunications. Four million of those are the contract plans that were eligible to be restored, while another 2 million are prepaid and still suspended.
Better security on contract plans – which require customer to provide more identification, such as proof of address – was believed to be the reason those services resumed.
"There have been sustained attempts from across the border, both in the past and more so in the last two months in Jammu and Kashmir, to promote militancy and terrorism in the state in order to create a sense of fear and terror among the people and keep the place in a disturbed condition," Rohit Kansal, principal secretary of Jammu and Kashmir, said at a press conference Saturday, after announcing the restoration of mobile services.
"Credible inputs continue to be received of the likelihood of large-scale terrorist attacks sponsored by forces inimical to India and from outside its borders."
In Jammu, the Hindu-majority part of the region that is less politically volatile, mobile phone services – including internet – were restored within days of the blockade. While voice call facilities are still in place, mobile internet was snapped again on August 18 due to concerns over rumor-mongering on social media.