Multiple fires are raging in Riverside County, California, affecting more than 700 acres in the area and destroying multiple buildings in a mobile home park.
Another blaze — the Sandalwood Fire in Calimesa, some 70 miles east of Los Angeles — has killed at least one person, according to the Riverside County Sheriff's Department. Details about that death weren't immediately available.
Capt. Fernando Herrera of Cal Fire Riverside told CNN affiliate KABC that the fire started when the load on a garbage truck caught on fire and spread to vegetation. It now has the potential to spread to 1500 acres.
"Due to the Santa Ana wind influx, obviously this fire just completely went out of control. It started just eating up vegetation as fast as the eye can see," he said.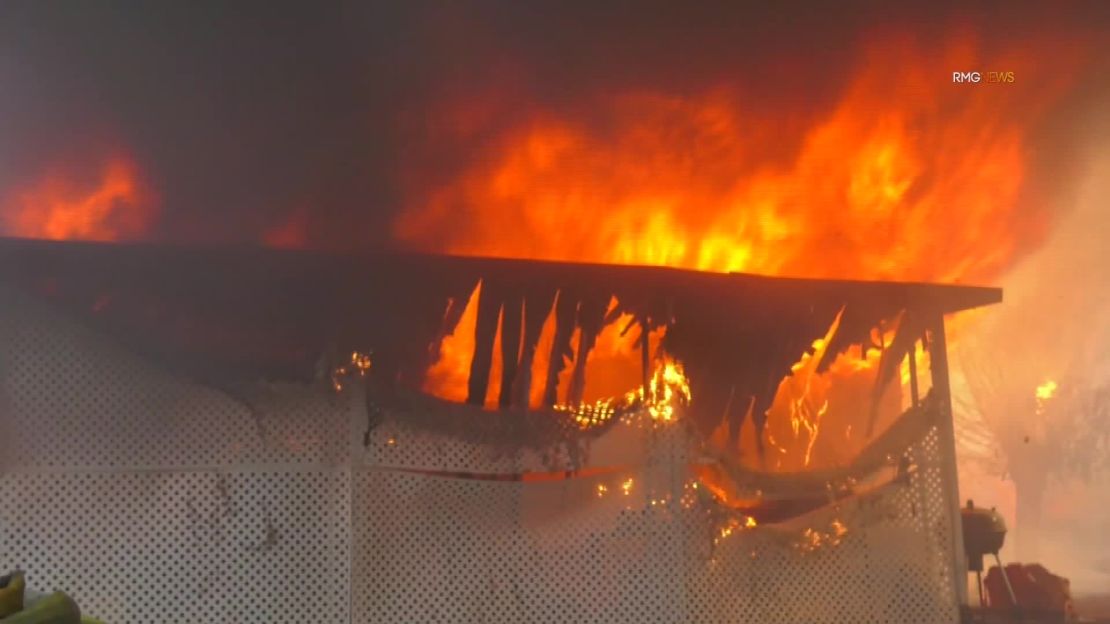 Residents are under mandatory evacuation orders, and 250 firefighters are assigned to the area.
A woman who lives in a mobile home park was out shopping and wasn't able to get home because the area is blocked off, she told CNN affiliate KABC.
"We're devastated. I don't know what's going on, I don't know if my home is still standing," the woman said, adding the family's pet bunny was in their mobile home.
"I could just see a huge, like, cloud that covered the whole sky," she said, "and they wouldn't let me go back and get anything, so we just have our shoes and our clothes."
The family had been out buying flashlights and supplies because the area was expected to lose power Thursday night in shutdowns aimed at preventing fires caused by downed power lines.
She was "thinking that's what we're going to deal with today, but this is way worse," the woman said.
Less than 20 miles away in the Moreno Valley, the Reche Fire is currently 400 acres, 0% contained and burning "with a moderate rate of spread." The fire went from 100 to 200 acres in about 90 minutes, before jumping to 400 about two hours later. Mandatory evacuations in surrounding areas have been issued, and the cause is under investigation.
In El Cerrito, the Eagle Fire, located at the intersection of Eagle Canyon Road and Cajalco Road is affecting 25-30 acres with no containment. Though forward spread has been stopped, firefighters are still working to contain and control the fire, according to a tweet by the fire department. The cause is under investigation.
The news of the fires comes as California's largest utility Pacific Gas & Electric (PG&E), cut power to parts of 22 counties in Northern California, in an preventative effort against wildfires.