He says he doesn't feel guilty for the lie that got him into America.
Like other families who arrived as Somali refugees, he says they first depended on food stamps to get by. But the family of seven successfully navigated their new life, and his siblings grew up to become nurses and teachers.
"We took the opportunity that was in front of us and we didn't take it for granted," he says, speaking in a broad American accent. "We have followed the American dream, as they call it. We have all gone to school and we have all graduated."
But his family members weren't refugees, and they weren't born in Somalia – they were born in Kenya, and he says his father faked their refugee status in the 1990s to get into the US.
"I feel bad for them [the real refugees], but at the same time it is all about first come, first served. I feel like if they had come before us, then we would have been the ones to stay and they would be the ones who would have gone," he says.
He agreed to speak to CNN on the condition of anonymity, afraid of being found out.
Refugee status should be reserved for people fleeing across international boundaries from targeted persecution or war.
But in Kenya, home to one of the largest refugee populations on the planet, tens of thousands of registered refugees aren't refugees at all.
A CNN investigation has determined that from the late 1990s through 2016 an untold number of these fake refugees were resettled in the US and elsewhere.
A sprawling haven
For decades, the chaos in Kenya's troubled neighbor, Somalia, pushed wave after wave of refugees across the border. They came in buses, on donkeys, and sometimes by foot.
But as the number of people moving to what was once the world's largest refugee camp in Dadaab, Kenya swelled from thousands, to tens of thousands, to hundreds of thousands – there were many who registered as refugees who didn't qualify.
"We have had Kenyans that have been caught in the refugee database over the last 25 years. Some of them were looking for food, for shelter, for opportunities," said Mohamed Dahiye, a Kenyan member of parliament for Dadaab.
He said many people in nearby communities saw the free services and free food and registered at the camps, saying they were from Somalia. Often these Kenyans were a similar ethnicity to the people streaming across the border. Sometimes they were just as desperate for help, many arriving during times of drought and hunger in northern Kenya.
All told, there are at least 40,000 Kenyans registered as refugees in the Dadaab camps alone, according to both UNHCR and government numbers, in what officials euphemistically term "double registration."
"The 'double registration,' as we call it, or the Kenyans registered as refugees in Dadaab, is an issue we know about and the government knows about as well," said Fathiaa Abdalla, the UNHCR representative in Kenya.
She doesn't blame the Kenyans who registered as refugees.
"I think as a human being you want to survive. You want to survive, and you don't have a bad intention. These services were available in the refugee camp, but not available to you in the village," she said.
'Double Registration'
Omar Sharif didn't live anywhere near Dadaab camp – he lived hundreds of miles away along the Kenyan coast. And in 2009 he saw his opportunity.
"A friend of mine was working as a teacher in the camp and told me about the free education and free medical services," said Sharif, admitting that resettlement was also a possible goal.
He ran away from school and traveled to Dadaab, presenting himself to officials as a Somali who had fled across the border.
At the time, only the most basic, face-value evidence was required to register, because potential refugees needed immediate food and medicine.
"They didn't interrogate me. If maybe they had done that, I would have told them where I came from. They only asked for my age. And they just filled out the form for me," he said.
"I knew it was wrong," he said. "Someone who has gone into the refugee database, and is a fake refugee, has made a mistake, because they have taken the rightful place of someone else. "
He says despite the aid, he quickly realized he couldn't handle the harsh conditions of the camp and moved to Nairobi in hopes of regaining his Kenyan status.
But guilt is not Sharif's only burden; his refugee registration has become an intractable Catch-22.
"This is my Kenyan birth certificate," said Sharif as he pulled a black carry-on case out from under his bed in Eastleigh, a predominately Somali neighborhood in the city.
"This is my refugee number," he said, showing his unique ID on his cellphone.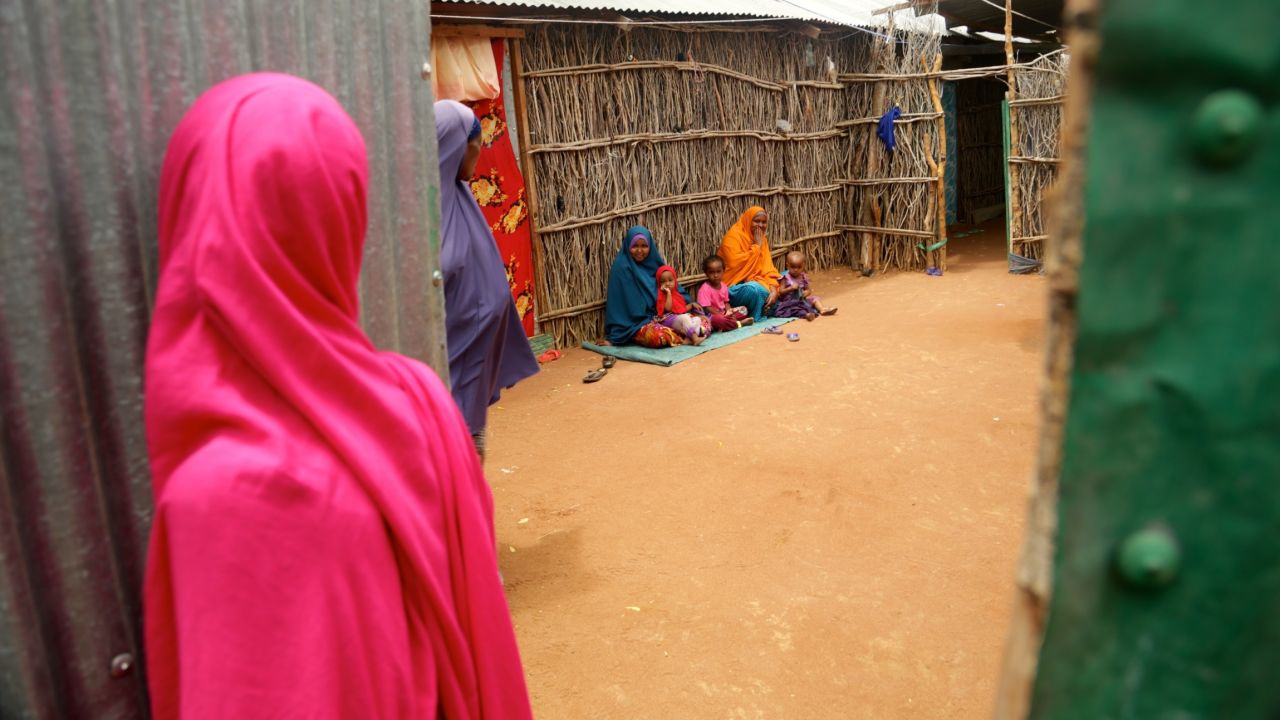 When Kenya announced it would close the camps and started repatriating Somalis, suddenly refugee status became a liability for people like Sharif.
"They will be having no Kenyan status and they don't belong to Somalia, so they are basically becoming stateless," said Dahiye, the MP for Dadaab.
"Refugees" like Sharif say they can't access health care, formal jobs, insurance and any number of services that are available to Kenyans. He says his government needs to do more to de-register the thousands of fake refugees still in the system so they can reclaim their Kenyan identity.
Like 'winning the lottery'
UN officials liken resettlement, even as a wave of anti-immigrant sentiment has spread through Europe and the US, to "winning the lottery."
The UN High Commissioner for Refugees (UNHCR) estimates that there were more than 20 million possible resettlement candidates by the end of 2018; less than 1% of them were resettled during that year.
Through social media and relatives that stayed behind in Kenya, CNN identified several Kenyans who weren't supposed to have refugee status that managed not only to register, but to resettle as refugees in Europe, Canada and the United States.
It's a highly sensitive topic in Kenya.
Kenya's official government spokesman and head of the Refugee Affairs Secretariat (RAS) declined to be interviewed for this story.
But a senior official managing the Dadaab camp system admitted that resettlement has happened for fake refugees.
"It is very unfortunate, but they were attracted by the goodies they could get in those countries. They took the opportunity to be resettled and it is unfortunate that they took the chance of bonified refugees. I don't think it will happen again" said Joe Nguli, a lead official in Dadaab for RAS.
Abdalla, the UNHCR representative, said she wasn't aware of any fake refugees being successfully resettled.
"I am not aware of any Kenyans being resettled as refugees. I tell you why, because the resettlement program goes through different verification and different checks and balances," Abdulla said, adding that she was confident that the system would catch Kenyans looking to resettle as Somali refugees.
The UNHCR's official resettlement handbook says resettlement is "particularly vulnerable" to fraud. In Kenya, as in other countries, they maintain a "zero-tolerance" policy to corruption.
"We have a zero-tolerance policy, we have anti-fraud committees, we have anti-fraud focal point in the camps, we have help line for refugees or anyone, you could get into our help line right now and report anything. These systems are very good, and they are working," said Abdalla.
"I am not saying [in] this big organization, we are 100% perfect. But we have measures in place, we have improved them in the last two years. But we cannot exclude a case happening. And when a wrongdoing happens by our staff, they are disciplined, they are sanctioned and some staff (have) lost their job."
The United States maintains its refugee vetting is vigorous. In 2018, the Trump administration instituted "enhanced vetting measures" affecting refugees from 11 countries including Somalia.
A State Department spokesperson said the US has a "zero tolerance policy for fraud, waste and abuse of American taxpayer resources," adding that "the US performs its own detailed interviews and security checks of refugee applicants. This process includes measures to verify the nationality of refugee applicants."
"Cooked" from the beginning
But for "facilitators" in the process – the middlemen who take and distribute the bribe money – it is the first layer of vetting by the Kenyan government and the UN that matters the most.
"It is at the very beginning of the process – before the applicant even gets to the US embassy vetting, the selection has been done at the UN level," said one facilitator who said he has been exploiting corruption within the UN to game the resettlement system for years.
He agreed to speak on the condition of anonymity.
"The UN will know the criteria and make sure the paying clients match all the requirements. So, it can be cooked at the UN level," he said.
He said that the last corrupt US resettlement process he was involved in, where clients pay between 10 and 20 thousand US dollars to guarantee resettlement, happened in late 2016.
"Before the Trump ban it was a booming business," he said. His business is now focused on other countries, where refugee resettlement quotas are higher. He said his last case was just a few months ago.
Buying your way in?
President Donald Trump's first so-called "travel ban" in early 2017 made refugee resettlement even harder.
The ban included a moratorium on refugees. And since the moratorium expired, only a trickle of refugees get in.
But even with the squeeze on refugee resettlement to the US and the multiple checks in place, it hasn't stopped people from trying.
The young Kenyan in his twenties is nervous, fidgeting in his expensive white sneakers. He said that his key to refugee status was bought through a different facilitator.
"I met him through a friend. And the friend told me that he had done it for so many others," he said.
CNN agreed not to reveal his identity because his attempts to buy resettlement are illegal.
Together with his brother, he said they paid the facilitator $300 each to get refugee status.
They were recently taken to a refugee reception center in Nairobi.
"He told me to say I was born in Somalia, that I came through the border in a bus full of people. That we were running from there," he said, though he has never set foot in Somalia. Soon after they got their refugee cards and numbers.
They are planning to pay the middleman $12,000 in hopes of getting into the US.
"It tells you everything. There is a lot of corruption involved. People are willing to do anything for money," he said.
It is impossible, at this stage, to verify whether the broker will be able to get the siblings into the US. And there have been instances of broker scams.
Still, for Kenyans hoping to fake their way into the system, the draw to resettlement countries including the United States remains strong.
"It is wrong, it is wrong, it is wrong," the young Kenyan said of his plans. "But if you can, you can get a better life."