James Harden says the Houston Rockets aren't being distracted by the growing pressure surrounding the NBA and its relationship with China.
The controversy, which is threatening the team's popularity in China, was sparked by Rockets general manager Daryl Morey, who expressed support for pro-democracy protests in Hong Kong in a since deleted tweet over the weekend.
The former British colony, now controlled by China, is in the midst of months of political unrest and Morey's tweet triggered an angry backlash.
Several Chinese businesses cut ties with one of the league's most popular teams but Harden insisted the players were solely focused on improving ahead of the new season.
"It's not a distraction, we are focusing on our team and getting better," he said in a press conference Tuesday, after his side had lost a preseason game to the Toronto Raptors in Tokyo, Japan.
"We have a great opportunity ahead of us and, honestly, we are focused on every single day."
READ: China won't show NBA preseason games as backlash over Hong Kong tweet grows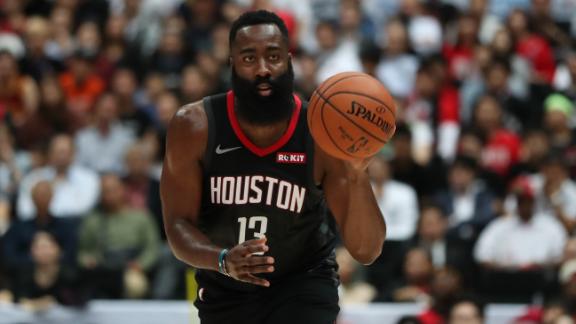 Takashi Aoyama/Getty Images AsiaPac/Getty Images
The NBA has invested millions in developing the basketball in China where an estimated 300 million people now play the sport.
NBA controversy
The league initially distanced itself from Morey's tweet, expressing regret for offending "friends and fans in China" but this led to further criticism that it was comprising its principles to further its financial interests.
This prompted the league's commissioner Adam Silver to release a statement outlining the NBA's position on Tuesday.
"The NBA will not put itself in a position of regulating what players, employees and team owners say or will not say," Silver said in the statement. "We simply could not operate that way."
CCTV Sports, a division of China's state broadcaster, added extra pressure when it said it would not broadcast preseason games played in China, including one between the Brooklyn Nets and the LA Lakers later this week in Shanghai as a result of the NBA's handling of the issue.
READ: Rockets scandal is forcing fans to choose between sport and country
Harden was keen to keep the team's Chinese audience onside and initially apologized for the controversy on Monday.
"We apologize, we love China, we love playing here," the 30-year-old told reporters.
"We go there once or twice a year, they show us the most support and love so we appreciate them as a fan base.
"We love everything they are about. We appreciate the support they give us individually and as an organization."