In most parts of the country, the temps are starting to dip, Starbucks is serving pumpkin spiced lattes and apple donuts are pretty much falling from the sky. All of which is to say: Halloween is near! And the onset of spook season would indicate that it's time to break out the decorations and start scaring the heck out of your neighbors.
Sure, you could opt for sedate, less jarring décor, but where's the fun in that? Save your muted mantle scapes and your glamorous porch decorations for Thanksgiving and Christmas, because Halloween is all about having fun, throwing caution to the wind and -— we hate to be a broken record here, but we're just going to say it one more time — scaring the heck out of your neighbors. Scare your kids too, while you're at it, along with any brave trick-or-treaters. And hey, if this life-size standing mummy happens to startle your husband on his way to get a glass of water in the middle of the night, well then your work is done.
We've rounded up the newest, spookiest décor pieces for indoor and outdoor use, as well as a few LOL-worthy items for good measure. Here's to having the most haunted house on the block this All Hallows Eve!
Hand-Painted Halloween Witch's Spell Book ($23.99, originally $29.99, pier1.com)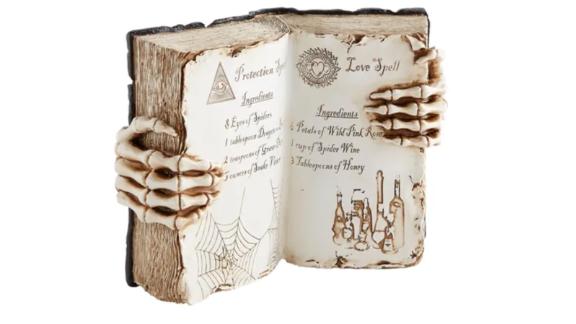 Like something pilfered straight from a scary movie set, we love how realistic this antique book -— which proffers up "ewwww"-inducing recipes — looks in real life. Place it alongside a few skulls and your spooky setup will be good to go.
Stacked Halloween Skulls with Snake ($11.99, originally $14.99, pier1.com)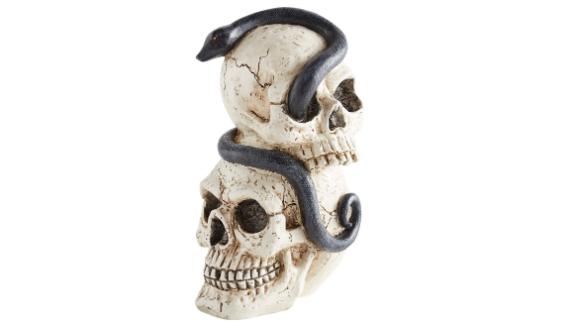 There's nothing like a double whammy, and that's just what this piece is, since we're not sure which is scarier, the skulls or the slithering snake.
Coffin Chip & Dip ($19.99, originally $24.99, pier1.com)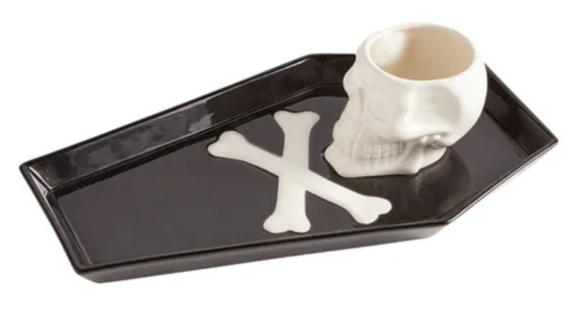 Can you imagine serving chips and salsa in a regular tray this fall? That would be treacherous. Instead, you'll want to invest in this hilarious coffin-shaped platter, where the dip is housed in an apropos skull.
Gold No Evil Skull Decor Set Of 3 ($20.97, worldmarket.com)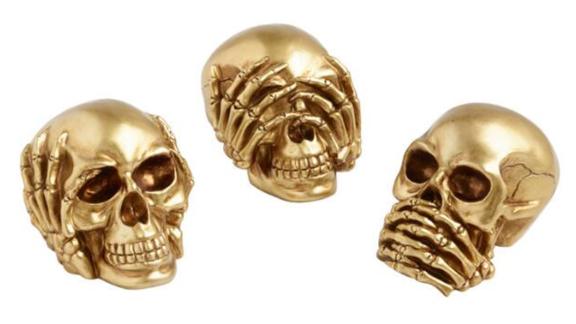 Let us be clear: Fright-tastic décor can also be pretty, and the proof is in these antique gold finished skulls. Perfect for your mantle, the set is an ode to the three wise monkeys.
Desert Steel Orange Squatty Pumpkin Luminary ($53.98, originally $65.50, overstock.com)
If you're on the hunt for an outdoor piece that is stately while still setting a creepy tone, consider this attractive metal pumpkin with cutouts that provide all sorts of shadowy illuminations.
Life-Size Standing Wrapped Mummy ($123.49, overstock.com)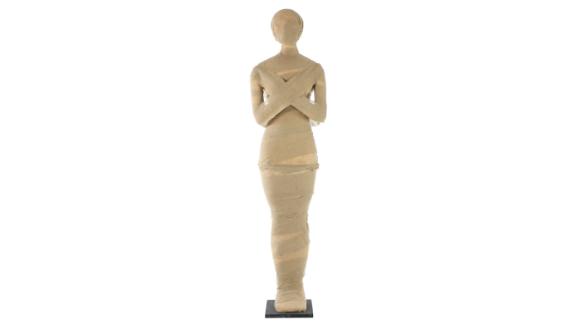 We're just going to say it: If you don't have a life-size mummy, you need one! And at more than 5 feet tall, this the one to buy. Super realistic with its gauze-wrapped body, the mummy has a sturdy base if you want him to stand upright indoors or under a covered porch. (Try not to scare yourself out when you see a shadow lurking at your front door!)
Glow-in-the-Dark Poseable Skeleton ($36.98, homedepot.com)