In her first few months at Google, Cedoni Francis shuttled between the company's New York, Mountain View, and Los Angeles offices for orientation and business meetings. She helped secure a major brand partnership for YouTube and assisted the teams that planned events for musicians and New York Fashion Week that Google had sponsored.
No, Francis hadn't just landed her dream job. She did all this as a summer intern.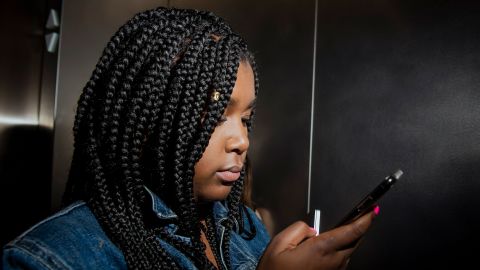 Google is known for having one of the most coveted internship programs in the country. It received more than 125,000 applications this year – a 17% increase from 2018.
At first, it's easy for interns to be attracted to Google (GOOG) for its flashy amenities. But once they get past the cool buildings, free food (Francis said she didn't have to grocery shop all summer) and game rooms – they say there's something much more valuable that Google (GOOG)'s internships offer.
"I am actually seeing that I am impacting the business and my role isn't just to sit here for 11 weeks," said Francis, who was based in Google's New York office. "With this program, you are a full-time employee and are expected to produce work as such even though you're an intern."
No fetching coffee. No making copies or taking lunch orders. Actual work with real deadlines and expectations. Interns are encouraged to speak up in meetings, defend their work, and become a vital part of a team.
In fact, sitting in on meetings, it's hard to pick out the intern among full-time Googlers. They participate on the same level, present their work with confidence and have an easy rapport with their coworkers.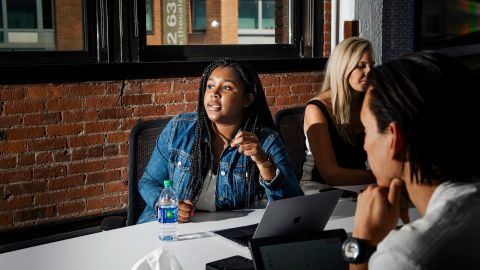 The perks
There's another thing that makes the program attractive to students: it pays – and it comes with a lot of perks. Google's interns are paid biweekly and they get a signing bonus, which the company said aims to cover approximately 1.5 months of housing and the majority of any travel-related expenses to move to their summer office location.
They also get a housing stipend and access to the internal Google Housing Dashboard to help them find a place to live and connect with other interns looking for roommates.
Interns can also take advantage of benefits like health, dental and eye insurance during their time at the company.
Some companies started enhancing their intern programs in 2007, according to Edwin Koc, director of research, public policy and legislative affairs at the National Association of Colleges and Employers. It was before the Great Recession hit, when the labor market was hot for college hires. These days, a little more than half of internships are paid, he added.
This summer, Google had thousands of interns at its US offices working on a wide range of projects, including how to make Google Assistant better for people with visual impairments, writing Web user interface and backend code for Google's new cloud gaming service Stadia, developing new features in Google Earth and creating tools to help parents monitor their kids' device usage.
But not all interns take on technical roles.
"I can't code to save my life," said Francis, who is a political science major at Vanderbilt University. She spent her summer as part of YouTube's Brand Experiences team.
Interns are also encouraged to take advantage of Google's internal training courses and social activities. Francis said she took classes to become better with Google Slides and learn how to write more effective emails.
Interns are paired up with a host for the summer who acts as a project manager, mentor and oftentimes, friend. During their first few days on the job, interns are given a detailed plan created by their host on what they are expected to accomplish that summer with clear goals and deadlines.
"We are kind of friends at this point," Francis said of her mentor Shaun Horbochuk.
Horbochuk not only introduced her to members of the team, but also identified other women of color working at the tech giant to meet with. "That was honestly very nice of him, that he understood that was a real concern of mine," she said.
Many hosts are former interns. "Their job is to give the students a great experience, to really push their development, give them a project that has milestones and a deliverable at the end of it," said Kyle Ewing, director of talent and outreach programs in Google's People Operations Department.
A foot in the door
Google's intern program is also a gateway into a full-time job at one of the most desirable employers in the world.
While the interview process varies depending on the role, it typically involves filling out an online application, and doing one or two phone or video interviews. Some roles also require a technical assessment.
Google generally looks for previous internships or relevant class or personal projects, and role-related knowledge along with leadership skills.
"That does not mean you have to have managed people," Ewing said. "But what kind of immersion leadership have you demonstrated and what kind of initiative have you taken on campus?"
For interns applying for a technical internship, experience with one of the core programming languages (C++ or Java, for instance) is also considered.
Interviewers will also want to see how a candidate solves problems – but the company no longer relies on those infamous brainteaser questions.
"We look at general cognitive ability," said Ewing. "How do you unpack and tackle these large problems that exist and distill them down to something you can take hold of?"
An applicant's "Googleyness" is also taken into account. "Are you intellectually curious? Do you work well in an ambiguous environment? Do you get excited by tackling a really big problem? That is the kind of person we know is the most successful here," said Ewing.
Some Googlers who have completed a successful internship have returned to intern again. Many go on to become full-timers.
When Samuel Foster got the call informing him that he was accepted as a summer intern at Google's Manhattan office he thought it was a prank.
"I was freaking out. I guess I didn't think I could get it," said Foster, who is now a junior at California State Polytechnic University, Pomona. He had applied to 76 internships for the summer.
Foster grew up in California and was homeschooled before starting college. A computer science major, he had a 3.78 GPA when he applied for the internship at Google.
He was always interested in figuring out how things worked, but it was more about the software than the hardware.
"When I was really young, I would spend hours [clicking on] every single button and figuring out why is this menu organized this way," he said.
That's a curiosity that's served him well at Google.
As a software engineering intern on Google Keep, the company's note- and list-taking tool. He spent his summer finding ways to make it easier for users to be more productive while working with Google's suite of apps, including Docs and Gmail.
He started his days around 9:30 a.m. He would catch up on emails, code for about two to three hours or attend team meetings, and then break for lunch and a little time in one of the game rooms to relax and refocus. He then spent the afternoons working on his project and other work. He normally finished up his work for the day around 5:00 pm, but would often stay until 6:00 for the free dinner.
"Google is very flexible about scheduling, they like to encourage whatever schedule works best for you," he said.
When he needed to go head down and focus, he would go to what's known as a curtain garden: little pods where you can sit and pull a curtain around you to block out any distractions. "That is about as focused as you can get," Foster said.
A gateway to a career
Djassi Julien has spent each of his summers during college as an engineering intern at Google. Now a senior at Harvey Mudd College, he's hoping to join the company full time after he graduates.
The first summer, he worked as part of Google's search team in the Mountain View office. The second summer he was in Los Angeles working with the advertising team. This summer, he was in Manhattan working with the corporate engineering team on a project to enhance Google's internal video conference and meeting room platform.
"That is what initially attracted me to Google, was the breadth of the opportunities and projects I would be able to work on," he said. "The work I am doing this summer isn't consumer facing in the way search was, but I get to solve very, very interesting database-related issues."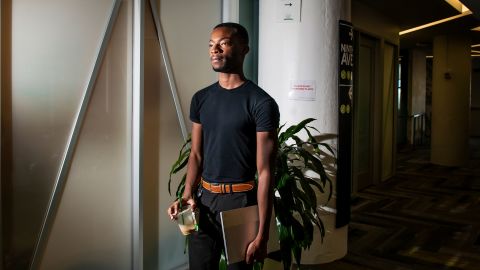 There are several different intern programs students can apply for and they are asked to give a preference to which teams they are interested in joining. There are programs that cater to first- and second-year undergraduate students with a passion for technology, a legal internship, a business internship for undergraduate and graduate students and an MBA Internship, among others.
Julien usually kicked off his day with an iced coffee from one of the cafeterias. Then he would catch up on email, addressing questions or issues that had come up from his manager or teammates. His afternoons were dedicated mostly to his project. "My host sits behind me so I can ask questions if I get confused," he said.
He then would go to the on-campus gym and pick up dinner before leaving the office around 7:00 p.m.
Along with the experience, Julien has also developed lasting friendships. His intern partner from his first summer is one of his closest friends and he's still in touch with other interns he has met over the years.
"The social aspect is one of the best parts of the internship," he said.
Casting a wider net
In high school, Julien was among the first students to participate in All Star Code, a nonprofit computer science education organization focused on young Black and Latino men. It was this experience that helped ignite his passion for STEM.
"My parents are first-generation college students, so they are very familiar with what it means to navigate higher education and STEM – especially my dad – as people of color," said Julien.
He says minorities don't always get a fair shot in tech.
"There is talent that is just not being accessed. Software engineering is one of those industries where things like what school you went to is super important, what kind of classes you were able to take, what kind of professors you were able to study under … those are a lot of resources that students and people from underrepresented groups don't have the same access to as white men," he said.
But Google is making a big push to fix that problem.
Google's first intern class in 1999, included just four interns and three were from Stanford University. This summer, for example, Google had interns from almost 350 schools.
The company says it is aiming to be "far more thoughtful" when building its workforce and looks beyond top-tiered schools for talent, said Ewing. But casting a wider net comes with challenges.
"We want to make sure any student that comes in has the ability to be successful," Ewing said. And a big part of that is making sure the students are exposed to the right courses – particularly when it comes to technical roles.
In 2015, the company created a University Programs Expansion team to help grow Google's engineering recruiting presence at a wide range of colleges and universities. The company has also partnered with historically black colleges for more than a decade to help diversify its intern applicant pool and hopefully its workforce.
"Once we have a strong relationship, [colleges] are asking, 'what is the best way to prepare our students?' And we're able to tell them what kind of curriculum would be best to offer, what type of languages students would need to be learning," said Ewing.
The efforts appear to be making a difference.
In 2016, 13.3% of Google's interns identified as Black and/or Latinx+ and around 30% identified as female. In 2019, 24% of interns identified as Black or Latinx+, and 37% identified as women, according to Google.
Julien said he has seen some improvements in the diversity of the intern classes in his three years at Google, but said there's still progress to be made.
"In Los Angeles, which is more of a satellite office, you can see very clearly the lack of diversity in engineering that is still present in the industry," he said. "I really appreciate the effort Google has expended so far in making diversity a priority, but I just think there is so much more work to be done."
From intern to lifer
Converting an intern to a full-time employee is always the ultimate goal, according to Melonie Parker, Google's chief diversity officer.
Jen Fitzpatrick was one of the company's first four interns in 1999 – and she's still with the company.
She is now the highest-ranking female engineer at Google and is in charge of Geo – which includes Google Maps, local search and Google Earth – where she oversees several thousand employees around the world. She also co-founded Google's user experience team, which is responsible for assessing the usability and function of Google's products.
Fitzpatrick was getting her master's in computer science at Stanford right at the height of the dot-com bubble when she interned as a software engineer. She was fascinated by the search product, and wanted to put her training to use in a practical setting.
"Almost instantly, from my very first day, I was amazed at how much of a learning opportunity it was."
She attributes the success of the program to the real impact the interns are allowed to have.
"It's real work and real projects," she said. "They aren't toy projects we are cooking up and they aren't working in isolation – they are part of the teams and contributing in meaningful ways and get a sense they are doing things that matter."