What you most hear from congressional Republicans on impeachment this week is the sound of silence.
GOP sources tell CNN they have a good reason for that fear. They have no idea what else House Democrats' investigation will uncover or what comes next.
Along with that fear is frustration with President Donald Trump: his ranting in performances full of false claims, like Wednesday in the Oval Office and White House East Room, and stream of consciousness rapid-fire tweets – curse words and all – are not exactly an anti-impeachment road map for his fellow Republicans.
"He is taking it upon himself to tweet about every shiny object," a source involved in Senate GOP discussions tells CNN. "That is not helpful right now."
And although phrases like "witch hunt" and "hoax" worked for the President politically during the investigation by special counsel Robert Mueller, concerned GOP sources – more than half a dozen, including some in leadership who are talking to and hearing from the rank and file – tell CNN that they worry the President isn't comprehending what they believe to be true, that this is different.
GOP spin not going well
To be sure, a lot of Trump's Republican allies eagerly came out to defend the initial bombshell: the transcript summary of the President asking Ukraine's leader to do him a favor and investigate his potential political opponent, former Vice President Joe Biden.
Most notably, Senate Judiciary Chairman and emphatic Trump defender Lindsey Graham of South Carolina called it a "a nothing burger."
How Lindsey Graham went from Trump critic to supporter
But GOP spin on behalf of Trump is not aging well – especially confronted with facts. House Minority Leader Kevin McCarthy of California struggled to defend the President on CBS' "60 Minutes," and Ohio GOP Rep. Jim Jordan's attempts to bend the truth ran into a meat grinder of fact-checking from CNN's Jake Tapper on "State of the Union."
Baseless attacks on the whistleblower – including brazen threats from the President, did compel Republican Sen. Chuck Grassley of Iowa, a longtime champion of whistleblowers, to release a statement warning that "no one should be making judgments or pronouncements without hearing from the whistleblower first and carefully following up on the facts."
Lawmakers are largely home in their districts and states for congressional recess for two weeks, which makes it easier for them to avoid reporters, and that is a sigh of relief.
"How can we defend his threatening whistleblowers?" asked one congressional GOP source.
GOP frustration with the White House
Several congressional Republicans tell CNN that their concern is exacerbated by getting very little guidance from the White House. CNN reported last week that, despite an initial flirtation with setting up an impeachment war room in the mold of Bill Clinton's White House during his impeachment, the Trump team is not going there now.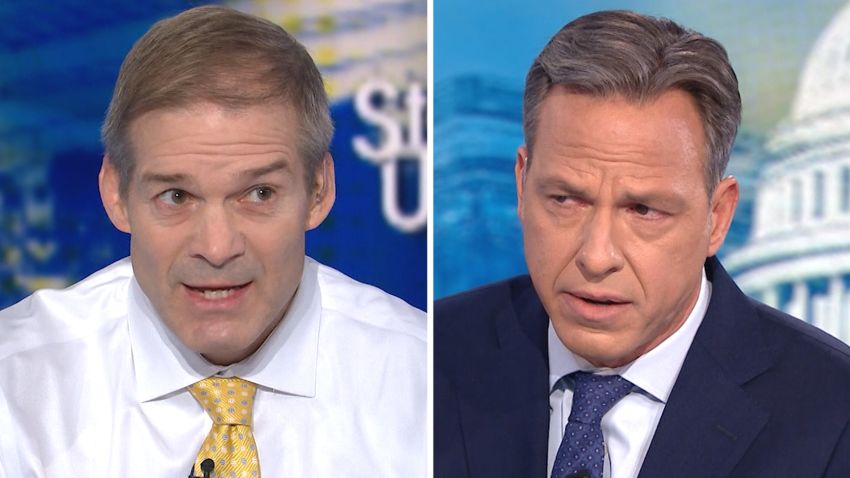 Tapper fact-checks Rep. Jordan on Ukraine scandal
Instead, the President is relying on something that Clinton, then a second-term president, did not have: an active reelection campaign. But for all the emails, tweets, videos and ads the Trump campaign is producing to try to shape the impeachment narrative – and it's a lot – GOP sources on Capitol Hill say it is not the same. They argue that an impeachment inquiry is official, dire business that should be led by a White House team, not a campaign.
"There is no White House war room. Why are we the ones who have to defend him?" asked one congressional GOP source.
McConnell's comments were key
Also noteworthy were comments from Senate Majority Leader Mitch McConnell, who rarely grants interviews. This week, the Kentucky Republican went on CNBC and declared that if the House impeaches the President, the Senate will have no choice but to start a trial.
"Under the Senate rules we're required to take it up if the House does go down that path, and we'll follow the Senate rule," McConnell said.
But before that even happens, several Republican sources on Capitol Hill say they are bracing for more shoes to drop, and don't want to get out too far defending the President when they don't know what else he, or his top aides, may have done.
Vulnerable Republicans the most quiet
It's a politically dicey waiting game for more than a handful of Senate Republicans on the ballot and potentially vulnerable in 2020: From Cory Gardner in Colorado to Martha McSally in Arizona to Joni Ernst in Iowa to Susan Collins in Maine to Thom Tillis in North Carolina.
It's not just their own political futures at stake, but also control of the Senate, which Republicans could lose with three or four seats, depending on who wins the White House. It is something McConnell is well aware of, which is why he used that interview this week to try to give cover to his worried rank-and-file members.
"What I want to do is spend our time accomplishing things for the American people," McConnell said.