(CNN) —
With his arms outstretched and defiance in his eyes, Moise Kean's celebration in front of the Cagliari fans that had been racially abusing him became one of the defining images of European football last season.
After the incident, one of a growing number that have blighted Italian football in recent seasons, it felt as though Kean was isolated.
Serie A opted not to punish Cagliari fans for the monkey chants, while his captain and head coach at Juventus apportioned some of the blame to him.
In the summer transfer window, Kean completed a move to Everton and the fans quickly wanted to show solidarity with the 19-year-old striker.
Ahead of Saturday's Premier League clash against Manchester City at its Goodison Park home, Everton fan group the County Road Bobblers have arranged for a banner emblazoned with Kean's face to be held aloft, with the words "no to racism" in his native Italian.
READ: Raheem Sterling & Stormzy criticize Leonardo Bonucci racism comments
READ: Leonardo Bonucci says he was 'too hasty' with Moise Kean racial abuse comments
"When we were linked with Moise Kean, we obviously saw the Cagliari the game where he was racially abused and that almost iconic stand that he made against them where he stood in silence looking out," group member David Wycherley told CNN.
"It was really inspirational, he was such a young lad to do something like that and to have the bravery to do it. I remember vividly how he just didn't seem to receive as much support as I think he should have.
"So when he signed for Everton, I had in my mind the image of him standing by himself against this racist abuse and I wanted to tell him about what we are as Scousers and I wanted him to know that when he comes to Goodison Park that he is backed 100%.
"He won't have to have a stand alone against these problems again, especially with him being such a young lad."
Kean is grateful to the Everton fans for their act of solidarity, which will be on display at the club's annual Kick It Out fixture.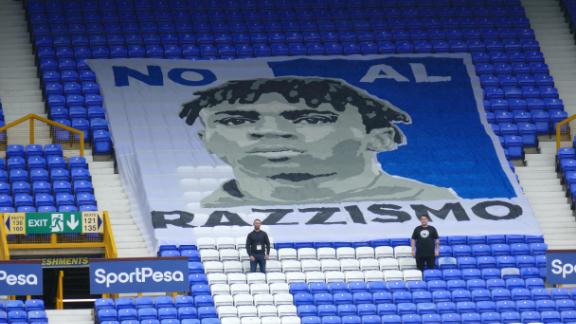 "The banner is beautiful because racism is horrendous and we have to fight against the racists," he told the club. "I'm going to repay my fans for all they do for me. I'm feeling even more motivated to repay them by training at 100% and giving the maximum I can."
READ: How the scourge of racism continues to tarnish English football
READ: Tammy Abraham's mother wept over racial abuse of her son
'One of our family now'
The County Road Bobblers initially sent out a tweet and set up a Just Giving page with a target of £1,000 ($1,230), but that was quickly met and far exceeded as word spread.
In total, the group raised more than £3,000 ($3,695) thanks to donations from Everton fans all over the world, as well as contributions from Chelsea and Liverpool supporters.
Wycherley, alongside other group members Lee Mitchell, Michael Cummins and Greg Neill, have worked on the project with both Everton Football Club and Kick It Out, a UK organization that works to tackle discrimination in professional and grassroots football.
The money raised was enough to make the banner and give more than £1,000 each to Kick It Out and Everton's own charity. Wycherley believes the generosity embodies Everton fans and the city of Liverpool as a whole.
"I am a proud Scouser," Wycherley says, referring to the name given to people from Liverpool. "I'm the first to sing Liverpool up over the years. I hate the kind of old fashioned stereotypes the city gets; Liverpool has been a massive, culturally diverse city for years.
"It was the first settlement for the Chinese community, the first Chinatown in Europe, the first mosque in the UK was in Liverpool and we've invited people from all over the world in the days of the docks to come and live and settle in Liverpool.
"So I think the Scousers are proud, welcoming people and that's what we are as Scousers and certainly as Evertonians. We get the name The People's Club and that's the message we wanted to pass, that he's one of us. He's one of our family now, he's not just a player."
'A new culture'
Wycherley says the issue of racism is a cultural one but believes football – and in particular its fans – has the power to be a positive force for change.
In his decade of going to Goodison Park as a fan, Wycherley says he is proud to have not once heard racist abuse. Fans, no matter their race, creed or sexuality, should always be able to think of stadiums as safe spaces, he says.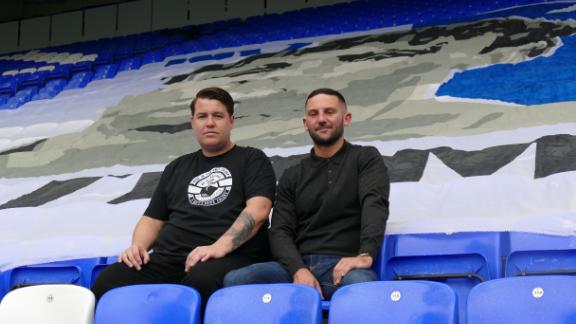 "Everyone needs to continually educate themselves," he explains. "It's only by better understanding one another that we can actually move forward and I think the best thing for fans to do is to lead from the terraces, no matter what football club you support you can create a culture within that ground you go to – it's like a church for us.
"[It's] not just creating an atmosphere within the ground, but really standing up against issues in society, which we can do from the terraces. Whether it's homophobia in football, whether it's racism, whether it's standing up against knife crime, we can make a real impact on society.
"It's a working class sport, people watch football all over the world, on the streets and young people growing up. Even if it's just one young lad that sees that banner, it might be his first game, he sees that and that positive message will stick with him. I remember my first game and hopefully that creates a new culture for a new generation growing up supporting the club.
"The impact that can have can echo into society as well."
'Having a voice'
According to Kick It Out, reports of discrimination rose by 32% in 2018/19 compared to the previous season. Racism remains the most common form of discrimination and has risen "alarmingly," Kick It Out says, with reports increasing by 43%.
Only this season, Chelsea's Tammy Abraham and Manchester United's Paul Pogba and Marcus Rashford have been subjected to vile abuse on Twitter after missing penalties for their teams.
Incidents involving Raheem Sterling in the Premier League last season and Romelu Lukaku in Serie A recently only serve as ugly reminders that racism remains entrenched in the sport.
"I think the football fans play such an important important role in spreading the messages of equality and they will not tolerate racism," Keeley Baptista, Head of Partnerships at Kick It Out, told CNN.
"They've set the stance from the beginning here for Everton football club and the supporters to say: 'That behavior wont be tolerated here and we're right behind you.' It also shows fans of Everton, fans of Liverpool and around the country, that people want to help, people want to be seen to be having a voice.
"It's important that those messages and not diluted, the messages of equality and inclusion should always be heard and not only the messages, but the actions behind those messages. Football is not discriminatory to anybody that wants to play or wants to attend, or wants to work in the game.
"There needs to be an equal opportunity for everybody to be able to enjoy football."
Story updated to make clear Kean joined Everton permanently.