October 1 was to be a second coronation for Chinese President Xi Jinping. Instead, buffeted by multiple crises, National Day celebrations may serve to highlight just who is to blame for the country's current difficulties.
As the People's Republic marked its 70th anniversary on Tuesday, Xi's hold on the Chinese Communist Party (CCP) and the wider political structure is tighter than ever. But with absolute control comes absolute responsibility; Xi may be the country's most powerful leader since Mao Zedong, but like the Great Helmsman he is prone to overstepping – and he's vulnerable in ways Mao never was.
As the challenges facing China continue to grow, so have the cracks in Xi's facade. Anti-government unrest in Hong Kong, the ongoing US-China trade war and even rising pork prices are all major tests for Xi, and not ones on which he is achieving a passing grade.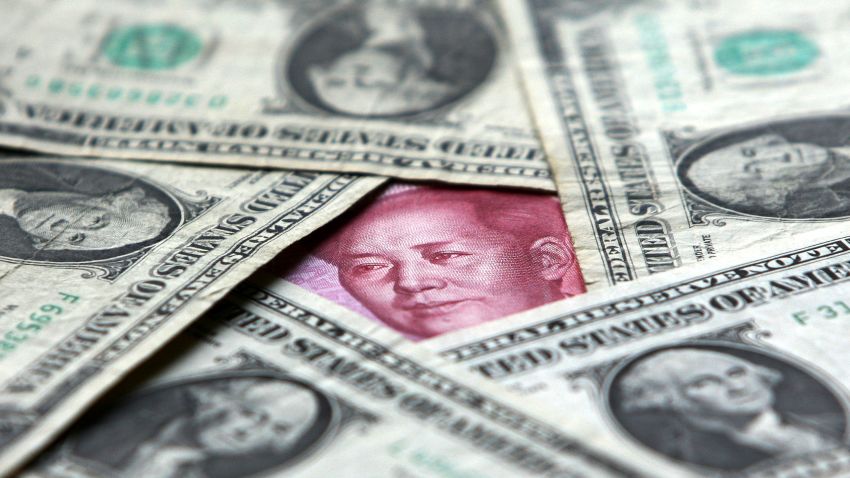 Is a currency war coming?
02:30
- Source: CNN Business
Economic exhaustion
Deng Xiaoping, who took power after Mao's death and is widely credited with kick-starting China's economic miracle, once described the country's approach to foreign policy as "observe calmly, secure our position, cope with affairs calmly, hide our capacities and bide our time, be good at maintaining a low profile, and never claim leadership."
In recent years, Xi has begun pushing Deng aside, positioning himself as the country's most impactful leader since Mao and downplaying the old reformist's legacy. But his approach on foreign policy, and his economic successes, could not be more different from the man whose mantle he seeks to assume.
Speaking at a ceremony in December to mark 40 years of Deng's "reform and opening," Xi promised "miracles that will impress the world" but offered few specifics on how these would be achieved.
His defining policy has been the Belt and Road Initiative (BRI), a hugely ambitious trade and infrastructure megaproject linking China to markets across central Asia, Europe and Africa. But the BRI has failed to deliver the economic boom times it once promised, and Beijing has been forced to reassess how it deals with partner nations amid claims of "neocolonialism" and "debt trap diplomacy" from recipient countries.
On trade too, Xi's track record is less than stellar, or particularly low profile. He may avoid mouthing off on Twitter, but his approach to the US-China trade war often mirrors that of President Donald Trump, with the two sides continually escalating and refusing to back down.
There were signs of progress this month, with China exempting some US products from tariffs and Washington responding by delaying further tariffs of its own from October 1 – which could have been humiliating for Beijing and would likely have drastically escalated hostilities – to October 15. But there have been detentes in the past, and so far Xi and his negotiators have not managed to turn them into a lasting peace.
They have also apparently drastically misread Trump at times, overplaying their hand and underestimating the level of support Beijing has in Washington. Xi may not be directly to blame for such missteps, but they seem to be indicative of an echo chamber at the top of Chinese politics that has only worsened as he moved something approaching the more consensus-based decision making of his predecessors to one-man rule.
Beijing's strategy appears to be predicated on the idea – at least in part – that it can outlast Washington. Unlike Trump, Xi is not up for reelection next year (or ever), and a new US administration might be more willing to cut a deal.
This may be true, but there is no guarantee that Trump will be unseated next November, or that any Democratic successor would not keep up the pressure on China. Meanwhile, ordinary Chinese are suffering and trade tariffs are hitting China harder than reciprocal measures are hurting US businesses.
While Beijing has dealt with some of the fallout of the trade war by ramping up nationalism and anti-US propaganda, rising food prices and potential shortages will soon have people asking why the government isn't doing more to alleviate their misery. They may also ask why Xi, if he truly is Deng's heir, is failing to grow the economy at the rates previously guaranteed by China's leaders.
Petrol bombs, tear gas used in Hong Kong protests
Hong Kong headache
Nationalism also has been the main response to the ongoing anti-government unrest in Hong Kong, which started with protests against a now-shelved extradition bill with China.
That was the initiative of the local government, all parties involved attest, but Beijing has been firmly in the driving seat ever since. While the central government may have succeeded in preventing the unrest spreading to other parts of the country – always the biggest concern with any protest movement – its hardline policy has otherwise been an abject failure.
Failure to respond to protest demands in a timely fashion, coupled with heavy policing, has seen the protests escalate.
The violence and continued mass turnouts eventually forced the Hong Kong government and its lame duck leader Carrie Lam to back down on the extradition bill itself, but too late to have much of an effect on the overall movement. The city's economy has suffered, and there are no signs that protests will stop anytime soon – a man was shot by police in a major escalation of violence on Tuesday – as young Hong Kongers in particular become only more alienated from China.
Had Lam withdrawn the bill when millions of protesters first demanded she do so, or had she been able to respond to more demands when she finally did, a solution might have been attainable. But Beijing's compromises have only come through firmly gritted teeth, and the delay has only further radicalized some sections of the protest movement.
Xi has warned Hong Kong of the costs of continued violence and urged the city to be more like neighboring and obedient Macao, renewing speculation that once National Day is out of the way, Beijing could launch a major crackdown in Hong Kong to get the city under control.
But the costs of a military crackdown – not least the potential shock of an economic crash in Hong Kong on the Chinese economy – likely remain too high. Just as with the trade war, Xi's approach seems to be to wait the crisis out, even as the costs continue to grow.
Blame game
When the withdrawal of the extradition bill was finally announced in September, Chinese censors ordered the news downplayed online and in state media. This did not stop some questioning why Hong Kongers were able to effect change through protest, while political speech in China has only become more costly.
Xi appears to have recognized that despite his undeniable power at the top, the potential for unrest below is growing. As he has traveled around the country in recent months, his speeches have been characterized by one word: "struggle."
Last week, state news agency Xinhua said the 70th anniversary would provide a chance for people to "forever remember the hardships of the New China, and the process of arduous struggle." The goal is to inspire "the whole of society to energetically sing the main melody of praise for the new China and the struggle for a new era," the commentary said. The theme was underlined at National Day celebrations on Tuesday.
Struggle is in the genes of the Communist Party, which came to power in a revolution and has held on despite every prediction otherwise. But are ordinary Chinese as willing to put up with hardships that come not from outside but from the policies of their own leaders?
Writing last month, Chinese political analyst Minxin Pei said that at 70 years, the People's Republic may be nearing the "longevity frontier for one-party regimes." While CCP doomsayers have been proven wrong over and again, Pei pointed out that no one-party regime has held power beyond 74 years, and today only North Korea's Kim dynasty equals China for endurance.
Xi was certainly front and center at National Day celebrations on Tuesday. But what was intended as a celebration of power and glory may instead be highlighting exactly who carries the blame for the country's problems.