(CNN) —
Hey morning people, I have a question: Um, how do you do it? How do you start the day with smiles and birdsong and a piping hot cup of coffee and not, you know, curse words and five alarm snoozes? My theory is, morning people are born and not made. However, experts say there are some things you can do to kickstart your mushy morning brain: Splash some cold water on your face, caffeinate slowly, make sure to get a little sunshine as soon as possible and, if you can, try to get outside for a brisk walk. My suggestion? Wake up at noon and avoid mornings altogether! Oh, if only.
Our favorites this week
Get going with some of our most popular good news stories of the week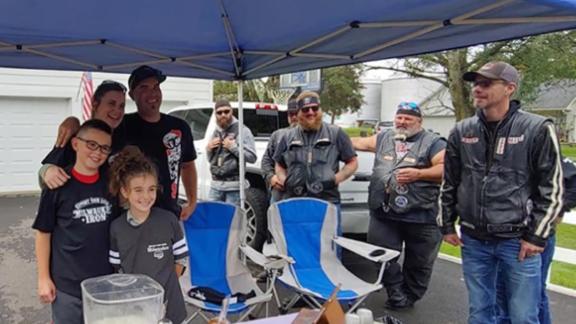 Courtesy Daryn Starch
What goes around comes around
Buckle up, because this one's a great ride: In September 2018, Daryn Sturch and her daughter Bryanne came across a bad accident involving several motorcyclists with the Milwaukee Iron Biker Group. Sturch is a nurse in Chili, Indiana, and obviously felt compelled to stop and treat them. Some of the bikers were critically injured, and after she left the scene Sturch reached out to the group on Facebook to check up on them. To her relief, all of the injured bikers survived. The unfortunate incident kicked off a nice little friendship. Sturch says some of the bikers would check in occasionally on Facebook and offer her support or a kind word. Fast forward to this month: Sturch's daughter Bryanne had planned a lemonade stand, but it got rained out. Some of Sturch's biker friends suggested she reschedule for the next week, when the group would be in town. When the day of the lemonade stand came, Sturch and her family were overwhelmed: 30 bikers showed up to support Bryanne, including some Sturch had treated at the accident. Needless to say, it was definitely a waterproof mascara kind of day. "I think it's a perfect example of how just because you don't look the same way or dress the same way or have the same hobbies or interests doesn't mean we don't have the same core values inside us," Sturch said. "We shouldn't make assumptions about people, we should just love each other."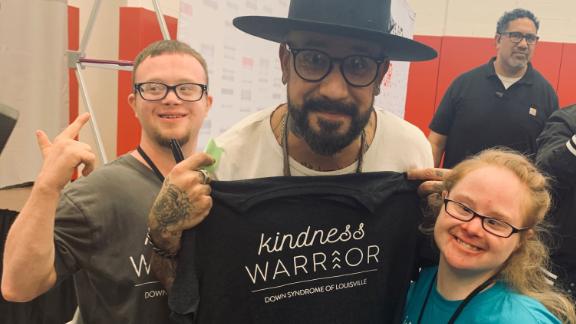 Courtesy Julie Torzewski
A once-in-a-Millennium moment
When a group of special-needs adults in Louisville, Kentucky, made a video of themselves lip-syncing to a Backstreet Boys song, their infectious joy captured the hearts of the internet. That alone is Good Stuff worthy, but then something even cooler happened: The Backstreet Boys saw the video, too, and arranged to meet the group before a tour stop in Louisville. When the big day came, 12 members of the group attended the concert and spent time with the boy band singing, taking photos and rocking out to a BSB dance party. Backstreet Boy Kevin Richardson even recorded a heartfelt video message for the performers. "The passion, the joy, the soul that you put in that video was inspiring," he said.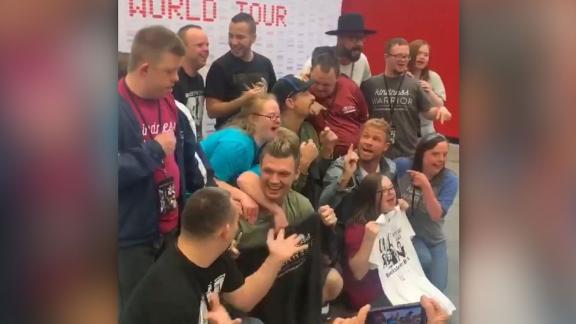 Down Syndrome of Louisville
I'm gonna stop talking now and just show you another amazing photo from their meet and greet, because that's where the real story is.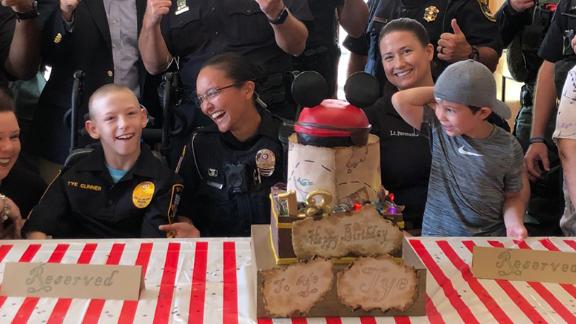 CNN
This takes the cake
An officer with a cake baking hobby helped put together a magical birthday for a 13-year-old boy with cerebral palsy. Now that's multi-talented! Lt. Brandy Forman of the Smyrna Police Department volunteers with a nonprofit, Icing Smiles, that provides custom cakes for families with ill children. The Clinner family had requested a cake for their son, Tye, who was turning 13 and was about to embark on a special trip to Disney World. Tye has cerebral palsy and is unable to walk or sit up on his own, but his mom says he lights up any time someone mentions anything Disney. After hearing his story, Forman told CNN she knew she could help with "way more than a cake." Her department coordinated a surprise party for Tye complete with pizza, wings and his own officer shirt. They even invited the community to join in, and a few other Atlanta-area police departments brought some police cars around for local children to check out during the celebration. Oh, and of course, the cake was gorgeous. "If you have the opportunity to do something good for someone else, do it," Forman said.
Raise a glass to…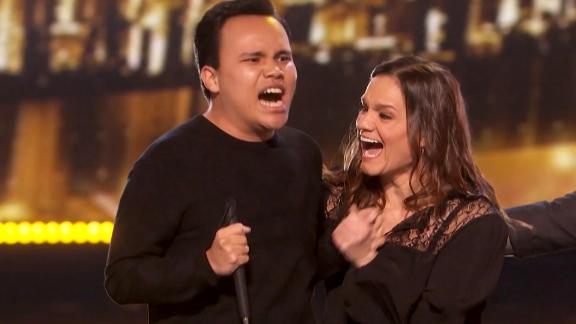 Fremantle USA/Syco Entertainment/NBC
Kodi Lee, the newly-crowned winner of Season 14 of America's Got Talent! Lee, 22, is a gifted singer and pianist who blew the judges away from the very start with his rendition of Donny Hathaway's "A Song For You." He's blind and has autism, and his mom says being able to express himself musically has helped him deal with a world that is often hard on people with disabilities. "Through music and performing, he was able to withstand living in this world," she said. "Because when you're autistic, it's really hard to do what everyone else does. It actually has saved his life, playing music."
A bright idea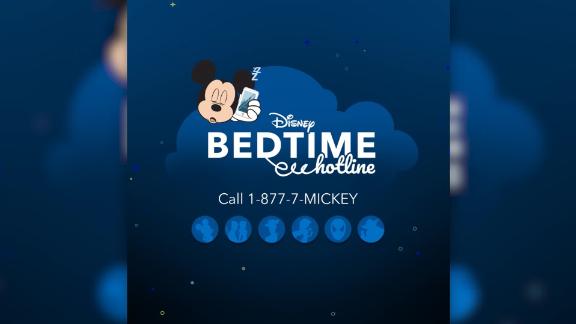 We have a double dose of Disney this week! The big Mouse has rolled out the Disney Bedtime Hotline again for a limited time. The phone service allows kids to receive a special bedtime message from their favorite Disney character (with help from their parents, of course). It goes like this: The characters detail their day, talk about how ready they are for bedtime, then playfully suggest the child on the phone get ready for bed, too. So, if your best Serious Parent voice can't get them under the covers, maybe Anna and Elsa can give a much-needed assist. No long-distance fees to Arendelle required!
You gotta see this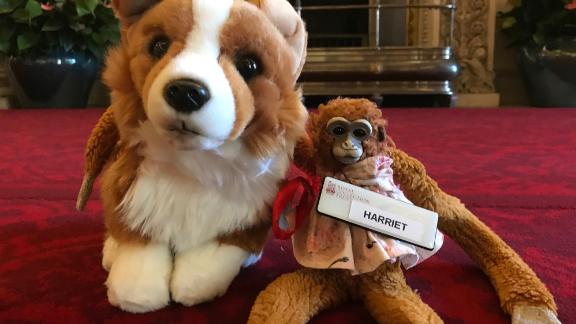 Royal Collection Trust/Her Majesty Queen Elizabeth II 2019
A lost toy monkey got the royal treatment at Buckingham Palace recently, and there are photos to prove it! Savannah Hart, a 5-year-old student at Woodside Preschool in south Australia, accidentally forgot Harriet, one of her school's traveling stuffed monkeys, during a tour of the palace. (Harriet is an excellent monkey name, by the way.) Once she was back home, Savannah and her preschool classmates sent a letter asking for Harriet's safe return. Sure enough, the preschool heard via email that Buckingham Palace staff had found the toy monkey. They said she had been busy eating scones and promised to send her back after photographing her at work around the palace. Okay, Harriet HAS to be the most interesting stuffed monkey in the world now.
Heroes among us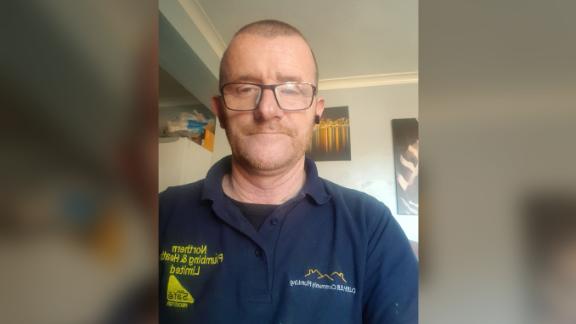 James Anderson
"No charge for this lady under any circumstances." That was a note left by plumber James Anderson on a bill for a 91-year-old woman with leukemia who needed her boiler replaced. Anderson says the woman, who is receiving palliative care, will have round-the-clock plumbing help if she needs it, and free services for life. Anderson of Burnley, Lancashire turned his plumbing business, DEPHER, into a community project for vulnerable people after he saw an elderly man being "manipulated" by another engineer in the area. Since then, he's helped thousands of people with their plumbing needs at a reduced or waived cost — even when the work leaves him with a loss. "We need to do something more to help the people who need it most," Anderson said. The daughter of the 91-year-old woman he helped described Anderson as an "angel dressed as a plumber," which is just another way of saying he's a straight-up hero.
Wanna get away?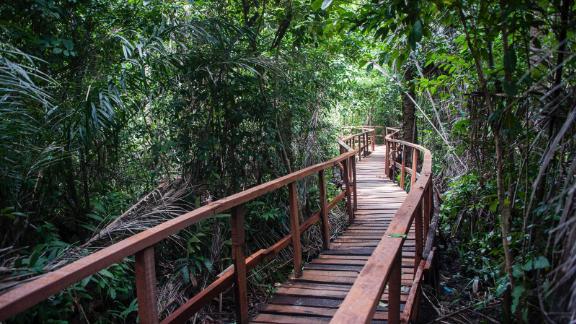 STEFAN HEUNIS/AFP/Getty Images
Looking for your next big trip in 2020? Why not Africa? CNN Travel has put together 30 of the continent's most breathtaking destinations, any of which could easily reach trip-of-a-lifetime status. Of all the scenic views, this one from the Lekki Conservation Centre in Lagos, Nigeria, really speaks to me. What's just beyond this lush, curving boardwalk path? Probably more lush, curving boardwalk path, and we're totally okay with that.
Tell us something good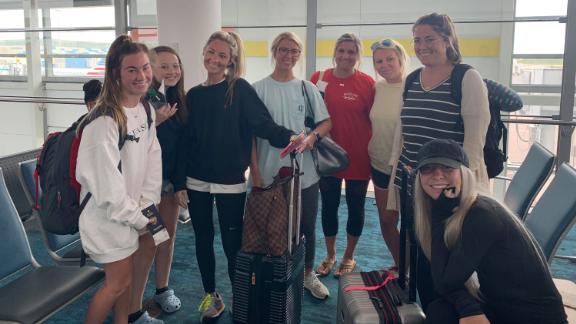 courtesy Sandy Gibbs Kahley
Macon, GA
After seeing the destruction Hurricane Dorian wrought on the Bahamas, Rikki Kahley turned her bachelorette party to Nassau into a relief trip. Originally, the 24-year-old was going to cancel and even offered to donate the group's hotel rooms to local families in need but was moved when the resort's receptionist got emotional about how much tourism business the area was losing. So Kahley and her sister Chloe put out a call for donations and started collecting donated baby wipes, diapers, food, clothes, toys, books and water filtration tools. By the time they boarded the flight to the Bahamas, they had 37 suitcases full of supplies. (Delta Air Lines waived the extra baggage fees.) "Our experience was great. We enjoyed all the Bahamian people we encountered, heard lots of stories about their families and how the hurricane impacted them," Kahley said.
Impact your world
Today is World Gratitude Day! I am grateful for every single person in our Good Stuff family, and for all of the wonderfully kind and insightful notes you send week after week. You are appreciated more than you know. If you want to up the gratitude in your life, here are three easy rituals that can have you feeling more thankful and ready to take on life's, well, less gratitude-inspiring tasks.
Shameless animal video
There's always time for cute animal videos. That time is now.
All animals deserve to be petted! Unless they really don't want to be, of course. But you'd be surprised at how many un-cuddly species are actually just lovebugs in disguise. This baby croc is so happy to get chin scratches he's making little laser sounds of gratitude. Who could ever say no to that? (Click here to view)