(CNN) —
Behind the scenes, the most terrifying element of "It Chapter Two" was a real nail-biter.
After assembling a rarefied cast of fresh young discoveries – not one, not two, but seven in total – to portray the young incarnations of the Losers Club who propelled director Andy Muschietti's adaptation of one of horror master Stephen King's dense, three-decade-spanning novel, the challenge was obvious: finding seasoned, adult actors who could both evoke the spirit of the immediately beloved younger cast of characters and deliver potent performances that fuel the second half of the story.
But ever since the adult players were announced – Jessica Chastain as Beverly Marsh, first played by Sophia Lillis; Bill Hader as Richie Tozier, initially played by Finn Wolfhard; James McAvoy as Bill Bendenbrough, played by Jaden Martell; Isaiah Mustafa as Mike Hanlon, played by Chosen Jacobs; James Ransone as Eddie Kasbrack, played by Jack Dylan Grazer; Jay Ryan as Ben Hanscom, played by Jeremy Ray Taylor; and Andy Bean as Stanley Uris, played by Wyatt Oleff – the verdict has been near-unanimous: the casting coups were, quite simply, scary good.
"What was probably more important to me was resemblance, physical resemblance," Muschietti tells CNN. "I get turned off very easily when I see a movie with two timelines and the actors don't look alike. It's enough for me to disengage, so I wanted to start this movie with that already clear, people already believing that it could be the same character."
"I managed to find possible matches in all of them, working with actors that have the talent and skills to recreate these characters," says Muschiettl. "And they make the credibility happen."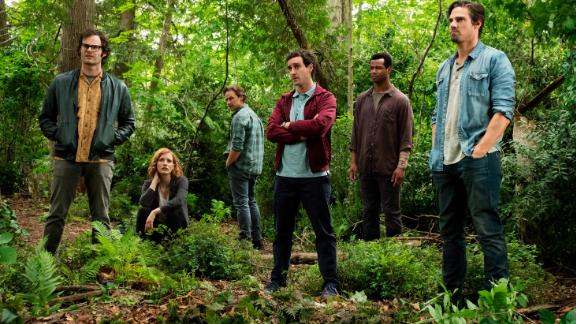 "We did the first film with seven unknown children," says Muschietti's sister Barbara, who produced the film alongside her brother, noting that Martel was the only one of the group with an established film career, while Wolfhard's series "Stranger Things" was only just emerging as a phenomenon. The critical and commercial success of the first film in 2017 – drawn entirely from the portions of King's novel that follow the young incarnations encounters with the insidious Pennywise, reset from the 1950s to the 1980s – provided new degrees of difficulty.
"Everybody wanted to be in the movie!" she explains, pointing out that legions of Hollywood actors of various stature were queuing up to snag one of the adult roles. But the siblings dutifully explored every available avenue to zero in on just the right actors, including taken the suggestions of the young actors seriously.
"Finn got me the job," insists Hader. "Finn talked about me in the press…My agent sent me a link saying, 'Hey, look at this!' And I was like, "That's nice." And then months later, he called me and was like, 'Yeah, Muschietti wants to meet you for "It Two."' And I was like, 'Finn must be the most powerful person in Hollywood!'"
Once the adult Losers were in place, Andy Muschietti encouraged contact and dialogue between the younger actors and their grown counterparts, in hopes of creating a performance continuity that transcended straightforward physical resemblance.
"That's something that we encouraged, actually. We were on the same page – they [all] also wanted to do it," says the filmmaker. "It was fun for me and fun for them to go back and observe the performances of the first movie and draw the mannerisms and behaviors and little details from the kids' performances. I never dictated how much of the kids' performance they should bring to their performance because ultimately it is them who draw that balance, but it was a lot of fun."
"We also had the kids write their adult selves a letter, each of them, to basically explain what it was like, to remind them what it was like to be the kid," explains Barbara. "They all loved it."
"It's a great exercise to have an actor being sent a letter from their character – it was not the actors that were writing, it was the character as children," agrees Andy, "That was the voice that was reflected in those letters…It was like an intimate exercise." The mature performers were given as much leeway as they needed to incorporate the young stars' perspectives into their own performances. "I also like to respect the work of the adult actors – It's something that was intended only for them, to help them do the work."
"Bill Hader told us that was very funny about his letter, was that very much in the voice of Richie, always against authority and a bit of a nihilist," Barbara says of the missive penned by Wolfhard.
"Everybody got very nice letters, I think, and his was very Richie," laughs Hader. "It was like, 'This is dumb. I'm being made to do this.'"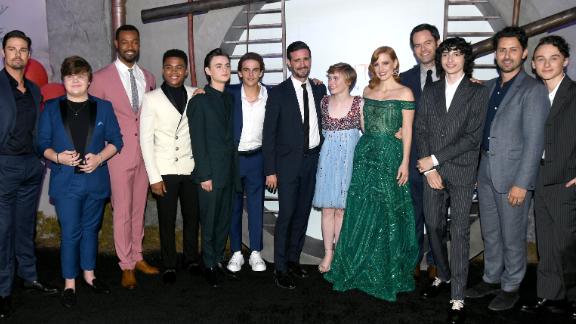 Lillis says she doesn't remember precisely what she shared with Chastain, but she does recall the intent behind her communication. "The most important thing about Beverly is the importance of her relationship with the Losers," says the actress. "Before she met any of her friends, she didn't really know what a healthy relationship was. So after knowing the Losers, she realized there's more to life than her father. There's people that actually love her for who she is. She knew that she couldn't let them go. And I really wanted to portray that to Jessica."
"The first time we met was our first day rehearsal, and I was a bit shy," says Chastain. "Now it's fun, but in the beginning it can be difficult talking to a teenager…so we literally stood in front of each other and giggled. And it was like, 'Hey, what's your favorite movie?' But I took everything that she did from the first film and used it. I stole her whole performance."
Not every adult/youth interaction was as idyllic.
"Jack Dylan Grazer didn't think I was cool," says Ransone, insisting he's not joking. "I was like 40 and into all these skateboards. I was like, 'I know about skateboarding, too!…I grew up around all these pro-skateboarders, like, 'I know those guys! I'm pretty cool!' He was like, 'No. That's not cool.'"
"Jeremy Ray Taylor told me, with a very serious face, not to screw it up, which I was not expecting from him," chuckles Ryan, who noted that he became quite close with both the young actor and his family. Indeed, Taylor had a note for Ryan that he felt was crucial to understanding Ben,
"My whole letter pretty much was about how Ben loves Beverly so much and he was okay with her not loving him back, as long as she knew that he would do anything for her," says Taylor.
There were also some purely cinematic techniques to connect the dots over the passage of time.
"Part of the challenge was achieving a successful emotional engagement with these characters 27 years later," says Andy Muschietti, who designed the film around significant flashback sequences that involved the young stars of the first film. "Basically the function of the flashbacks…was to basically ease that process of engagement, because connecting the adult characters with the child counterparts, which is the characters that people already know from the first one that they love so much. [The flashbacks] would provide an emotional shortcut to these characters."
Which, as Barbara Muschietti points out, created yet one more daunting task: scheduling shoots with the young rising stars, whose commitments had grown considerably more red-hot since the first film.
"Of course, we come back two years later and they're all working like there's no tomorrow – on high profile projects – and putting together the schedule was crazy!"
"It: Chapter 2" is produced by Warner Bros., which like CNN is part of WarnerMedia.