As if Hong Kong's summer of discontent wasn't chaotic enough, a leading pro-democratic lawmaker may have just been unseated by one of his own allies.
On Monday, a court ruled that 22-year-old Agnes Chow had been illegally barred from running for a seat on the city's legislative council last year.
Au Nok-hin, another pro-democracy candidate elected in her place, was "not duly elected," the judge said.
It is unclear at this time what this means for the seat. Hong Kong's parliament now has 21 days to declare the seat vacant, if no appeals are lodged and the ruling holds. The decision could set the stage for a contentious new election, amid escalating protests.
Au and Chow are both prominent figures in this summer's pro-democracy movement, and were among several activists and lawmakers arrested last week.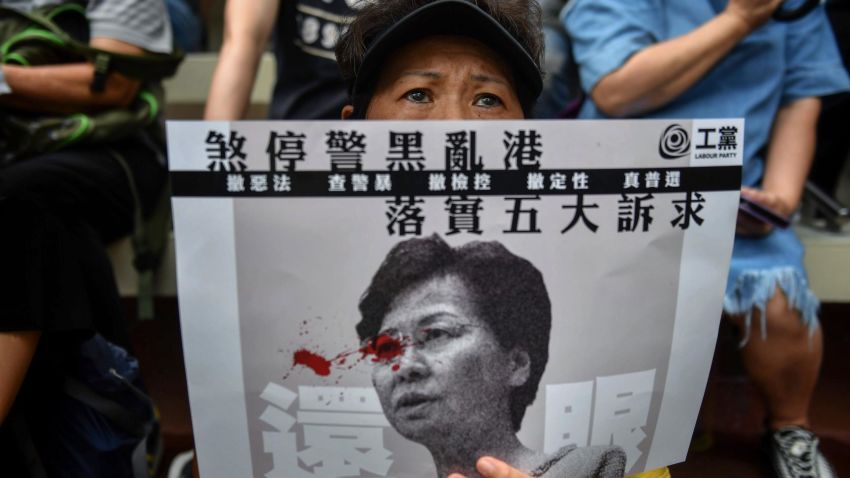 Hong Kong demonstrators rally after activist arrests
If Au's seat is declared vacant, an election must be held to fill it, usually within six months of the announcement.
Speaking to reporters after the ruling, Chow said it was "not a complete victory," and would not commit to running for office.
"In this time of political turmoil, nobody can predict what Hong Kong will be like next year. Even though I won the judgment this time, it is still uncertain as to whether there may be appeals from the Department of Justice or my side, so it is hard to judge."
If Au's seat is vacated, it would further weaken the Legislative Council's opposition camp, making it easier for the government to pass unpopular laws such as the currently-shelved extradition bill which first kicked off the ongoing protests.
Protesters are pointing lasers at government buildings
"This ruling signifies that my term as a lawmaker, which has been over a year, is coming to an end," Au said Monday. He added that he hoped the election would be another opportunity for Hong Kongers to stand up and fight, because the city "is going downhill."
Political litmus tests
Chow's disqualification in 2018 was one in a series of decisions against Hong Kong's young pro-democracy candidates, several of whom were barred from running.
Previous candidates deemed ineligible were open supporters of Hong Kong independence. Chow's party Demosisto, co-founded by Joshua Wong, supports self-determination for the city's political future, but does not advocate separatism.
The election official overseeing Chow's race – held to fill the seat of disqualified Demosisto lawmaker Nathan Law – refused to allow her candidacy however, arguing that this stance was also in contravention of the city's constitution. This came in spite of Chow watering down her position in election materials, and signing a declaration along with all other prospective candidates, acknowledging China's sovereignty over the city and disavowing Hong Kong independence.
In the judgment Monday, the court said the officer should have given Chow a chance to explain her political position before deciding whether or not to allow her candidacy.
Importantly, the judge did not rule on the legality of imposing political tests on potential candidates. This leaves open the possibility that she – or other activists running for office – could be disqualified again in future.
Candidates could be barred if there was "cogent, clear and compelling" evidence they would not uphold the constitution, the court said.
"Looking at this judgment, Hong Kong people only won very little, because the returning officer can still disqualify a person from running for office based on their political stance," Chow said.
"For me, this is still violating people's fundamental rights of running in elections."