Does HBO's "Barry" – the darkly comic tale of a talented hitman yearning to break away from his violent vocation and start a more fulfilling new life as an actor –have the deepest comedy acting bench on television? Emmy voters certainly think so.
Last year, the first season of the critically acclaimed series co-created by Bill Hader – who also stars as the titular assassin-turned-thespian – and writer-producer Alec Berg ("Silicon Valley") demonstrated its ability to impress Television Academy members out of the gate, with both Hader and co-star Henry Winkler, as acting teacher Gene Cousineau, earning trophies for their acting work on the series (the latter claiming his first career Emmy after nearly 50-year career on television).
"Barry's" second season drew even more rave reviews, a larger audience and even more Emmy potential Emmy adoration: Among its 17 total nominations, the series returned as a contender for outstanding comedy series and Hader was again nominated for outstanding lead actor in a comedy, while co-star Sarah Goldberg received her first nomination as outstanding supporting actress in a omedy as acting aspirant Sally Reed, whose initial shallow narcissism has turned into a raw journey of self-discovery.
On top of all that, three of the six contenders on the outstanding supporting actor in a comedy category were drawn from the "Barry" ensemble, each representing a different phase in a performer's career: the breakout newcomer Anthony Carrigan, who's taken the genial mobster NoHo Hank to deliriously giddy heights in the second season; the versatile and recognizable character actor Stephen Root, who plays Barry's longtime kill contract middleman Monroe Fuches on the razor's edge of malignant and co-dependent; and the iconic Winkler, who deepened Cousineau's journey as old failures haunt him.
CNN caught up with the three Supporting Actor contenders before the ceremony, which by night's end might rightly be re-dubbed "The Barrys."
The Discovery
"Anthony Carrigan is so imaginative and incredibly creative, and really relaxed," says Hader of the breakout actor who's caught comedic fire on the series. "We're now writing so much of NoHo Hank for what he's doing and what he brought to it. We had the idea of NoHo Hank and this friendly mobster, but he took it into this place that we would never expect and really ran with it."
"I completely disregarded [a nomination] as a possibility," Carrigan tells CNN of his post-season hopes for awards recognition, which didn't include an early rise to watch the announcements. "I just considered it to be such a long shot…It was actually Bill who texted me. I was in my hotel room getting ready to go to set for 'Bill & Ted 3, and Bill texted me, 'Congrats, dude.' That's it – no exclamation point, no nothing. I was like, 'On what? Did the show get nominated?' And he said, 'You got nominated,' So that was a really, really cool moment. And I just kind of had to stare at the floor for a few minutes."
Carrigan's delighted in building out NoHo Hank into the fan-favorite character he's become. "There's probably a seven-year-old's part of myself that's so innocent, naive and really means well and just wants to have friends and be liked," he says. "I really kind of let that part of myself just live."
It was a particularly proud moment for Carrigan, who just six years earlier was weighing quitting acting, due to contracting the autoimmune disease alopecia, which caused him to lose his hair. "I had been told that I was never going to act again because of my alopecia, and there was a moment where I kind of believed them," he recalls. However, he persisted, turning his unique look into a signature in roles on "Parenthood," "The Flash" and "Gotham."
"Alopecia was also something that I was really nervous about people finding out about my entire life, and then the fact that I was putting it on display for everyone was really scary and really hard for me. But once I embraced my alopecia, I felt like a brand new actor. I didn't have anything to hide anymore, and so I could live authentically and bring that authenticity to my performances."
"Now to be at this place where I'm nominated for an Emmy, which is incredibly prestigious, it's really special to me," he says.
The Pro
"There's no bigger pro than Steven Root," Hader says simply. "He's done it forever, and you can't help but have to be a better actor around him, because he inspires that in you."
Indeed, despite this being Root's debut Emmy nomination, it's hard to find an acting resume with a greater depth. His scores of film and television roles include several Coen Brothers films, most notably "O Brother, Where Art Thou?" and "No Country For Old Men," comedy classics including Mike Judge's "Office Space" and "Idiocracy," regular sitcom roles on "NewsRadio" and "King of the Hill," and endless guest spots on hit series ranging from "Seinfeld" and "Frasier to "The West Wing" and "True Blood."
"I know it's a cliché, but we feel like the nomination is the win," says Root. "Now the show can continue. We get to see each other some more, because we really like each other." Personally, the acknowledgement had deeper significance, he admits. "It's meant a lot to me in terms of finding an ongoing character again that I could sink my teeth into. I feel like the last long-form one I had like that was probably 'NewsRadio' 20 years ago. I got to play some good stuff on 'West Wing' and 'Justified' and a lot of other shows, including 'The Man in the High Castle,' but for a real in-depth experience, I would say it would have to be this show."
Root sees the conniving Fuches with clear eyes: "He's an enormous asshole, but he does have a human side and I think he really loves Barry deep down,' he says. "But there's no way he can actually show that, in the end game, because he's all about himself."
After a season working primarily opposite Hader's Barry, the actor was especially pleased to bring Fuches deeper into Barry's safe space, including in direct contact with Winkler's Cousineau. "When the scenario came up that we might actually work together, I was jumping up and down," he says. "Henry is the nicest man on earth, and the most focused man on earth when you're doing a scene with him.
"By no stretch" does he now expect to emerge as a high-profile performer. "I've always been the stealth bomber that comes in and makes a big explosion and then goes away," he chuckles. "I really prefer that…I don't want you to look at it as 'Stephen Root doing that guy.' I want you to feel like 'It's that guy.'"
The Legend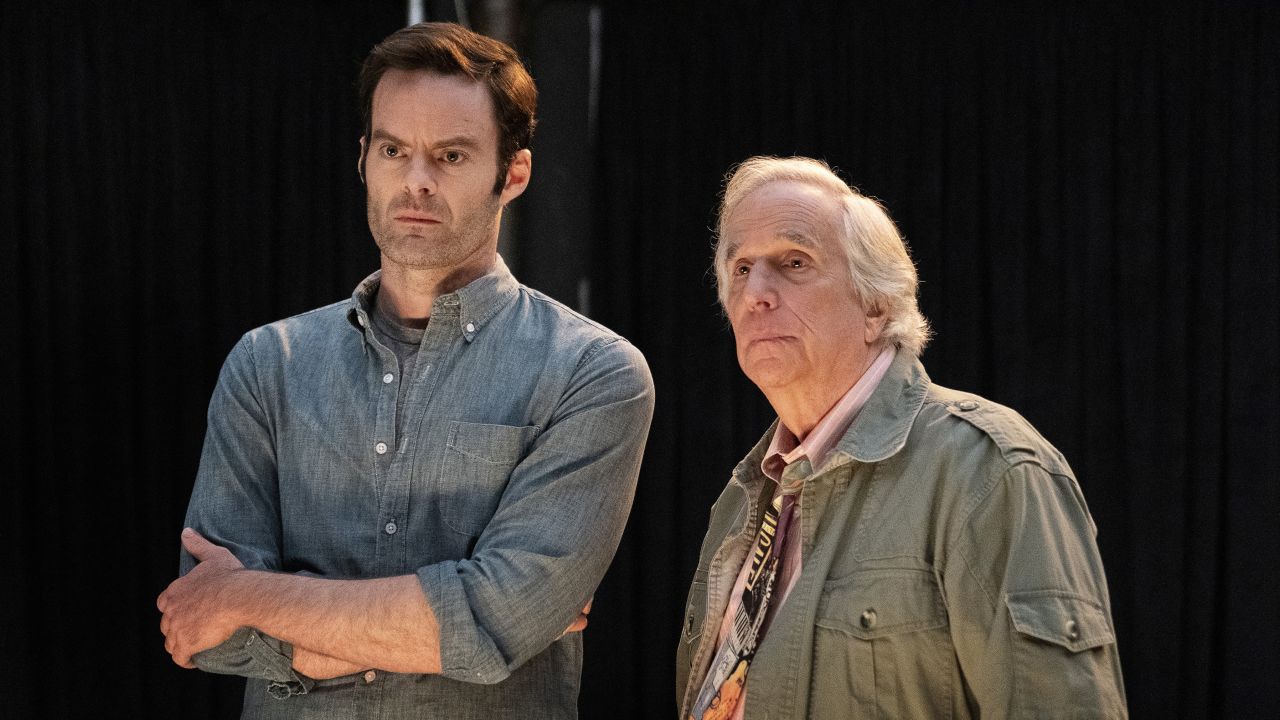 "Henry Winkler is just very incredibly open and he's just one of the sweetest guys in the world, and he's like the father figure on set," says Hader, echoing a sentiment that's long reverberated around Hollywood over the course of Winkler's storied career, beginning with his breakout role as Arthur "The Fonz" Fonzarelli on "Happy Days" back in 1974, an initially incidental appearance that made such an impact that he quicikly transitioned to series regular to series star to enduring TV icon.
"If I'm a good teacher, it's because I have an exceptional class," Winkler tells CNN of his respect and fondness for his "Barry" cohorts, speaking of both his on-screen role and, metaphorically, of his status among the cast. "It is one of the great jobs of my career. It is one of the great ensembles that I've been able to part of…When we sit around that table reading is the only time the entire cast is together – it's pretty amazing, and we're pretty tight. We are really a close-knit family, even though we don't see half of each other except when we're reading."
Winkler has reveled in Cousineau's increasing complexity as the second season unfolded, trying to reconcile with his long-estranged son while also mistakenly being suspected of the murder of his first-season girlfriend, a police detective reluctantly killed by Barry.
"All of a sudden he allowed his emotionality to open up, which was completely closed until he met his son, until he lost the love of his life, until Barry became a son-like human being, a surrogate son," he says. "And then all these forces at one time forced him to confront himself. One of the themes of the year is to find out can we change as human beings? And I even I say to Barry, 'If we can't, we are screwed.'"
The actor famously claimed his first-ever Emmy last year, 42 years after his debut nomination, and while it was an admitted career high, he remains grounded in his appreciation of the award.
"It doesn't make you a better actor, it doesn't make you a better human being. It put a smile on my face. And I'll tell you, what was amazing was all of the people who were so happy for me, that felt amazingly good."
Winkler admits that his "Barry" work has reheated his acting career and he's considering some intriguing offers in as they fit his schedule, a prospect that excites him, because despite enjoying prolific side careers as a producer and author of children's books as well as spokesperson educating the public about dyslexia, a condition which he's long dealt with personally, he considers himself an actor first and foremost, until the last stage light goes out.
"I have a very short bucket list," says Winkler. "My bucket list is that my grandchildren and my children meet their destiny, and that I get to act until I can't anymore."
A beat passes, and Winkler makes one more addition.
"And I would like to win a Tony."
"Barry airs on HBO, which shares parent company WarnerMedia with CNN.