Eliud Kipchoge views his sub-two hour marathon attempt next month as akin to taking a giant leap for mankind – or in the case of the Kenyan runner, make that over tens of thousand of steps for mankind.
Two years ago Kipchoge – assisted by a lead car and 30 supporting pacing runners – set the fastest ever unofficial marathon time of 2:00:25 on the Monza motorsport track In Italy.
In October, Kipchoge will once again attempt to run a sub two-hour marathon at the INEOS 1:59 Challenge in Vienna – on a six mile flat stretch of tree-lined avenue that the runner will cover 4.5 times – a feat he likens to man "standing on the moon."
"I think it will be on the same place as standing on the moon, going up the tallest mountain or going into the middle of the ocean," Kipchoge said from his training camp in Kaptagat. "This is another historic moment in sport.
"There is making history and there is making a mark on the sport. It's like the first man to go to the moon. To be the first man to run under two hours, it's critical."
READ: Caster Semenya blocked from competing at World Championships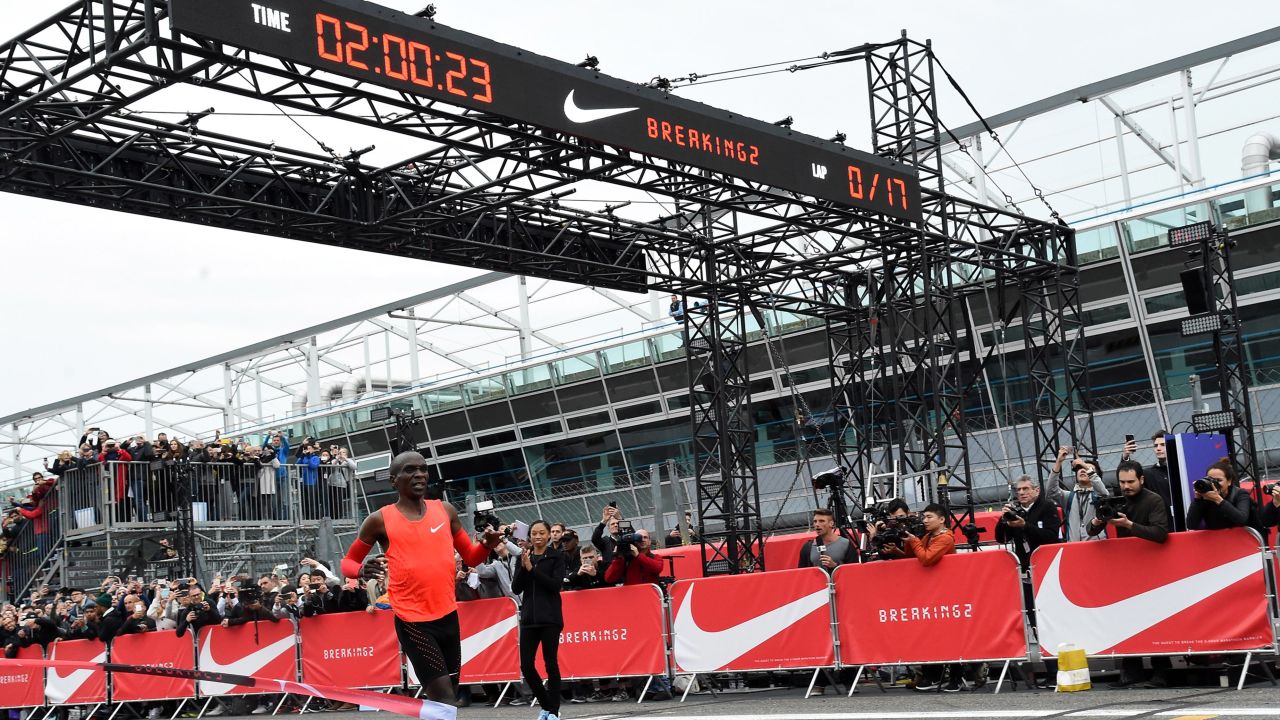 More than him
At the 2018 Berlin Marathon, he set a new world record time for a marathon with a time of 2:01:39.
He also holds the course records at the Hamburg, London and Berlin marathon.
And if he can run those 26.2 miles in under two hours – and Kipchoge has "no doubts" he will run a marathon in under two hours – he says his latest record breaking attempt will send a powerful message to the world.
"It will mean a lot when I run under two hours, when I leave a very pure, clean and positive history by running under two hours," Kipchoge said.
"My main focus is to pass the message onto more than three billion people in this world that no human is limited, and the only way is by running under two hours.
"And I hope they will all look on this achievement and be happy with their families and with their professions, with their daily life and above all, they will keep on running."
READ: Dalilah Muhammad breaks 16-year-old world record at US track and field championships
Learning from mistakes
While October 12 has been outlined as the date for the attempt, there is an eight-day window until October 20 where he could make the attempt dependent on weather conditions.
Vienna was chosen primarily as it is usually mild, sunny, and not particularly hot at that time of year.
The use of runners and waiting for favorable weather conditions has led to some criticism of Kipchoge's record attempt.
"So I get the excitement and I share the excitement, but only if it happens organically in a real situation," leading sports scientist Ross Tucker told CNN Sport.
"This attempt is effectively being done in a lab, not the real world. It is an exciting experiment and I look forward to seeing the results."
Kipchoge has been preparing for the Vienna run back in his homeland near to his birthplace of Nandi County, which is also home to many world record holders in athletics, including Kipchoge Keino, Pamela Jelimo and Conseslus Kipruto.
Training for the 1:59 Challenge for Kipchoge has been similar to his preparation for other marathons – which involves running between 200-220km a week in preparation – and the Kenyan will arrive in Vienna one week before the race window opens.
READ: Gabriele Grunewald: Professional runner inspired 'hope' in cancer fight
But while his running workload is as intense as ever, it is the difference in his training for his mind that Kipchoge believes will be key to going under two hours.
"Nothing much has changed, the training is the same, the strength, the speed," Kipchoge said.
Visit CNN.com/sport for more news, features, and videos
"But what has changed is the mental preparation. I'm now enjoying a free mind and above all, I'm enjoying a great experience. Last time when I tried to run in Monza, I was like a boxer going to the ring, not knowing what will happen.
"But this time, I am feeling superb and I know what will happen: I will break the two-hour barrier."
Additional reporting by Daniel Gallan