Editor's Note: Karen Cheung is a writer and editor in Hong Kong. The opinions expressed in this commentary are her own. She tweets @karenklcheung
In late May, two weeks before the first major anti-extradition bill march in Hong Kong, four high school friends and I took a day trip to the Chinese city of Shenzhen for a birthday celebration.
We spent the Sunday hopping around town, watched a bizarre art installation known as the "Bubblecoat Elephant" squirt water out of its trunks, queued twice for the millennial-favorite cheese-topped bubble tea, and dunked thinly sliced pieces of beef into a Sichuan spicy hotpot.
The restaurant brought over fruit and a neck pillow as a gift, and we ended the night with a photograph featuring a tacky blinking sign that celebrated my birthday.
But just before midnight, as we were preparing to cross the Shenzhen border to take the train back into Hong Kong, I became anxious that this trip had been an unnecessary risk to take.
I told two friends to stand behind me in the immigration line, so that if I was – for whatever reason – detained, they could notify my partner.
"I'm most likely being paranoid," I told them. "I'm too unimportant to get into trouble with the mainland authorities." I took a deep breath.
"Wish me luck!" I said, only half-joking.
I safely returned to Hong Kong that evening. A week later I attended the annual June 4 vigil at Victoria Park, in memory of the victims of the 1989 massacre in Beijing's Tiananmen Square. By mid-June, Hong Kong was swept up in protests against an extradition-to-China bill, demonstrations that evolved into a larger movement calling for greater democracy.
I went to many of these demonstrations.
I knew it would be a while before I would consider making a trip across the border again.
Missing at the border
On August 20, news broke that a British Consulate employee, Simon Cheng, had been missing for 10 days since attempting to return to Hong Kong via the high-speed train from Shenzhen.
The following day, China's Foreign Ministry confirmed that Cheng was being held under administrative detention. No details were given other than that he had "violated" China's vague and wide-ranging Security Administration Punishment Law.
Although the incident came as a shock – it was not a surprise.
Simon Cheng/Facebook
Even if China does eventually reveal how Cheng supposedly violated the law or parade him on state media with a forced confession, the explanations of the mainland authorities will never be fully trusted by many in Hong Kong and around the world.
The lack of faith Hong Kongers have in mainland China's legal system exemplifies why people in this city are not comfortable with the proposed extradition law.
This threat of being detained on trumped-up charges in China has existed for years.
After the case of the five Hong Kong booksellers who went missing in late 2015 – one of whom later said he was snatched by "special forces" after crossing the border into mainland China – my paranoia deepened.
When I started working as a reporter covering Hong Kong, and occasionally China, my father warned me against visiting the mainland. When I became a correspondent for Reporters Without Borders, the NGO asked how frequently I went to China and made sure I understood the security risks.
My childhood friends didn't share these fears. None worked in politically sensitive jobs and still associated going to the mainland with having fun.
'Returning' to China
I have seen localists – who view Hong Kong as being fundamentally different and separate from mainland China – posting on social media that Hong Kongers should stop describing trips to China as "going back to the mainland." Phrases like "returning to China" suggest too much kinship, they say, and are too close to the state-prescribed vocabulary for the city's relationship with the mainland.
They even suggest forgoing such trips altogether.
I fully understand the sentiments, but in reality, it is difficult for many – including myself – to do so.
I was born in Shenzhen, to a Hong Kong father and mainland Chinese mother, and spent less than a year there before moving to Hong Kong. Growing up I often tagged along when my dad went on work trips to China, and most of my mother's side of the family still lives there.
I could perhaps accept that I will only ever see them again when they visit me in Hong Kong. But other Hong Kongers might be required to go to China for work-related or other practical reasons and do not have the freedom to make that choice.
Reports emerged in recent weeks that those crossing the Hong Kong-China border have had their phones checked for materials related to the protests that have rocked Hong Kong for the past three months.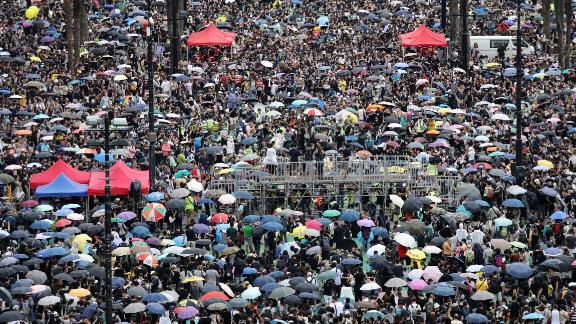 Bloomberg/Bloomberg/Bloomberg via Getty Images
Several friends, who have to visit the mainland for work, have been asking on social media for help on how to get dummy phones – especially if their real phones are filled with incriminating images of black-clad crowds on the street.
Mainland Chinese-born journalists working in Hong Kong who have immediate family in China – people authorities could detain in hopes of silencing them – or activists and NGO workers, face a even greater danger.
In light of recent events, a journalist friend and I were discussing recently when we thought it'd be safe to go to China again.
In a year or two, perhaps? Maybe never.
I used to think that people who do not work in high-risk professions would be able to escape scrutiny when they are in China. We were, I thought, too unimportant.
With the recent protests, however, it now feels like too great a risk to take.
When Simon Cheng – who was not a high level official at the British Consulate – was about to cross the border, he texted his girlfriend: "Pray for me."
His case shows that such fears are not paranoia anymore.
What happened to Cheng could happen to any consulate employee. It could happen to any protester.
It could happen to me – or you.